'Borat' Roasts Rudy Giuliani at Golden Globes: 'Who Could Get More Laughs Out of One Unzipping?'
Sacha Baron Cohen roasted Rudy Giuliani during an acceptance speech at Sunday night's Golden Globes, with a callback to the former New York City mayor's controversial cameo in Borat Subsequent Moviefilm.
After the Borat sequel won the trophy for Best Motion Picture - Musical or Comedy, Baron Cohen started his acceptance speech by making it seem as though he was about to shoutout his proper costar in the movie, Maria Bakalova. Instead, Baron Cohen joked that Giuliani was the film's breakout star. (He also found time to sneak in a jab at the Hollywood Foreign Press Association, which votes on the Golden Globes, and which is drawing criticism for its lack of diversity.)
"Thank you to the all-white Hollywood Foreign Press," Baron Cohen said. "I've gotta say this movie wouldn't have been possible without my co-star: a fresh new talent who came from nowhere and turned out to be a comedy genius. I'm talking of course about Rudy Giuliani. I mean, who could get more laughs out of one unzipping? Our movie was just the beginning for him. Rudy went on to star in a string of comedy films: hits like Four Seasons Landscaping, Hair Dye Another Day, and the courtroom drama A Very Public Fart."
Baron Cohen did then pay tribute to Bakalova, and later thanked the crew for all of the risks involved in the making of the mockumentary. "I want to thank my crew, who were amazingly brave, who had the risk of getting arrested, the risk of getting COVID, and they did that because we all believed so deeply in releasing this movie before the election to show the danger of lies, hate, conspiracies, and the power of truth, empathy and democracy," he said.
The Borat star also took home the award for Best Actor in a Motion Picture – Musical or Comedy. In his second acceptance speech, Cohen took a swipe at former President Donald Trump and his baseless claims about voter fraud in the 2020 presidential election. "Donald Trump is contesting the result. He's claiming that a lot of dead people voted, which is a very rude thing to say about the HFPA," Baron Cohen joked.
Before congratulating his fellow nominees, Cohen did have one last special thanks. "Most thanks of all to my bodyguard who stopped me getting shot twice. You know who you are, and you know I'm not allowed to say your name, but thank you," he said.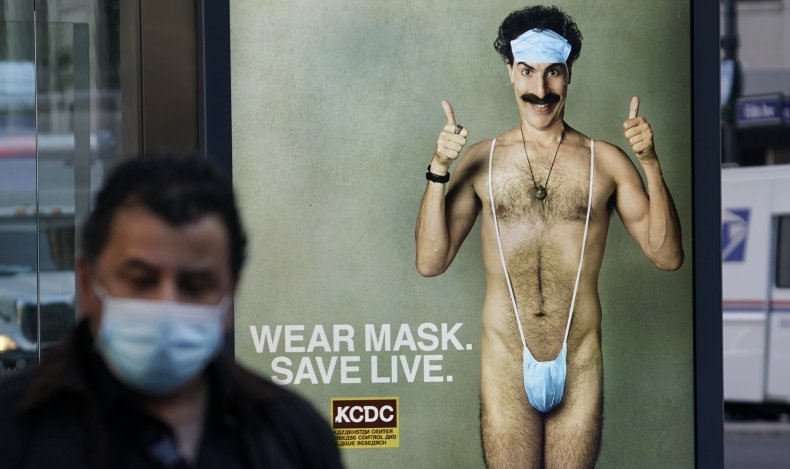 Correction 3/1/2021, 12:02 a.m. ET: An earlier version of this post stated that Sacha Baron Cohen made his remarks about Rudy Giuliani during his acceptance speech for Best Actor in a Motion Picture - Musical or Comedy, but they actually were a part of his acceptance speech for Best Motion Picture - Musical or Comedy.