The highly-anticipated sequel to 2006 satire Borat was unleashed onto the world today, 14 years after the original introduced the fictional Kazakh journalist played by Sacha Baron Cohen.
Borat Subsequent Moviefilm takes the vicious lampooning to 2020, a year where the political circus of the Trump era makes satire virtually impossible.
This time around, it's Trump supporters being sent up.
From a religious anti-abortion counselor who is unfazed by rape and incest of a minor and a confectioner who doesn't even flinch when she is asked to pipe "Jews will not replace us" on a cake, to an unethical plastic surgeon, the people he targets are presented as bigots.
Have they not seen the first movie?
As Newsweek's own review of the film asks: "Why does anyone still allow themselves to be interviewed by anyone who looks remotely like Sacha Baron Cohen when he is world-famous for making people look like morons on national television and film?"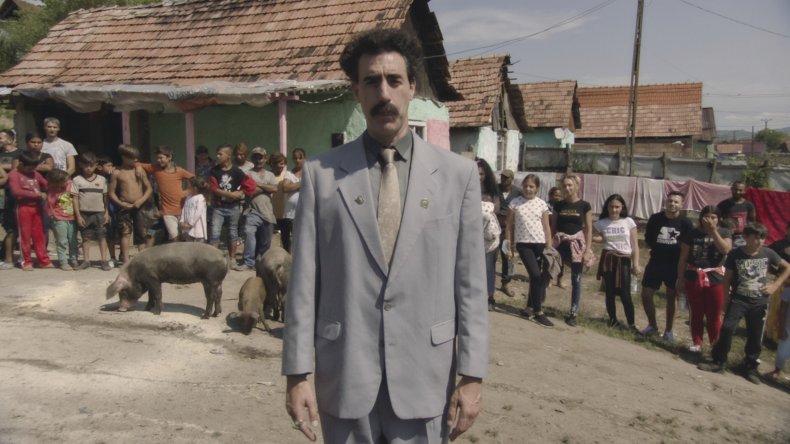 This central facet of Borat Subsequent Moviefilm has led to legions of viewers to ask how much of the movie is actually real?
One of the most disturbing and highly publicized scenes in the film targets Donald Trump's attorney Rudy Giuliani, who was filmed in a compromising position—his hands down his pants—with an actress posing as a young reporter.
Though the former New York City mayor denies accusations of wrongdoing and has maintained he was merely tucking in his shirt, the whole scenario still seems so farfetched to have been captured and made into a movie.
"My aim here was not to expose racism and anti-Semitism," Baron Cohen told The New York Times. "The aim is to make people laugh, but we reveal the dangerous slide to authoritarianism."
It's difficult to definitively answer the question of just "how real" the second Borat is but by all accounts; pretty damn real.
One part of the movie features Borat interrupting Vice President Mike Pence's Conservative Political Action Conference (CPAC) speech earlier this year while dressed as Donald Trump.
"Bear in mind, I spent five hours in makeup that morning with the prosthetic team changing my face into Trump's face," Baron Cohen said of this scene. "This fat suit is huge. It's a 56-inch fat suit to turn my waist into Trump's because we had estimated that was the most realistic."
He added: "Then I ended up hiding in the bathroom, listening to conservative men go to the toilet for five hours until I broke into the room. We were surrounded by Secret Service and police and internal security."
However, the hardest part of the experience Baron Cohen maintains is living with two QAnon conspiracy theorists for a few days while remaining in character.
"The hardest thing I had to do was, I lived in character for five days in this lockdown house," he said. "I was waking up, having breakfast, lunch, dinner, going to sleep as Borat when I lived in a house with these two conspiracy theorists. You can't have a moment out of character."
Borat Subsequent Moviefilm is streaming now on Amazon prime Video.