Giant Inflatable Borat Floats Down the Thames in London
A giant inflatable of Borat has been spotted floating down the river Thames in London ahead of the launch of his new film.
The mankini inflatable, which is 40-foot long and 21-foot high, is making the journey from Tower Bridge to the London Eye and back again from 2pm GMT. Following a 14-year absence from the big screen, the follow-up to Sacha Baron Cohen's Borat film, called Borat Subsequent Moviefilm, is released on Amazon on October 23.
It comes as the former mayor of New York Rudi Giuliani faced questions after embarrassing footage was released of him featuring in the movie.
A young actress, who plays Borat's daughter and who poses as a TV journalist in the movie, is shown inviting Giuliani, 76, to her bedroom for a drink. Giuliani, who is the personal attorney to President Donald Trump, can be seen reaching into his trousers and apparently touching his genitals while lying on a bed as his microphone is removed.
The pair are interrupted with Borat bursting into the room and shouting: "She's 15. She's too old for you." Giuliani has dismissed the clip as a complete fabrication.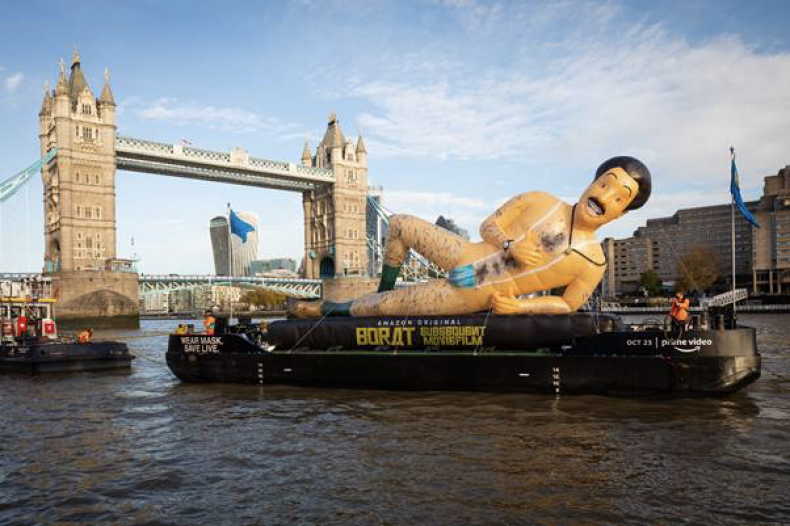 He tweeted: "The Borat video is a complete fabrication. I was tucking in my shirt after taking off the recording equipment. At no time before, during, or after the interview was I ever inappropriate. If Sacha Baron Cohen implies otherwise he is a stone-cold liar.
"In fact, the NY Post today reports 'it looks to me like an exaggeration through editing.' As soon as I realized it was a set up I called the police, which has been noted in THR article on July 8th."
During his daily show on WABC-AM, Giuliani said images from the clip that had been shared online, were not as they seemed. He said: "I had my jacket on—I was fully clothed at all times—and I had to take off the electronic equipment.
"And when the electronic equipment came off, some of it was in the back and my shirt got a little out, came a little out, although my clothes were entirely on. And I leaned back and I tucked my shirt in. At that point, they have this picture that they take, which looks doctored, but in any event, I'm tucking my shirt in; I assure you that's all I was doing."