Border Collie's Hilarious Reaction to 'Coffee Time' Is Totally Relatable
If you're a big fan of coffee, you may well relate to a dog that has captured viral attention this week for her reaction to her owner making his morning drink.
In a video shared on TikTok by Kevin Hinton from southern England, Welsh border collie Elsa has taken center stage thanks to her hilarious reaction to the sound of the coffee machine.
With more than 200,000 views, the video shows how Hinton makes his coffee while Elsa—paws on the counter—watches intently. When the machine heats up and starts to pour the drink, Elsa rushes for her toy, shaking her head in excitement.
Recognized as a breed by the American Kennel Club (AKC) in 1995, the energetic border collie is known as the world's greatest herder. With a mix of intelligence and athleticism, Borders are said to be the perfect dog for owners with the time, energy, and means to keep them occupied.
The 8-year-old collie's obsession with the coffee machine is nothing new. Hinton told Newsweek: "Elsa can be sleeping or playing with her toys. But like all border collies, if you give them certain commands, they go into work mode.
"Elsa's command for this is 'coffee time,' she will run downstairs and wait intensely for the coffee pod to be inserted and wait for the process to start," he explained.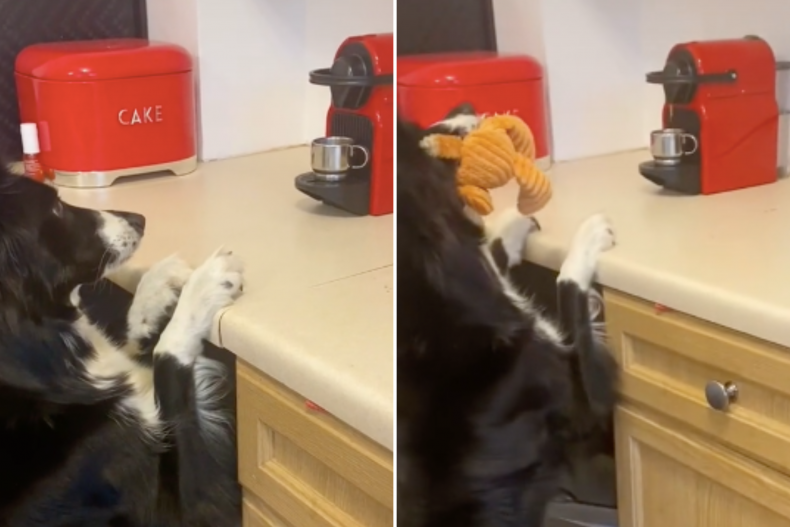 Hinton explains that part of the process involves ensuring Elsa has a toy by her feet—something to attack, otherwise the bin or his coffee are set to go flying.
"Yeah, because that's what a Collie needs, caffeine," joked one commenter. While another reply said: "I'm pretty sure he just had a wireless coffee."
"I can relate," said another viewer.
Hinton says that since he got the coffee machine as a birthday gift, Elsa has been obsessed: "I want to make it clear at no point does Elsa drink the coffee," Hinton said: "She just wants to attack the espresso maker."
"Collies are so extra," said another viewer. "Don't know what I expected but it sure wasn't that," wrote another commenter.
"Never underestimate the power of caffeine," joked another viewer.
Of course it is good news that Elsa doesn't actually consume any coffee. As VCA Animal Hospitals explains, the chemicals in caffeine can be toxic for dogs. VCA says: "Pets that consume caffeine may have an increased heart rate and become hyperactive. They get jittery and restless and do not want to lie still. They may also pace or vocalize excessively."
Meanwhile, caffeine can also raise the blood pressure of your pet, causing potential cardiac issues, loss of muscle control and tremors or seizures. Caffeine also affects the gastrointestinal tract and can cause vomiting and diarrhea in pets.
If you think that your pet has ingested something toxic to them, you should call your veterinarian immediately for help.
"Lots friends and family have been surprised at her reaction," said Hinton: "And my kids Sophie and Toby kept on saying we must put it on TikTok or Instagram. I did for a bit of fun."
Now with thousands of likes and hundreds of comments, the reaction to the video has thrilled Hilton. He said: "The best thing as with most animal videos is the joy they bring to people."
Do you have funny and adorable videos or pictures of your pet you want to share? We want to see the best ones! Send them in to life@newsweek.com and they could appear on our site.