Donald Trump is Right, There is a Border Crisis: Here's What Caused It and What's Being Done About It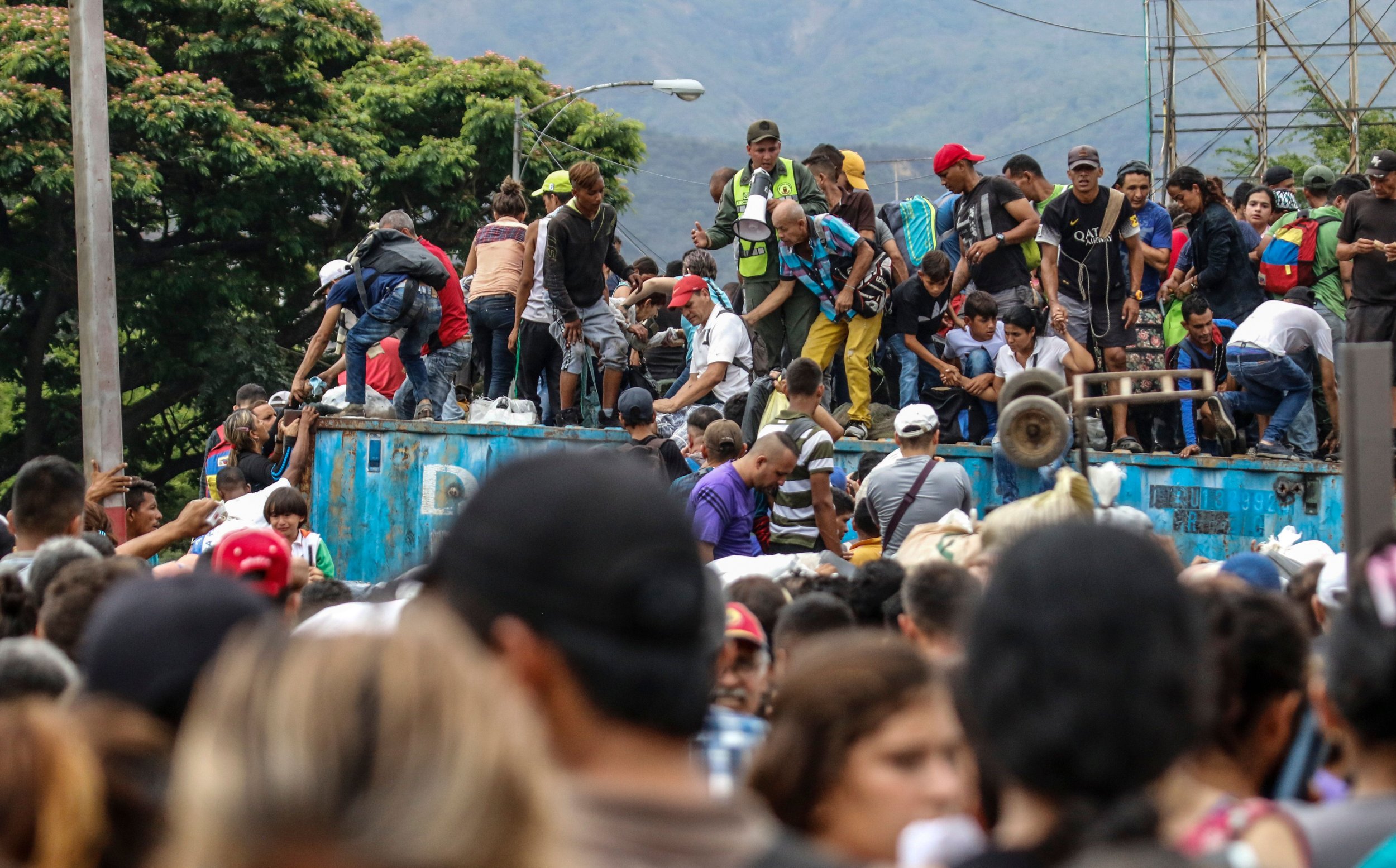 President Donald Trump is making his way to the U.S.-Mexico border today in Calexico, California, to celebrate the completion of what the White House is calling the first segment of the president's new border wall.
The visit comes on the heels of the president's threat (and then subsequent walk back) to close the entire southern border of the United States in order to stop a surge in migration coming from the Northern Triangle of Central America.
"Congress must get together and immediately eliminate the loopholes at the Border! If no action, Border, or large sections of Border, will close. This is a National Emergency!" the president declared over Twitter this week.
Setting aside the president's decision to declare a national emergency in order to allocate funds to build a wall that many experts believe won't work, Trump does have a point about the humanitarian crisis on the southern border.
Border officials reported encounters with nearly 100,000 migrants last month, about 30 percent higher than the previous month. Families seeking to cross into the U.S. made up the bulk of border apprehensions. Those numbers and demographics represent an alarming increase over previous years and could suggest a surge in migration that has been unseen since the early 2000s.
Jeh Johnson, President Barack Obama's former homeland security secretary, said last week on MSNBC that "We are truly in a crisis...On Tuesday there were 4,000 apprehensions. I know that 1,000 [apprehensions] overwhelms the system and I cannot begin to imagine what 4,000 a day looks like."
Kevin McAleenan, the commissioner of U.S. Customs and Border Protection, said last month that his agency had reached a "breaking point" and could not handle this influx of migrants seeking asylum. Disturbing images of migrant families being held in a fenced-in parking lot under a bridge near El Paso, Texas, emerged last week, prompting McAleenan to say that there was literally nowhere else to process them. "CBP is facing an unprecedented humanitarian and border security crisis all along our southwest border, and nowhere has that crisis manifested more acutely than here in El Paso," he said in a statement.
There are about 13,400 migrants currently in custody. The CBP considers 4,000 high.
So What Caused This Crisis?
Well, Trump would point his finger at the lack of a wall, or at Mexico for not apprehending migrants crossing through its country.
But the root problems are the conditions in Central America that families are fleeing from.
The vast majority of migrants crossing the border are coming from Honduras, Guatemala and El Salvador, a region known as the Northern Triangle, where they face record-high homicide rates, gang violence, extortion, a lack of food and life-sustaining supplies and few job prospects.
El Salvador is currently the world's most dangerous country not at war. In 2015, an investigation by Honduran newspaper La Prensa concluded that Salvadorans and Hondurans pay an estimated $390 million and $200 million in extortion fees to organized crime groups each year. Gangs typically target poor families and if they don't pay they face threats of violence.
These issues stem from years of political unrest in Central America where civil wars and guerrilla fighting have led to the proliferation of powerful gangs. The drug trade network in Central America has also been strengthened by U.S. efforts to eradicate trafficking routes in Mexico, Colombia and the Caribbean.
There's not much families who are the targets of these gangs can so, as some estimates found that 95 percent of the crimes in the region go unpunished.
The problems in the region have been exacerbated by climate change, and by guns flowing into Central America from the United States.
The fear that the president will soon make it more difficult to cross the border, has also led to a sudden surge in migration.
Here's How Trump is Addressing the Problem
The president has chosen to ignore the humanitarian crisis in Central America and to instead focus his efforts on punishing countries in the Northern Triangle for allowing citizens to leave for the U.S.
Trump announced last week that he would end the $450 million in annual humanitarian aid going to Guatemala, Honduras and El Salvador.
"No money goes there anymore," the president told reporters last Friday. "We're giving them tremendous aid. We stopped payment."
Later on Twitter, the president said that he was receiving nothing from the countries in return for giving them humanitarian and development aid.
"After many years (decades), Mexico is apprehending large numbers of people at their Southern Border, mostly from Guatemala, Honduras and El Salvador.," wrote Trump. "They have ALL been taking U.S. money for years, and doing ABSOLUTELY NOTHING for us, just like the Democrats in Congress!"
Ending aid will also end joint law enforcement programs to prevent gang violence. Just one day before Trump's announcement, the U.S. agreed to help fund a program to stop human trafficking and organized crime in the Northern Triangle. That effort will now go unfunded.
Some experts argue that this decision could hurt America in the long run by weakening their hold in these countries and leading them to look toward China or Russia for funding. Ending this aid is "shooting yourself in the foot," Adriana Beltrán, the director of citizen security at the Washington Office on Latin America, told The New York Times.
The president also said last week that he would close the southern border in its entirety, ending all trade. Mexico is the U.S.' third largest trading partner, with about $615 billion traded across the border last year. About 1.2 million American jobs are based on trade with Mexico.
After feeling pressure from both the left and the right, the president changed his tune. "We're going to give them a one-year warning, and if the drugs don't stop or largely stop, we're going to put tariffs on Mexico and products, particularly cars," Trump said. "And if that doesn't stop the drugs, we close the border."
Trump's threats to Mexico come as he attempts to negotiate with the country around a new U.S.-Mexico-Canada trade deal.
The Political Play
Trump, meanwhile, is using the crisis to his political advantage. On Friday morning, the Trump 2020 campaign sent out an email and video that featured Democratic candidates downplaying the situation at the southern border.
"Democrats refuse to admit there is a crisis along our southern border and are even actively campaigning on an open borders platform," said Trump campaign National Press Secretary Kayleigh McEnany. "President Trump has been an unmistakable leader on the issue of illegal immigration since before he took office and will not rest until our border is secured."