As Border Debate Brews, DOJ Leaves Visas for Afghan Legal Allies in Limbo
Up to 200 Afghan legal workers who worked alongside U.S. Department of Justice personnel in an effort to reform Afghanistan's legal system remain stranded in that country and others in the region, as their refugee applications in the U.S. go unanswered, Newsweek has learned from current and former legal officials, who are calling for action.
Now, as the White House contends with bipartisan criticism over new administration policies intended to reduce the number of migrants attempting to cross the southern border, many of these Afghan legal workers left behind are living in constant fear of retaliation after more than a year of Taliban rule.
The Afghan legal workers making these refugee applications served alongside Department of Justice (DOJ) personnel supporting a series of comprehensive, costly projects to institute judicial reform within Afghanistan at the federal level. Administered by the Afghan government, supported by international partners and led by the U.S. DOJ, the program took U.S. attorneys and senior federal prosecutors and embedded them with Afghan counterparts.
The years-long endeavor made significant progress in fields such as anti-corruption and counternarcotics, and were supported by the DOJ "rule of law" programs up until the fall of Kabul to the Taliban's Islamic Emirate in August 2021.
A federal prosecutor who served in Afghanistan for the DOJ, who has requested anonymity because they were not authorized to speak to the media, told Newsweek that despite repeated attempts to push forward documents that could allow these Afghan legal workers to claim refugee status, the potentially life-saving papers appear to be collecting dust at an office in Washington, D.C.
"We have given to the Justice Department all the information about these people that they asked for," the federal prosecutor said, "including, for example, their passport numbers, Afghan national ID numbers, their dates of births, their locations, their children's names, all of that stuff. There were spreadsheets we did and submitted and recommendation letters explaining how we know these people."
"We forwarded it on into the black hole," the prosecutor added.
The prosecutor's "understanding" is that each of the packages "is sitting at the Department of Justice, and has not yet been forwarded" on to those who carry out follow-up vetting and processing at other agencies, and that is "because there isn't someone at Justice who's willing to sign on to it."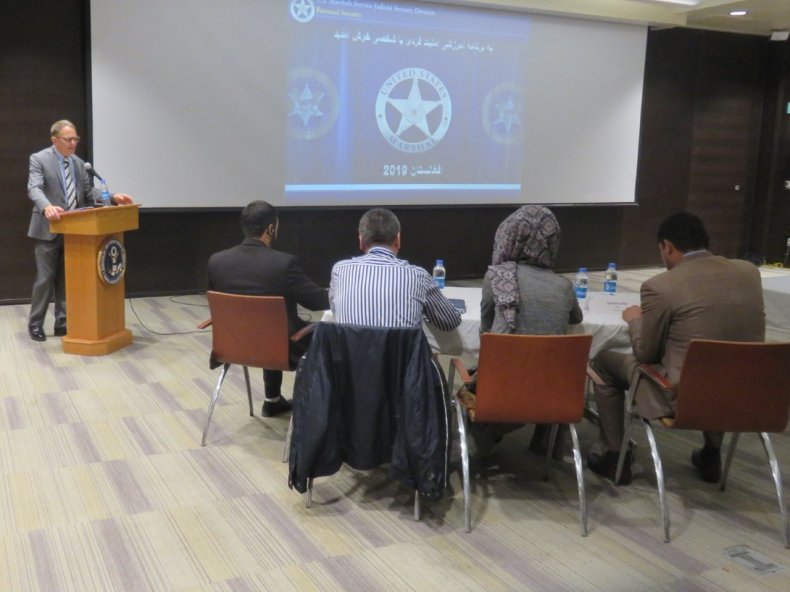 The prosecutor described the DOJ's effort in Afghanistan as "a very successful program," and argued that the reason the Afghans who supported it "are in danger now is because it was so successful."
"These Afghans that we are trying to help put some of the most dangerous men behind bars," the prosecutor said. "These were drug dealers who were financing terrorism. "
The prosecutor described an arduous, years-long task of working alongside Afghan officials to build a federal criminal justice system capable of taking on major cases involving some of the country's most wanted men, only for some of these criminals to be released in the leadup or in the wake of the U.S. exit.
There was also a personal connection between the DOJ personnel and their counterparts in Afghanistan, which was damaged by the hectic U.S. pullout.
"This program required DOJ people to take on hardships and to develop personal bonds with the Afghans we worked with," the prosecutor said. "So, when we pulled out so abruptly leaving our partners and colleagues behind, it was extremely damaging to our personal and professional credibility."
To even be considered for refugee status, Afghan nationals first have to leave their country, which some of the legal workers already have, according to the current and former officials with whom Newsweek spoke. But uncertainty around the status of the applications has left both those inside and outside of Afghanistan concerned that the process was not moving forward at all in spite of the risks they were already facing.
Another person struggling to get these applications reviewed is James Gelber, a former Assistant U.S. Attorney from Vermont who participated in the DOJ program. He has joined a group of about a dozen current and former officials volunteering to prepare first-priority (P-1) packages necessary to allow the Afghans involved in the rule of law program to attain refugee status.
"I'm very frustrated with it," Gelber told Newsweek. "They've gotten this shifted around within DOJ and there doesn't seem to be any way to get information about a particular person. What's the timeline? Is there a person who can look up this particular case and tell me what's happened with it?"
"It's sort of an amorphous bureaucracy," he added.
He wondered if this level of bureaucracy signaled that there may be, "at some level, people that don't want these applications to be speeded up."
"For the life of me, I can't figure out why it's taking this long," Gelber said, "and while it's taking this long, there's no signs of movement."
Joseph W. H. Mott, a retired Assistant U.S. Attorney who served in the DOJ program from November 2018 to November 2020, also vented his exasperation with the process.
"It's been tremendously frustrating," Mott told Newsweek, "to just have a review of the applications that have already ready been prepared before they then forward to the U.S. Refugee Admissions Program."
USRAP is an association comprised of federal agencies including the State Department and the Department of Homeland Security, as well as nonprofit organizations, which works to review applications for refugee status in the U.S.
Just two weeks after taking office, Biden signed an executive order vowing to oversee "the rebuilding and enhancing" of USRAP and other refugee resettlement programs. The language came in stark contrast to that of his predecessor, President Donald Trump, who instituted tougher limits on the number of asylum seekers coming into the country.
But Biden struggled to address another decision made by the previous administration, that of a promise to withdraw all U.S. troops from Afghanistan by May 1, 2021 in line with a historic peace agreement signed a year earlier with the Taliban. With U.S. troop levels already substantially reduced and bipartisan frustration with the two-decade war mounting, Biden opted to move forward with the exit, though he extended the deadline to the symbolic date of the 20th anniversary of 9/11.
The ensuing months saw rapid Taliban advances across Afghanistan, putting the embattled U.S.-backed government in an increasingly precarious position. Then came August 15, the fateful day when the Taliban marched into Kabul and seized the capital. They declared the establishment of their Islamic Emirate, causing a massive scramble to Hamid Karzai International Airport, where the U.S. military was engaged in a frantic airlift that eventually brought around 116,000 people out of the country.
Scores more were left behind, including Afghans who had worked with DOJ personnel and those of other U.S. government and military institutions. While Afghan nationals who worked directly for the U.S. government, such as interpreters, could apply for a Special Immigrant Visa (SIV) with a path to obtaining a permanent residency green card, others employed by the Afghan government, such as legal workers, had to seek refugee status if they hoped to leave the country for the U.S.
And though a team of legal experts associated with the same DOJ that backed the Afghan legal reforms set out to prepare their cases, Mott said no one appears to have followed through with the task of "focusing on an application for five minutes" and responding. Because the vetting is done by interagency security efforts outside the DOJ, he said the initial receipt does not require "an in-depth review," and "that's what's so infuriating about it."
"I've emailed anyone I can think to email in DOJ, advising of this problem and the need to act on it," Mott said, "but I've not received a response."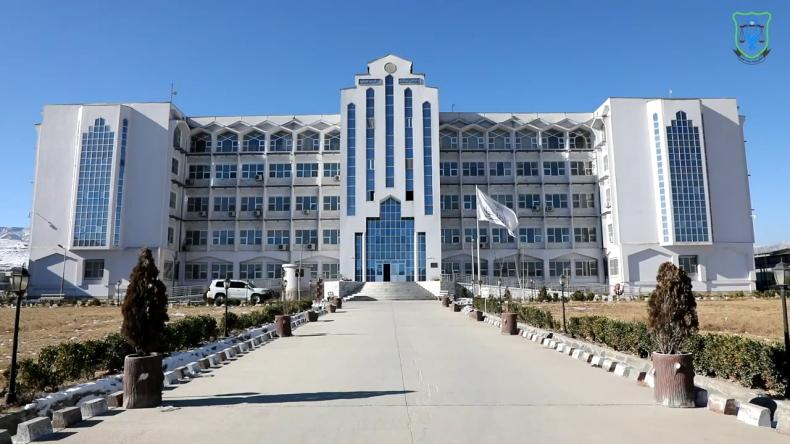 Reached for comment, a DOJ spokesperson told Newsweek that "the Department of Justice remains committed to supporting our Afghan partners and the P1 referral process."
"While there are limitations on what information can be publicly shared," the DOJ spokesperson added, "the department takes very seriously its responsibility to review and assess applications before submitting them for vetting by the interagency process."
A spokesperson for the National Security Council denied that the White House had issued any directive to halt the progress of the refugee applications for Afghan legal workers.
"The White House led the interagency process that made P1s eligible for U.S-facilitated relocation assistance from Afghanistan," the National Security Council spokesperson said in a statement provided to Newsweek, "(so no we aren't blocking this process or these referrals)."
The National Security Council spokesperson referred Newsweek to the State Department on the specifics of the Afghan legal workers' cases.
A U.S. State Department spokesperson told Newsweek that the current policy was not to "publicly comment on individual refugee cases," but offered an explanation of the process.
"We continue to receive and process submissions for Afghans who may be eligible for referral to the U.S. Refugee Admissions Program (USRAP)," the State Department spokesperson said.
"Priority 1 (P-1) are individual cases referred by designated entities to the USRAP by virtue of their circumstances or apparent need for resettlement," the spokesperson explained. "P-1 refugee cases include those referred by the United Nations High Commissioner for Refugees (UNHCR) or a U.S. embassy.  P-1 allows the USRAP to consider refugee claims from persons of any or no nationality, usually with compelling protection needs, for whom resettlement appears to be the appropriate durable solution."
The spokesperson pointed out that "Afghans eligible and referred to the U.S. Refugee Admissions Program (USRAP) must be outside of Afghanistan in a third country for their cases to be processed."
"Once outside of Afghanistan, an individual can begin processing their refugee case," the spokesperson added. "Those Afghans being considered for refugee status must demonstrate that they were persecuted or have a well-founded fear of persecution because of their race, religion, nationality, political opinion, or membership in a particular social group and meet other eligibility requirements, including security vetting and medical clearances. "
The spokesperson acknowledged the challenges facing Afghan citizens trying to leave their country.
"We recognize that it is currently extremely difficult for Afghans to obtain a visa to a third country or find a way to enter a third country, and like many refugees, may face significant challenges fleeing to safety," the spokesperson said.  "We are continuing to review the situation on the ground and consider all available options, and our planning will continue to evolve. "
"We strongly encourage Afghanistan's neighbors to allow entry for Afghans and coordinate with humanitarian international organizations to provide humanitarian assistance to Afghans in need," the spokesperson added.  "We also particularly urge states to uphold their respective obligations to not return Afghan refugees or asylum seekers to persecution or torture, and to respect the principle of non-refoulement."
And while the ultimate goal was to bring all of these individuals to a third country before coming to the U.S., the current and former officials with whom Newsweek spoke said they have yet to receive word back on whether or not the DOJ has even passed along the applications to USRAP.
Mott, who retired from the DOJ in May 2021, said correspondence with the DOJ on the Afghan refugee visas seemed to halt around the time his interim successor was replaced in June, just as the Biden administration prepared for a contentious midterm election in which immigration was one of many pressing issues facing Democrats.
The political debate over immigration continues unabated in the early stages of the run-up to the 2024 presidential election, as a number of Republicans argue that Biden's policies only encourage more refugee admissions, and a faction of Democrats have called the new measures too restrictive.
Representative Jim Jordan of Ohio, new chair of the House Judiciary Committee, launched on Wednesday what's expected to be a series of hearings on the issue entitled "The Biden Border Crisis—Part I." And on January 30, Texas Governor Greg Abbott announced the creation of a new border czar position to respond to what he called "the Biden Administration's refusal to secure the border."
Speaking to reporters on Monday, a senior administration official acknowledged that "in recent months, there's been a lot of press attention to our southern border," and outlined Vice President Kamala Harris' efforts "to address the root causes of migration from North and Central America" through a host of new initiatives.
And though Afghanistan may be thousands of miles away, a direct link between the two issues exists, as some 2,132 Afghans were apprehended at the U.S.-Mexico border last year amid struggles with the U.S. asylum regime, according to U.S. government data cited by Reuters last month. The figure represented a nearly 30-fold increase from the previous year.
Newsweek learned of the journey of one former Afghan official who, struggling to attain a path to the U.S. through the existing legal process, managed to reach the U.S. by first fleeing to Iran and ultimately crossing the border with Mexico on foot.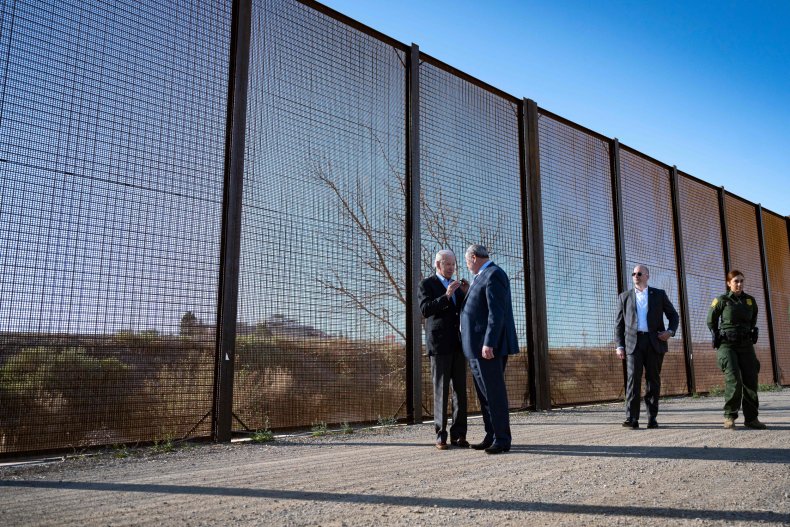 Given the lack of response from the DOJ on the refugee application process for Afghan legal officials, Mott's suspicions are that "someone's just letting it sit on their desk and isn't doing their work, or it's part of a broader agenda to just put Afghanistan in the rearview mirror."
In the meantime, however, Mott said he continues to receive desperate pleas from those stuck in a country now led by an interim government that shed blood to oust what it saw as a foreign puppet government.
"Not a week goes by that I don't get an email begging for help, some protection, 'I'm in hiding, please do something,'" Mott said.
Newsweek obtained one such email written by one of the Afghan legal workers who worked with DOJ personnel in Afghanistan, and was granted anonymity by Newsweek over security concerns. The note, sent to a member of the informal coalition trying to see to the approval of refugee visa applications, paints a grim outlook for the plight faced by Afghans who worked alongside U.S. officials and remain stranded in the country.
"Things are really bad here in Afghanistan, and have been getting far worse," the former Afghan legal official wrote. "Judges are getting arrested by the Taliban more and more. They're making false advertisements in order to lure in judges to escape to a different country and then assassinate them once caught up."
The Islamic Emirate, which has dismantled the former U.S.-backed government's legal system and replaced with it a strict interpretation of Sharia law that is also deeply rooted tribal traditions, has promised amnesty to all those who worked with the former administration led by President Ashraf Ghani, who fled to the United Arab Emirates in the prelude to the Taliban takeover.
But reports have emerged in Afghanistan of legal workers, including judges, prosecutors, and their families, being targeted for reprisal attacks including torture, kidnappings and assassinations under Taliban rule, potentially by the same criminals locked away thanks to the DOJ's support.
Reached for comment, Afghanistan Islamic Emirate Justice Ministry spokesperson Abdul Hamid Jihadyar confirmed to Newsweek that civil servants working for the previous government have been granted a "general amnesty." Jihadyar noted that this amnesty did not apply to those subject to individual claims brought by one citizen against another, or to suspected crimes committed against the Islamic Emirate after the amnesty was issued.
"After the arrival of the Islamic Emirate, the employees of the previous administration and the opponents and criminals of the Islamic Emirate at that time were neither punished nor persecuted nor brought under judicial prosecution," Jihadyar said.
He denied that former Afghan officials, including legal workers, have been targeted under the Islamic Emirate.
"We strongly reject such rumors and propaganda that say that the employees of the previous administration have been arrested and threatened, especially the employees of the previous administration of the Ministry of Justice," Jihadyar said. "They have not been subjected to any kind of unlawful treatment and they have not been dismissed from their jobs."
"Rather," he added, "they have been given the opportunity to work in a peaceful atmosphere, and their full rights to work have been afforded to them."
He alleged that the source of these allegation stemmed from those who "want to discredit the existing Islamic system, because they are either Americans and Westerners, or they are pro-Western and their followers who are enemies of the Islamic system and its foundation in Islamic Sharia," as well as those who "want to find a way to go to the Western countries and America, as if they are facing danger in their own country."
Alhanafi Wardak, a member of the Islamic Emirate with a prominent social media presence echoed these points, telling Newsweek that "the Islamic Emirate of Afghanistan announced and implemented a general amnesty for all Afghans who were employees of the previous administration, regardless of what department they belonged to, including
"legal and military personnel."
He too emphasized, however, that this amnesty applied specifically to matters between Afghan citizens and the current government, and that any claims issued by one Afghan citizen against another, including officials of the previous government, must be pursued in court.
"The attitude of the Islamic Emirate towards all Afghans is the same," Wardak said. "And it does not want to take revenge on anyone. The Islamic Emirate does not allow violence against anyone."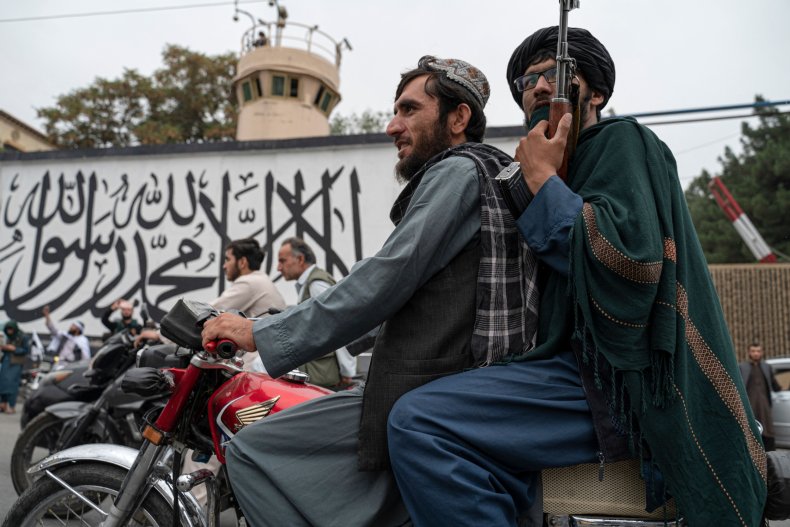 And, like Jihadyar, Wardak denied the claim that former Justice Ministry officials have been targeted, saying "I strongly reject the claim of American officials and Afghans that the lives of the legal department employees of the previous administration are in danger in Afghanistan."
"These claims are a means of pressure by the U.S. on the new government of Afghanistan, and also those Afghans who make such claims and show their lives in danger in Afghanistan actually want to go to the U.S. and other European countries," Wardak argued. "They have received the support of American officials."
"If there is a security threat to any person," he added, "they can report to the nearest security forces center."
Wardak acknowledged that the Taliban released high-profile criminals detained by the U.S.-backed administration, but said the new government did so in an effort to stabilize a country that has known war for decades.
"We see that the Islamic Emirate pardoned the major criminals of the previous administration in order to solve the 40-year crisis in Afghanistan and now they are living their safe lives in Kabul, the capital of Afghanistan," Wardak said. "The Islamic Emirate did everything for the peace of Afghans, the end of the war and the development of the country."
Meanwhile, the former Afghan legal official stated that Taliban authorities have passed around a spreadsheet, calling for those who worked with the previous government to divulge personal details and residential information in an apparent effort to keep tabs on them.
"I'm under extreme stress and anxiety," the former Afghan legal official wrote. "I have not been well, I fear [for] my life and my family's lives."
Fearful of reprisal within the country, the former Afghan legal official said there was "nowhere to go in Afghanistan" and considered an "escape to Pakistan," but pleaded for assistance in getting the asylum application issue resolved before it was too late.
"What do you think I should do?" the former Afghan legal official asked. "It's either I escape or risk dying. I'm running out of time."