Exclusive: Border Mission at 'High Risk of Failure' Without More Support Amid Plans for Six New Tent Cities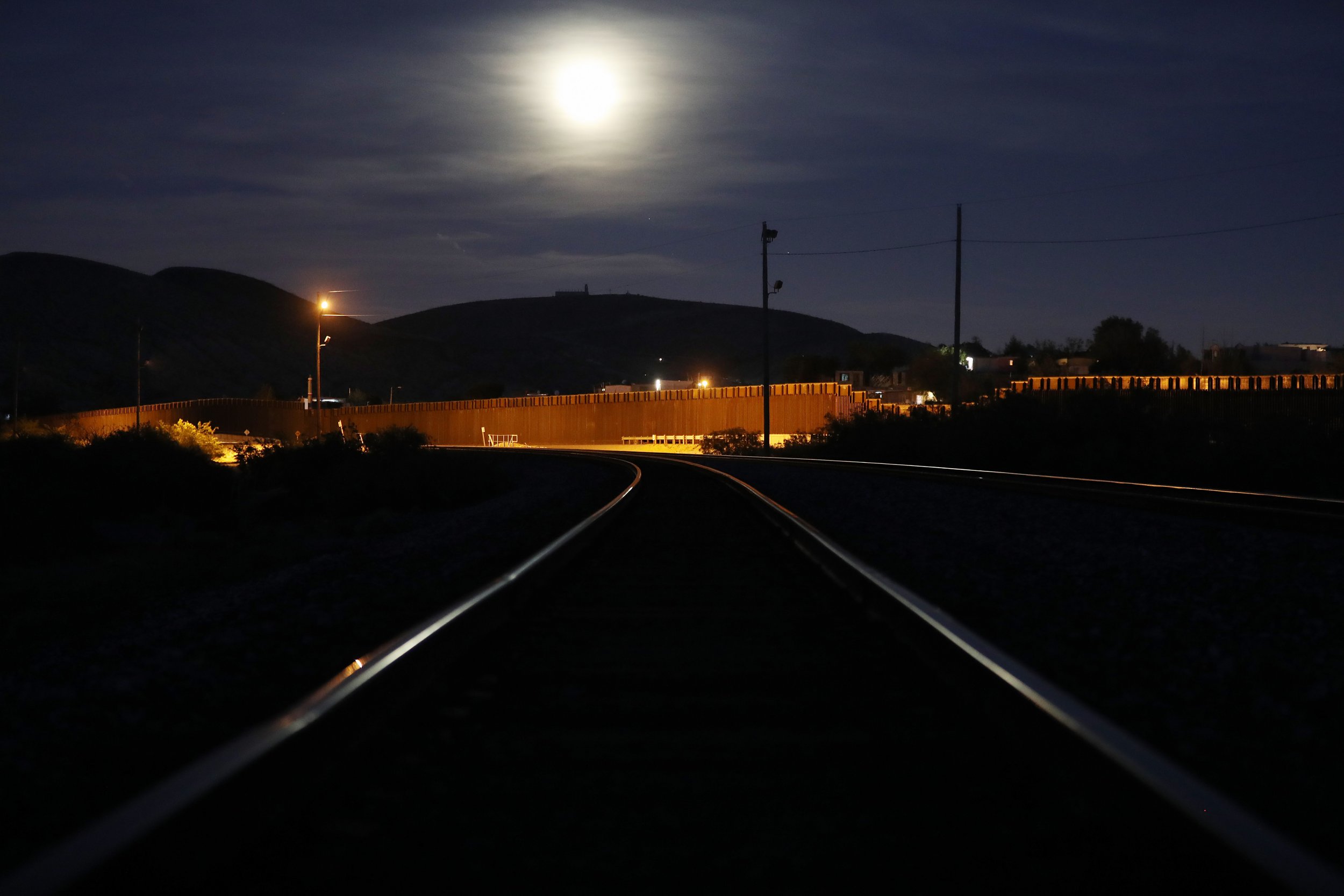 Pentagon officials sounded the alarm that their mission at the U.S.-Mexico border could be on the brink of collapse if the ability to contract for services was stripped. The concern was expressed as officials prepared to install six new tent cities for roughly 7,500 migrant families and children.
Operational documents obtained by Newsweek and created by U.S. Northern Command last week revealed the border mission was at "high risk of failure"if contingency contracting teams with the authority to procure support equipment and services were not rotated to the southwest border. Other documents created by U.S. Army North on Monday show six new tent facilities were expected to be built.
The information in the documents was unclassified but was meant for official use only. NBC News first reported the construction of six new tent facilities last week.
The two five-man contingency contracting teams immediately requested would procure equipment, supplies and services for U.S. government agencies at the southwest border while providing oversight of "quality assurance surveillance plans." They would also aid other administrative tasks such as analyzing procurement costs and "contracting property administration."
It's unclear exactly what services contingency contracting teams would procure but U.S. Army North told Newsweek Thursday afternoon that U.S. Army officials awarded contracts to private companies for "critical supplies used to build barriers in support of Customs and Border Protection at CBP-designated Ports of Entry." The contracting team also worked with ground commanders and other government agencies to identify areas where U.S. service members require support or the development of infrastructure.
Newsweek could not determine if the need for contingency contracting teams for the remainder of the current fiscal year, which ends in September, was related to the construction of new tent facilities along the southwest border and the influx of migrants.
Traditional Pentagon contracting procedures had for years been a burdensome undertaking for those involved in acquisitions or simple maintenance and upkeep of buildings and armored vehicles. The process more often than not involved confusing contract types and arrangements that routinely resulted in unnecessary complexity and a drawn-out acquisition timeline.
But during domestic emergencies, such as the California Wildfires or Hurricane Florence, a streamlined procurement process, known as contingency contracting, is used, which can rapidly provide U.S. forces with everything from showers and portable toilets to construction material and fuel supplies.
Contingency contracting supports all military and stability operations, including humanitarian aid in an environment in which future events or circumstances are possible but unpredictable—such as the current situation at the southwest border.
U.S. Northern Command sent an urgent request for additional forces to the Pentagon last week as contingency contracting teams currently at the southwest border were slated to end next week, on May 30. The request prompted Air Force General Terrence O'Shaughnessy, the commander of the U.S. Northern Command, to place a high priority on receiving additional troops with contingency contracting authority.
"Operational mission is at high risk of failure without this capability," U.S. Northern Command wrote in its request to the Pentagon. "[The request] will take precedence over all other sourcing efforts including normal rotation of forces."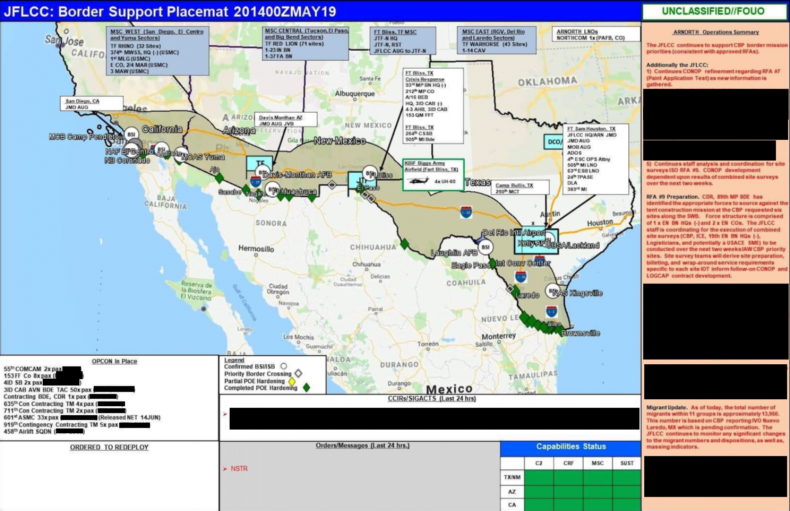 It was not clear if the Defense Department's support mission for U.S. Customs and Border Protection was still in danger of failing next week or if the request for additional forces was granted. In a document slide laying out the location of U.S. forces along the border, 919th Contingency Contracting Team could potentially stay at the border. Other contracting teams at the southwest border from Fort Bliss were tasked with procuring construction contracts.
Every page of the operational documents is published at the bottom of this article. To protect Newsweek sources, reporters retyped U.S. Northern Command's request for forces in the same format they were received. Other information from the documents was redacted by Newsweek to protect the privacy of U.S. service members.
On tent construction, Colonel Cathy Wilkinson, who is the director for public affairs at U.S. Army North, told Newsweek Wednesday afternoon that the Defense Department was conducting site assessments over the next two weeks to determine the scope, cost, and timeline to construct temporary migrant housing facilities in Arizona and Texas.
"These site assessments are based on a May 9, 2019, Department of Homeland Security request for assistance to build and provide temporary overflow migrant processing facilities for approximately 7,500 migrants," Wilkinson said. U.S. military personnel will not operate the facilities as Homeland Security controls responsibility; however, U.S. Army North was leading the site assessments on behalf of the Defense Department.
The Pentagon announced the new construction of temporary facilities late Wednesday evening but did not specify how many sites would be constructed. A U.S. Army North operations summary obtained by Newsweek dated for Monday indicated the new tent facilities sites were based upon the recommendation of Colonel Richard Ball, the commander of the Army's 89th Military Police Brigade out of Fort Hood, Texas.
The staff planners for Lieutenant General Jeffrey Buchanan, commander of U.S. Army North, were coordinating combined site surveys for tent construction with Customs and Border Protection; Immigration and Customs Enforcement; the U.S. Army Corps of Engineers and elements of the 19th Engineer Battalion out of Fort Knox, Kentucky, according to a Border Support Placemat slide created Monday and obtained by Newsweek.
U.S. Army North would build plans, known as a concept of operations, once the results from the combined site surveys were completed over the next two weeks, said the Border Support Placemat slide created on Monday by U.S. Army North.
Defense Department officials who had been briefed on the details of current operations along the southwest border and had knowledge of specialized engineering units agreed to speak with Newsweek on condition of anonymity, because of Pentagon restrictions on service members speaking to the press.
A U.S. military official working in the engineering field was surprised to see elements of the 19th Engineer Battalion at the southwest border.
"A unit like the 19th should be training with a Combat Brigade to get ready to fight countries like Russia, China or North Korea, not building shitters in the desert at the southern border," the Defense Department official told Newsweek on Wednesday. "It's like using a Porsche to pull a plow in a cornfield. It'll get the job done, but that's not what it's designed to do."
Other U.S. military engineering units at the southwest border range in specialty from U.S. troops trained to build roads and airfields to constructing anti-tank ditches or clearing highways of improvised explosive devices in places like Iraq and Afghanistan. U.S. Marine Corps and Army infantry units were also on the southwest border with field artillery units and aviation squadrons. U.S. military personnel Newsweek talked to for this story, dating back to October 2018, when President Trump first ordered American forces to the southwest border, asserted that the border mission eroded combat readiness and placed an undue burden on the fiscal budgets of both units and military services.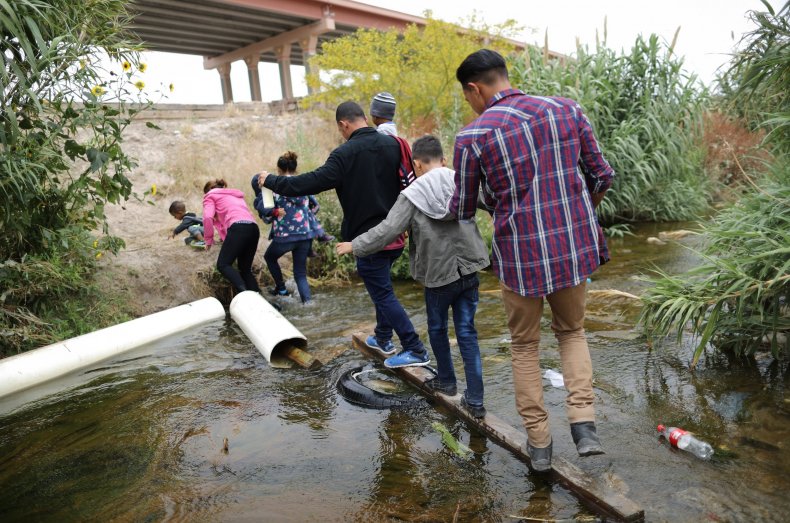 The "placemat" slide created Monday and obtained by Newsweek suggested that the border support mission had already seen the completion of "hardening" more than 20 points of entry along the U.S.-Mexico border, with at least nine "border security initiatives" (BSIs) planned at locations along the border and four sites listed as "priority border crossings" in locations near El Paso and Laredo.
A paragraph providing a "migrant update" from the same slide suggested that as of May 19, there were roughly 13,950 migrants situated at the U.S.-Mexico border, but the exact figure was still pending confirmation.The slide stated that the estimate was based on U.S. Customs and Border Protection reports near the city of Nuevo Laredo, Mexico, located on the banks of the Rio Grande. The Mexican city is connected to Laredo, Texas, by three international bridges and the Texas Mexican Railway International Bridge.
"The JFLCC [Joint Force Land Component Commander or U.S. Army North] continues to monitor any significant changes to the migrant numbers and dispositions, as well as, massing indicators," the slide says.
A spokesperson for the U.S. Customs and Border Protection agency told Newsweek it could not immediately confirm the number of migrants situated at the border, but said they would look into the matter.
As of last month, there were roughly 2,800 active-duty forces stationed at the border, according to U.S. Army North. Approximately 1,200 of those forces were working on the Mobile Surveillance Camera mission, with around 1,000 service members dedicated to fortifying ports of entry in Texas and New Mexico. The other 200 personnel were serving as part of a crisis response force, with the remainder being assigned to headquarters and logistics support. Roughly, 2,100 National Guardsmen had been assigned to the border mission as of last month.