Border Patrol Agent Accused of Hitting Migrant With Government Vehicle Said Migrants Are 'Unworthy of Being Kindling for a Fire': Prosecutors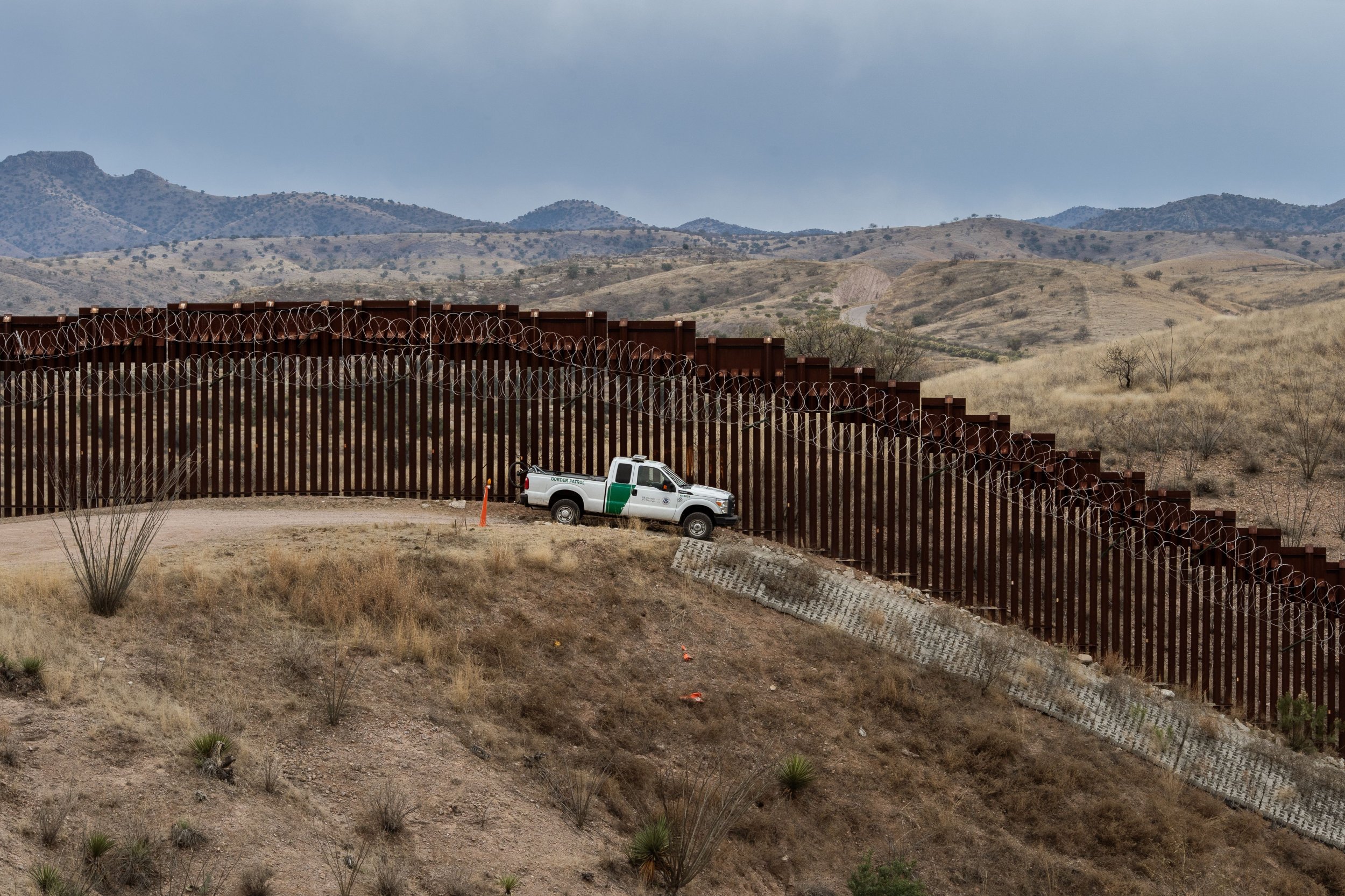 Racist text messages sent by an Arizona Border Patrol agent accused of having struck a Guatemalan man with a government vehicle could play a key role in seeing him convicted of federal charges, prosecutors said.
Nogales Border Patrol Agent Matthew Bowen, 39, was accused of striking a Guatemalan man with his Border Patrol truck on December 3, 2017, and then lying about the attack, The Arizona Daily Star reported on Sunday, citing court documents filed in the U.S. District Court in Tucson.
Prosecutors Lori Price and Monica Ryan said that texts sent from Bowen's phone could provide a clear picture of the role the Border Patrol agent's apparent "disdain" for migrants possibly played in the incident.
Among the texts that the two prosecutors sought to have included as evidence were messages in which Bowen called migrants "disgusting subhuman s*** unworthy of being kindling for a fire."
In another exchange, dated December 18, 2017, roughly two weeks after the vehicle attack, an unidentified person asked Bowen: "Did you gas hiscorpse (sic) or just use regular peanut oil while tazing?? For a frying effect."
Using a derogatory term for Guatemalan citizens, Bowen responded: "Guats are best made crispy with an olive oil from their native pais," with "pais" being the Spanish word for "country."
In another message, Bowen allegedly wrote: "PLEASE let us take the gloves off Trump!"
According to prosecutors, Bowen also sent a number of messages to Lonnie Ray Swartz, the agent acquitted last year of second-degree murder and manslaughter charges in the border shooting death of 16-year-old Jose Antonio Elena Rodriguez. Swartz argued that he had fatally shot Rodriguez through a border fence in "self-defence" after rocks had been thrown across the border at Border Patrol agents.
After another rock-throwing incident in November 2017, Bowen allegedly sent Swartz a message calling the rock-throwers "mindless murdering savages."
Bowen's defense lawyer, Sean Chapman, said that while some of his client's text messages could be "perceived as racist or offensive," they would not help a jury determine whether he "set out to use excessive force to apprehend the alleged victim" in the December 2017 attack.
Chapman further argued that the terms used in Bowen's texts were "commonplace throughout the Border Patrol's Tucson Sector, that it was part of the agency's culture, and therefore said nothing about Mr. Bowen's mindset."
Asked whether the terms used in Bowen's texts were part of the agency's culture, U.S. Customs and Border Protection spokesperson Michael Niezgoda told Newsweek that the agency "does not comment on pending litigation" as a matter of policy.
The Tuscan sector of the Border Patrol did tell the Daily Star on Sunday that its agents were "held to the highest standards, and any action of misconduct within our ranks will not be tolerated."
Bowen was indicted by a federal grand jury on May 30, 2018, on charges of civil rights violations and falsifying records after the December incident, according to the Daily Star. He pleaded not guilty to all charges.
The December 3 incident reportedly took place at about 7:30 a.m., after a CBP camera operator in Nogales spotted a man who appeared to have jumped over a border fence near the Mariposa port of entry.
Bowen was among three agents who approached the man, since identified as Guatemalan national Antolin Lopez Aguilar, 23, after spotting him hiding under a semi-trailer.
When Lopez Aguilar tried to run away, after an agent called on him to surrender, Bowen reportedly turned his truck to follow him before striking the 23-year-old, knocking him to the ground. The Border Patrol agent then handcuffed Lopez Aguilar before leaving him with the other two agents.
In addition to hitting Lopez Aguilar, Bowen was also accused of filing a false report about the incident, claiming that he had been unfamiliar with the acceleration of the vehicle he had been driving and that he wasn't certain if the truck actually struck the 23-year-old.
However, federal prosecutors said that Bowen's text messages told a different story, with the Border Patrol agent allegedly telling Swartz that he had just given "a little push with a ford bumper" the day after the incident took place.
The December incident was not Bowen's first since joining the Border Patrol as an agent in 2008. Prosecutors detailed a string of incidents over the years that had seen Bowen accused of undue violence against migrants.
In one case in January 2012, the occupant of a car said Bowen had searched the vehicle without probable cause before pulling him from the car, throwing him on the ground and handcuffing him, causing injuries.
In another incident in September 2015, an agent was said to have anonymously reported that a juvenile migrant had been bleeding from his lip and that Bowen had been bragging about how hard he took the minor down.
Since his indictment, Bowen has been on indefinite leave without pay, according to The Washington Post. His trial is expected to begin on August 13.