When Jenn Budd, then 24 years old, first set foot in the U.S. Border Patrol's training academy in Glynco, Georgia, in the 1990s, she knew it would be the start of a life-changing experience.
The Border Patrol was an agency that, for years, Budd had looked up to and she envisioned a long career ahead, rising up through its ranks and gaining the respect of her colleagues along the way.
For Budd, graduation day should have been the most memorable moment of that year, and it would have been if not for one evening just a month before: The night she says she was raped and beaten by one of her male peers.
Now, more than 20 years years later, Budd, who resigned from the Border Patrol in 2001 and has since become a well-known immigration rights advocate, says she wants to speak out about her experience in the hope that more women will come forward to shine a light on the "systemic" sexism and misogyny that she fears is still rife within the agency.
When Budd first started at the Glynco training academy in the 1990s—around the same time that current Border Patrol Chief Carla Provost graduated, she says it did not take long to get a sense of just how deep-rooted and pervasive the culture of sexism appeared to be.
Sexist jokes abounded, women were told by their supervisors on their very first day that they "didn't belong there" and on their second day, women recruits were warned by their seniors to watch their drinks at the bar around their male peers.
For Budd, however, the full weight of the systemic sexism within the Border Patrol agency came crashing down on the night she says she was raped by a fellow trainee just a month before graduating in October.
'It happened like that... so fast'
"I was walking home and I had a beer and a burger and one of my classmates...he said, 'I'm gonna walk you back to your place'," Budd told Newsweek in an initial interview in July. "I was staying in, basically a townhouse, that's what we had at the time."
The then-Border Patrol trainee told her colleague, whose identity she has shared with Newsweek, but who she does not wish to publicly name, that she was fine to walk home alone.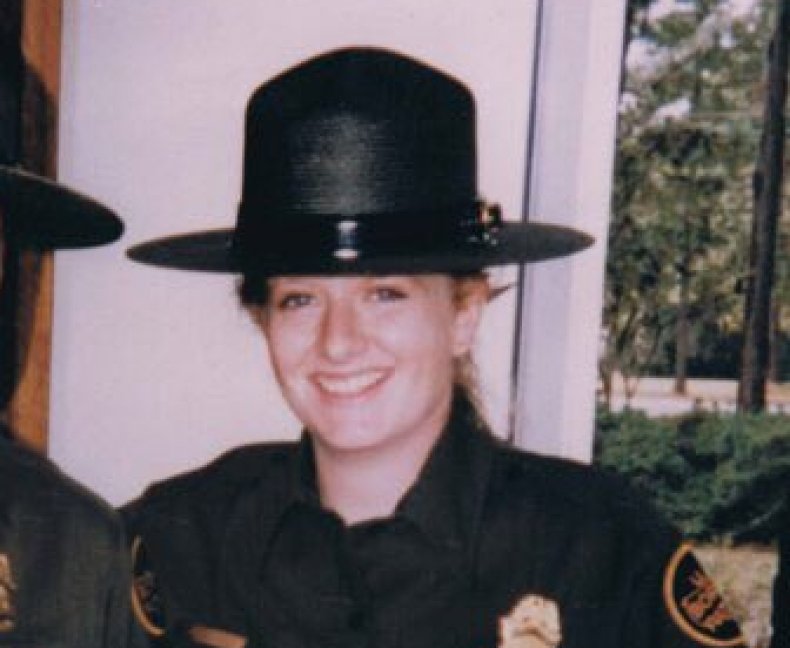 "I said to him, 'If I'm not safe on a campus full of federal law enforcement officers, then where will I be safe?' I was obviously just naive." After her colleague repeatedly insisted on walking her home, Budd relented. "I was like, 'okay.'"
When they arrived at her townhouse, Budd said, her colleague suddenly pushed her up against the brick wall. When she realized what was happening, she said she punched him in a desperate bid to get away. "I thought my hand broke."
"Then he punched me in the face. I was trying to hit him, but he had me by my hips up against the wall... my feet were off the ground. I was about 130 pounds, 5-foot-5 then."
The attack "happened like that... so fast." Eventually, "I was able to get a knee in to stop it and ran upstairs. Locked my door. And left my light on, just staring at the door all night wondering if he was coming back. Wondering what I was going to do," Budd said.
'It didn't occur to me that it was systemic'
When she arrived at the academy the next day, Budd said she felt like "everybody knew" about the assault. "He had punched me in the face. He beat the shit out of me, really, and everybody knew it because I had a black eye and a bloody lip… and bruised ribs… But nobody said anything."
Budd said that she herself did not want to acknowledge what had happened, partly because, she said: "I didn't want to be labeled as an EEO (Equal Employment Opportunity Commission) complainer. I never filed an EEO."
"I just thought, this was one guy… The whole agency can't be like this," she said. "It didn't occur to me that it was systemic."
In the days after the attack, however, Budd said her physical training instructors, who she believes were aware of the incident, forced her to fight the very man who raped her, despite her visible injuries. "They didn't tell me they knew but that was my impression," she said.
"We had a physical training class for two hours and we were to spar in the mat room. I was the only female left in my section because all the others had dropped out from injuries or whatever and they made me fight this guy in the mat room. All the instructors were snickering.
"I just went at him, I hit him as hard as I could, like I did the night before and it still just didn't have any effect," Budd said. "So, I did what I did the night before, I tried to kick him in the nuts and they said, 'You can't fight like this.' I said, 'Are you kidding me? This is the first thing a woman does. Why would I try to fight someone this size without kicking him in the nuts.'"
However, the former Border Patrol agent said she was quickly overpowered: "He just picked me up… he picked me up, literally picked me up, and he threw me across the room into the mats on the wall and threw me into the wall. He did that three times before they finally called the fight.
"Every time, I just got more angry and I would jump up and run back at him and he would pick me up and throw me into the wall again, then give me a clock in the ribs. He knew where to hit me." Meanwhile, she said, "the guys were all laughing."
'Shut up or put up'
When Budd returned to the locker room, in pain from her injuries, one of her male peers knocked on the door asking to speak with her.
"He said, 'I want you to know that he's in the locker room holding his hands above his head saying that bitch will never say no to me again,' and that the guys were all hooting and hollering," Budd said. His words made her "so mad" that she went directly to her instructors and said she never wanted to be forced to fight her attacker again.
"I told them what had happened," she said, referring to the alleged attack. Hoping her instructors might help her, Budd said she was simply told to file an EEO complaint if she had a problem.
The next day, Budd said that one of her supervisors asked to speak with the trainees. "He came in and he said, 'I don't wanna hear another fucking complaint out of any of you women's mouth... If you have a complaint against any man here, you file an EEO complaint. Shut up or put up."
Budd said she never did file a formal grievance; she said she was afraid that she would not be believed and feared being held back in her program if she did take formal action against her alleged attacker.
Her superiors, she said, had warned her that filing the complaint might set her back and the risk of having to spend any more time at the training academy than she had to was simply not one she felt she could take.
Not alone
Looking back, Budd, said that she believes her case would have unfolded similarly to that of another former Border Patrol trainee who started her training in December 1995 and who filed a formal EEO complaint in March 1996.
In the complaint, which is published on the EEOC's website, the former trainee alleged that one of her male peers had assaulted both her and another female trainee in his dorm room during their first month at the academy.
The trainee said she had visited her colleague's dorm to borrow an ironing board. The two had begun to discuss a book of poetry that was on his desk, but then he turned the discussion to how he thought the trainee was "pretty and smart."
That's when he "pushed her down and pinned her on his bed, kissed her on the mouth and neck and placed his hands on her breasts," she said.
The trainee alleged that she had tried to push him off her and "yelled for him to stop," but it was only when another trainee opened the dorm room door that she was able to "crawl out from under" her attacker.
When the other trainee, a female colleague, walked into the room, she alleges that the attacker pushed the second trainee onto the floor, kissed her and put his hands up her shirt, before the two could flee the room.
'Learn how to play the game'
The day after the incident, the trainee, who said she had shared the details of the alleged attack with at least two other colleagues, said her alleged attacker stepped in front of her while she was walking and told her that she needed to "learn how to play the game or no male officers would want to work with her."
The harassment did not end there. In two instances, she alleged he walked "very close to her without speaking."
In a later February incident, she said that a message was left on the answering machine at the home she shared with her fiancé, in which a male whom she believed to be her alleged attacker claimed that he had met her at a hotel.
Feeling "afraid" and experiencing "physical illness, stress and emotional difficulties," the trainee felt forced to leave the academy, writing on her personnel action form that she had been assaulted.
The following month, the now former trainee filed a formal EEO complaint detailing her colleague's alleged actions, which he denied, asserting that he could remember only having once consoled her by putting his arm around her when she appeared to be upset.
When the former trainee provided no response after being informed by the agency of her right to request a final agency decision or partake in a hearing before an administrative judge, a final decision was filed on September 1, 1998, two years after the incident, finding "insufficient evidence" that she had been "subjected to sexual harassment."
The decision further stated that, even if she had, officials already took "prompt remedial action" upon learning of her allegations, including directing her to file an EEO complaint.
Some justice did come for the former trainee three years later, however, when in June 2001 then-Attorney General John Ashcroft ruled in her favor after she filed an appeal.
While Ashcroft's decision noted that the alleged attacker had "denied that the December 27 incident occurred and there were no witnesses to the incident... nevertheless, the record contains evidence which supports a finding that [the] complainant was touched as alleged."
Among that evidence were the accounts of the trainee's peers and superiors who she had told about the incident, as well as her female colleague's own account of the trainee being "in shock" after the incident in the male peer's dorm room.
The colleague said that while she had found the male's behavior with her "inappropriate," because she had not witnessed what had allegedly unfolded in the dorm room before she entered it, she had not initially grasped the full weight of the situation.
Ultimately, Ashcroft wrote, "Based upon a review of the record, it is the decision of the Commission to reverse the agency's final decision, and find that [the] complainant was subjected to sexual harassment."
Both cases took place before the restructuring that saw the creation of the Department of Homeland Security following the terror attacks of September 11, 2001. As such, the Border Patrol would have fallen under the Immigration and Naturalization Service's authority.
'I was embarrassed'
In Budd's case, the now former Border Patrol agent was determined not to leave the training academy. Rather than file an EEO complaint, she decided to stay the course and remain silent about the attack, hopeful that things would get better once she graduated.
Throughout her time at the training academy, Budd said she had only discussed the alleged incident in any amount of detail with one of the other few female trainees enrolled in the program at the time. That former colleague, whose identity and presence at the training academy has been confirmed by Newsweek with CBP, has since died Budd said, with an obituary marking her death in 2015.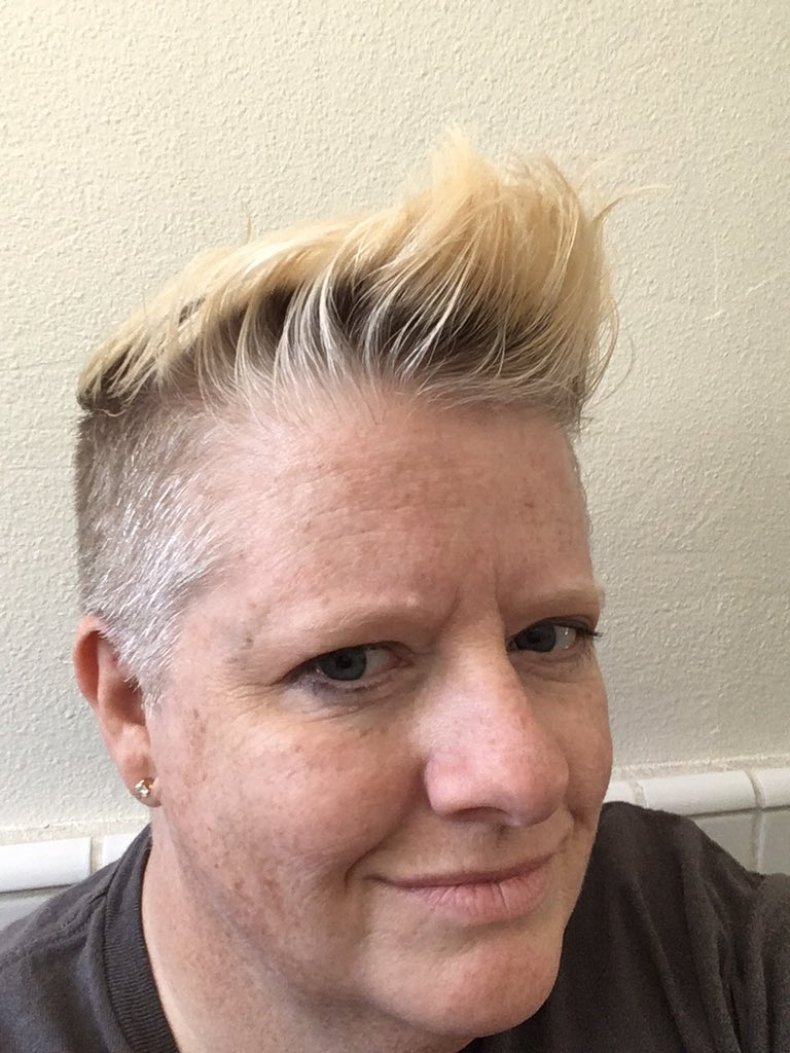 Outside of that one confidante, Budd said she had never wanted her colleagues to know about what happened to her, in part because she could not bear the thought of her peers perceiving her as vulnerable, when she had been so determined to prove herself at the academy.
"I was embarrassed and ashamed," she said. "Like, if I couldn't defend myself, I didn't deserve to be in the Border Patrol. It always felt like if I admitted to myself that I couldn't protect myself, then I didn't deserve to have a badge and a gun and that's what I had spent my college years working towards. It made me weak, so I just became very hardened."
For the rest of her time in the academy, Budd said she was "targeted" and "constantly harassed" by her supervisors and by her peers.
"They failed me on my final run by less than one second to try to fire me," she said. But, Budd persisted. "Everyone gets to retake [the test] so I made sure I smoked the shit out of that run so they couldn't fire me. But they just harassed me constantly."
Ultimately, Budd was able to graduate, but she said that in her six years with the Border Patrol she continued to struggle with the "misogynistic" culture she believes is still pervasive within the agency, from receiving unwanted flirtation from her supervisor, to having to be confronted with pornographic images left in the Border Patrol stations within which she worked.
Budd said that part of the reason that she came out as gay to her colleagues during her time with the Border Patrol was to ward off advances from a male superior and put an end to rumors and jokes that she likely slept with him to get her job.
Budd filed an EEO complaint over the rumors and while others corroborated her account, ultimately it was determined that while at least one superior "may have engaged in an effort" to damage her "professional reputation," such efforts would not qualify as "discrimination on the basis of sex" or sexual harassment, according to documents reviewed by Newsweek. In the end, Budd said, the complaint went nowhere.
The trauma that she suffered as a rape survivor would follow her well past the six years that she worked as a Border Patrol agent before quitting in 2001.
Budd said that it was only in the past year that she shared the full details of the alleged attack in the 1990s with her wife. Previously, she had always referred to the incident as a "sexual assault," without wanting to describe the severity of the incident.
Budd's wife: 'She was devastated'
In an interview with Newsweek, Budd's wife, who did not wish to be named, said that she had long known that her partner had been sexually assaulted early on in her Border Patrol career, with the incident being a painful part of Budd's past that had repeatedly come up over the nearly 19 years they had been together.
However, she said she was still shocked to hear the full details of the attack and just how brutal it had been earlier this year. Budd's wife said she had first learned about the alleged attack within the first year of getting to know her partner after the pair met online.
"You know, in the process of getting to know each other, it's the kind of stuff you discuss… the stuff you've been through," she said.
But, it wasn't until this past year, during the congressional hearings that saw Christine Blasey Ford recount the sexual assault she alleged to have suffered at the hands of now-Supreme Court Justice Brett Kavanaugh, that Budd finally revealed to her wife just how brutal the rape was.
"There was so much on Twitter at the time, everybody was telling their stories. Women were telling their stories and there were so many heartbreaking stories and I know she was really upset by all the pain that everybody was experiencing and I was really upset by it and we were talking and… she was devastated," she said.
"I think that's what triggered her," Budd's wife said of the Kavanaugh hearing. "I think it triggered every woman in some way… I had known about the incident, but I just don't think she was ready to say that out loud yet."
Through tears, Budd's wife said, "I have always felt disgusted by the fact that it happened to her, but now that I know how he raped her…I'm crying right now. I would like to see a change in the culture of the Border Patrol and for this to empower more women to come forward because we need a change in the culture of the country."
'She felt compelled to come forward'
In a separate interview with Newsweek, Budd's therapist, Dr. Marla Vencil, a clinical psychologist with the Psychiatric Centers-San Diego center, who Budd has seen regularly since May 2015, said that, for her part, she fully believes her client's account of what happened to her within Border Patrol training.
"Knowing how she is and knowing her personality and having worked with her, she doesn't make stuff up," the psychologist said.
Budd told Newsweek that she had started seeing Vencil after hitting her lowest point—a time that saw her nearly lose her life to suicide.
Since then, Vencil said the immigration advocate has come a long way, with the therapist asserting that she supports Budd's wish to share her story.
Vencil said Budd had been reluctant to speak about the incident until she started referring to it in early 2017. However, the therapist said Budd was only able to start revealing the full details of what happened more recently, after opening up about it to her wife.
While early on in her treatment Budd had discussed having worked within Border Patrol, Vencil said, "We didn't speak much about the Border Patrol until after President Trump started his border stuff… That really triggered it for her. She became… almost hyper-focused with what was going on with the Border Patrol and her assault and how she was treated."
However, Vencil said Budd had "never gone into a great deal of detail" about the alleged rape "and I never pushed her for it."
Vencil said Budd "pretty much told me that she was someone who had always been targeted as a woman in the Border Patrol... Given more risky details, more isolated areas to patrol and left alone when she shouldn't have been."
In the therapist's view, "the fact that [Budd] was even reluctant to talk about [the assault] is indicative of it being factual." Particularly given "the fact that she's having gone through the Border Patrol and trying to report things and having it not believed."
Like Budd's wife, Vencil said she believes the growing conversation around harassment and sexual assault across the country and around the world, as well as the current focus on the Border Patrol, has led Budd to want to share her story.
"I think she's talking about it more now because, one, I think the fact that the atmosphere these days is a little more towards being willing to believe women when they say they were attacked or sexually attacked," Vencil said.
"And then, with her, she felt compelled to come forward because of all the negative things coming out right now with immigration and how the asylum seekers are being treated."
Mostly, Budd told Newsweek she wanted to share her story in hopes of encouraging other women in immigration law enforcement to come forward.
"I know from other women that it is still the same in the Border Patrol, but they say they won't come forward because it's too shameful," she said. "I can't tell you every woman is raped within the Border Patrol, but I can tell you that they have all been sexually harassed."
Today's Border Patrol
Budd's account comes at a time when the Border Patrol is facing increasing scrutiny over its handling of accusations of sexism and sexual assault.
In July, a then-senior agent, Gus Zamora, 51, was indicted on charges of sexual assault and kidnapping in the alleged assault of a junior female agent.
Despite the severity of the charges, Zamora, who is married to one of the agency's highest-ranking female agents, Gloria Chavez, was allowed to retire from the agency following the indictment.
While his case is still playing out, Budd told Newsweek that the fact alone that Border Patrol allowed Zamora to simply retire following his indictment suggests that the culture of sexism and misogyny she witnessed within the agency continues to thrive.
In addition to its handling of sexual assault claims, the Border Patrol has also faced condemnation following the revelation of the existence of social media groups in which current and former agents were caught sharing sexist and racist content.
In one such social media group, the "I'm 10-15" Facebook group which included as many as 9,500 former and current Border Patrol agents, members shared a range of sexist and racist posts, including several "jokes" about rape and the deaths of migrants.
Among the sexist posts was one doctored image portraying New York Representative Alexandria Ocasio-Cortez, an outspoken critic of immigration law enforcement, performing oral sex through a fence at a detention facility. In another, President Donald Trump is portrayed forcing the congresswoman's head towards his crotch.
The Border Patrol, it should also be noted, has one of the lowest percentages of women on its force out of any federal law enforcement agency.
According to a 2018 report from the EEO Commission, in fiscal year 2016, just five percent of the Border Patrol's employees were women, with 1,022 of the agency's 19,749 agents being women.
"Among agencies included in the study, Customs and Border Protection, in the Department of Homeland Security, has the lowest female participation rate," the report states. "Customs and Border Protection had no women serving in the position of Customs and Border Protection Interdiction, and women comprised only 5 percent of Border Patrol Agents."
In a statement previously shared with Newsweek, the National Organization for Women (NOW) suggested that the Border Patrol's low percentage of women workers could have something to do with a "pervasive culture of sexism and racism" within the U.S. Customs and Border Protection agency, which oversees the Border Patrol.
Border Patrol, NOW said, "has the lowest percentage of women on their force out of any federal law enforcement agency," citing the 2016 data.
"This troubling fact clearly manifests itself in the misogynistic and racist behavior exhibited by CBP agents," the organization said, adding: "CBP must be held accountable for their actions."
In a statement provided to Newsweek at the time, U.S. Border Patrol Chief Carla Provost said the Facebook posts shared in the group "are completely inappropriate and contrary to the honor and integrity I see—and expect—from our agents day in and day out."
"Any employees found to have violated our standards of conduct will be held accountable," she said.
However, weeks later Provost admitted to Congress that she had been a member of the "I'm 10-15" group after reports emerged identifying her as a former member.
The Border Patrol chief claimed that she had "thought nothing" of joining the group and only used Facebook "very, very rarely," meaning she was unaware of the offensive content posted to the page.
"I am as outraged as everyone else when it comes to the statements that were made on that page," Provost asserted.
Whether Provost was aware of the controversial posts rife within the social media group, however, Budd said she believes the Border Patrol chief must be aware of how pervasive she believes sexism and racism are within the agency.
In a statement sent to Newsweek, CBP spokesperson Jacqueline Wren said "all CBP employees are expected to conduct themselves in a professional manner while on or off duty."
"CBP stresses honor and integrity in every aspect of our mission, and the overwhelming majority of CBP employees and officers perform their duties with honor and distinction, working tirelessly every day to keep our country safe," she maintained. CBP takes every allegation of misconduct seriously and fully cooperates in the investigation of such allegations."
For Budd, such an investigation never took place following her alleged rape. At the time, she asserts, taking action did not feel like an option.
Budd said she does not wish to name the man who allegedly raped her, nor does she wish him any harm. For that reason, Newsweek has not named her alleged attacker.
Newsweek is aware of his identity and has confirmed with the U.S. Customs and Border Protection agency that he and Budd attended Border Patrol's training academy at the same time, with both former agents entering duty on the same date. CBP also told Newsweek that Budd's alleged attacker continued to work within the agency right up until his retirement.
Newsweek contacted the individual multiple times to offer the opportunity to provide a statement for this story. He did not respond to an initial request and then deleted his social media account shortly after being contacted a second time.
Newsweek also reached out to a number of his and Budd's peers. Several did not respond to a request for comment. A post-academy instructor familiar with Budd's account of her experiences with the Border Patrol said he did not wish to provide any comment.
Whether her alleged attacker addresses her claims or not, Budd said she hopes that her story will, at the very least, allow other women in law enforcement who have faced similar experiences to know that they are not alone.
"Part of the regret I have is that…maybe, if I had come forward, it would have prevented other women from having to go through this," she said. "But, I know it couldn't have because why would my voice have mattered?"
"I am not trying to prove it or to relitigate it or take the Border Patrol down with it," she said. "I wanted to just be able to say it… And I hoped that if there were any other women out there, that they would know they were not alone."