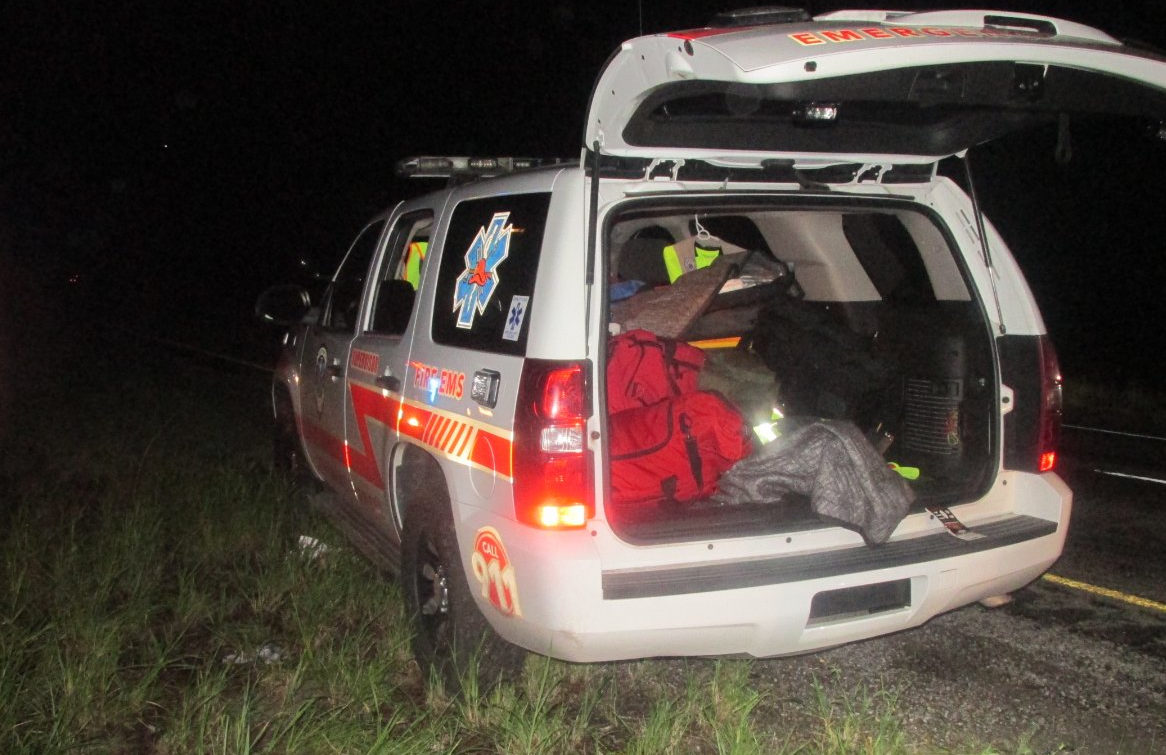 U.S. Border Patrol agents have arrested a 30-year-old U.S. citizen accused of impersonating a first responder and using a fake EMS vehicle to try to smuggle three people across a U.S. border checkpoint.
The Customs and Border Protection agency said a Border Patrol K-9 flagged the white SUV, which was labeled with decals identifying it as a "Texas volunteer fire rescue" vehicle as it arrived at the Falfurrias checkpoint on Tuesday morning.
When agents signaled for the SUV, which looked almost identical to a typical EMS vehicle, to make its way to the secondary inspection area, the driver "fled the checkpoint at a high rate of speed," CBP said.
Agents pursued what they quickly realized was an "imposter vehicle," the CBP said.
The SUV eventually came to an abrupt stop and agents "observed several subjects bail out."
The driver, who has not been identified by name, but is a U.S. citizen, according to CBP, was "quickly apprehended" along with three fleeing passengers who Border Patrol agents determined to be Brazilian nationals who were "illegally present in the United States."
CBP has said that the case is currently under investigation and will be referred for prosecution.
The incident is not the first time smugglers have tried to use fake vehicles to transport humans.
In 2015, Laredo Sector Border Patrol agents arrested a man using a "cloned" version of a government-issued Border Patrol Tahoe.
After federal agents noticed "something was not quite right" about the Tahoe and went to inspect, they found 12 people "crammed inside."
The agency has stressed that it has "multiple campaigns" focused on rescues and danger awareness to combat smuggling and "ultimately save lives" and will be vigilant at all checkpoints along the U.S.-Mexico border.
On Wednesday, the Department of Homeland Security announced that Southwest Border migration numbers had dropped in July for the second month in a row.
DHS Press Secretary Tyler Houlton said in a statement that the decrease "shows that when there are real consequences for breaking the law, the conduct of those considering crimes will change."
Houlton attributed the decrease to "human traffickers and Transnational Criminal Organizations [being] put on notice that this Administration was increasing prosecutions of those entering the country illegally."
"Despite our terribly broken immigration laws, the administration has still been able to impact illegal immigration," Houlton said.
He added that the DHS is continuing to refer to "single adult illegal border crossers" to the Department of Justice at "historic rates," however.
Houlton's statement comes as the Trump administration continues to face blowblack over its "zero tolerance" family separation and family detention policies that saw thousands of children seperated from their parents at the border.