Border Patrol Agents Find Abandoned Babies on Banks of Rio Grande With Attached Note
Border patrol agents recently found and rescued two abandoned babies near the banks of the Rio Grande river near Eagle Pass, Texas.
According to a press release from Customs and Border Protection (CBP), at approximately 12 p.m. local time on Tuesday, border patrol agents assigned to the Eagle Pass South Station in Texas were conducting "boat operations" in the Rio Grande river. While in the river, the border patrol agents observed "unusual color on the riverbank," CBP said.
As border patrol agents conducted a further investigation of the "unusual color" they discovered two small children abandoned on the banks of the river.
"Agents quickly responded and safely retrieved both children," CBP said in the press release.
According to CBP, one of the children was a 2-year-old girl and the other was a 3-month-old boy.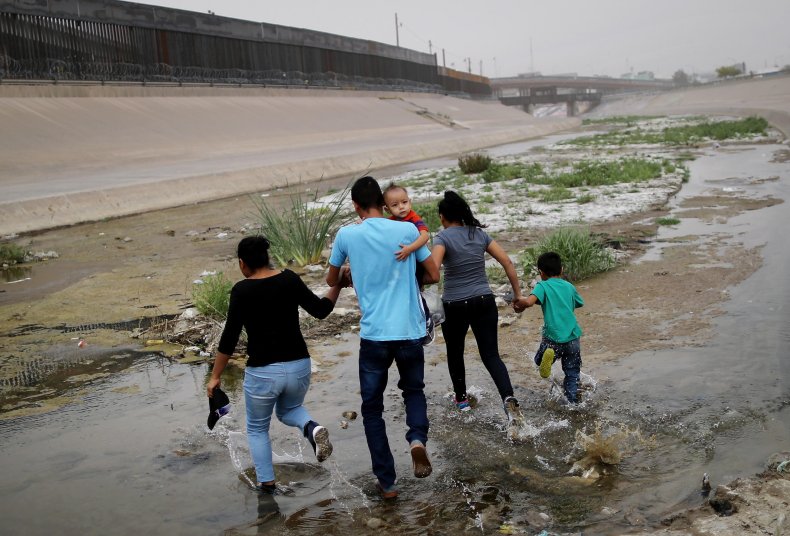 When border patrol agents went to rescue the two children, they noticed that a note was left under the 3-month-old's infant carrier that revealed the children were siblings and both "nationals of Honduras."
CBP said in the press release that after the two children were rescued, agents conducted a further search of the area but did not encounter any additional individuals.
"The children did not require medical attention and were transported to the Uvalde Station for processing," CBP said.
In a statement sent to Newsweek, a CBP spokesperson said that the two children were found to be in good health. The spokesperson said that both children were turned over to the custody of the U.S. Department of Health and Human Services.
A photo of the two children released by CBP shows them in a bushed area on the banks of the Rio Grande River.
In a statement posted to Facebook, Del Rio Sector Interim Chief Patrol Agent Robert N. Garcia said, "The attention to detail our agents demonstrate while performing their duties can be the difference between life and death. In this case, agents noticed a color they would normally not see in the river and turned back to investigate, discovering two small children."
Garcia continued, "It is heartbreaking and frustrating to know that there are children being abandoned without remorse or concern for their lives and wellbeing. I commend our agents for their hard work and commitment during these unprecedented times. Honor First!"
Over the past year, CBP has seen an increase in the number of unaccompanied minors crossing the U.S.-Mexico border.
According to CBP data, from October 2020 to July 2021, border patrol agents have encountered over 113,000 unaccompanied migrant children along the Southwest borders. In comparison, from October 2019 to September 2020, there were 33,239 unaccompanied minor encounters.