Border Patrol Allegedly Turning Down Donations of Soap, Diapers, Toys At Texas Facilities Housing Migrant Children
As reports circulate regarding living conditions in some migrant shelters along the U.S.-Mexico border, some Texans have stepped in to do what they can.
However, a report from the Texas Tribune indicates that officials from U.S. Customs and Border Patrol will not accept donations from citizens who want to provide for hundreds of children waiting in shelters across the state.
According to the Tribune, Austin Savage and five of his friends purchased $340 of soap, diapers, wipes and toys and drove to the Border Patrol station in Clint, Texas to deliver the items.
Savage said a friend, who is an immigration lawyer, had warned him that CBP likely wouldn't take the donations before they headed to the facility.
"We were aware of that, but it's just the idea of doing something as opposed to passively allowing this to occur,' he told the Tribune.
Savage said when they arrived, they found out that the station lobby was closed, and attempts to talk to the border patrol agents in a nearby parking area went unanswered. However, Savage said someone else had left supplies in a plastic bag left near the lobby door.
The bag had a note attached which read, "I heard y'all need soap + toothpaste for kids."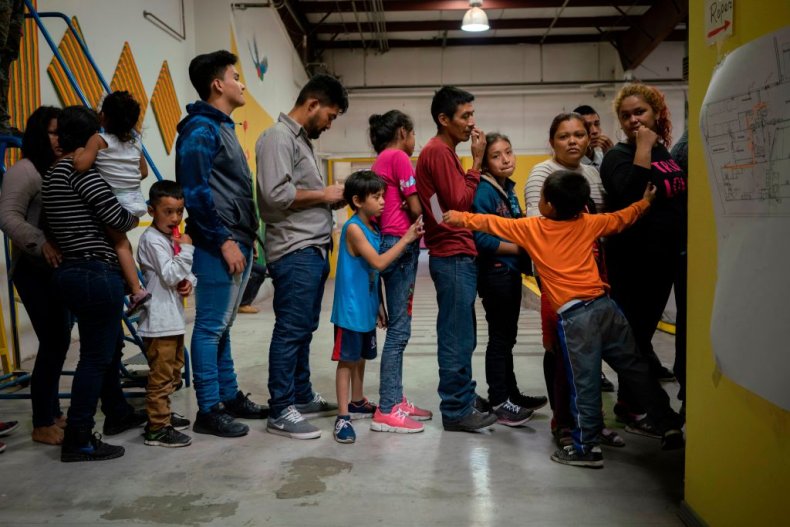 The note is likely a reference to a viral video of Justice Department lawyer Sarah Fabian telling Ninth Circuit judges that children in the custody of CBP do not need soap, toothbrushes, toothpaste and other hygiene products to be considered "safe and sanitary."
Fabian's comments came as she represented the federal government as part of a case to determine if the government has violated the Flores Settlement Agreement. The Flores Agreement, made in 1997, deems that children held in federal custody must be housed in conditions that are considered safe and sanitary. The agreement also states that children are to be provided with clothing, food, grooming items, medical and dental care, an education plan, recreation time, training in the English language and for the government to work to identify any family members residing in the United States.
The video came on the heels of reports that children residing in facilities in Clint and McAllen, Texas were being left without supervision or older children were being tasked with supervising younger kids. Additionally, reports indicated that some children had not been given access to soap or showers for days and many children were battling illnesses such as the flu but not being given adequate medical treatment.
"We received reports from children of a lice outbreak in one of the cells where there were about twenty-five children, and what they told us is that six of the children were found to have lice. And so they were given a lice shampoo, and the other children were given two combs and told to share those two combs, two lice combs, and brush their hair with the same combs, which is something you never do with a lice outbreak. And then what happened was one of the combs was lost, and Border Patrol agents got so mad that they took away the children's blankets and mats. They weren't allowed to sleep on the beds, and they had to sleep on the floor on Wednesday night as punishment for losing the comb. So you had a whole cell full of kids who had beds and mats at one point, not for everybody but for most of them, who were forced to sleep on the cement," Warren Binford, a law professor at Willamette University who interviewed several children at the facilities told the New Yorker.
Clint residents also expressed concern at the news reports coming out of the local shelter with Gabriel Acuña telling the Tribune that the news made him feel powerless "knowing there's children taking care of toddlers and little kids. Knowing what's happening in your community and that you can't give these kids supplies to clean or clothe themselves — it's heartbreaking.
"For God's sake, they're kids, man," he said, telling the news outlet that he had attempted to visit the shelter on Sunday but had been turned away.
Democratic state Rep. Terry Canales told the Tribune that he had been in contact with CBP to try and find a way for the agency to accept donations from the public but they responded that they do not accept them. However, Canales said he eventually spoke to an official by phone.
"These kids are being underserved, and they're not getting what they need. We discussed diapers, hygiene products, and I pressed upon him that from a PR perspective that it looks terrible we're not meeting their needs and they're not accepting donations from the public," he told the Tribune. "He, to some extent, agreed with me and said he would get back with me and see how we can collaborate. So the lines of communication are open."