El Paso: Border Patrol Planning 'Suspicious' Exercise in Beto O'Rourke's Hometown on Election Day
U.S. Customs and Border Protection is planning to conduct a crowd control exercise on election day near an almost exclusively Hispanic neighborhood in the town of El Paso, Texas. The agency confirmed in a press release that a "mobile field force demonstration" will take place at 10 a.m. local time.
"The El Paso Sector U.S. Border Patrol will be conducting a crowd control exercise at the railroad crossing west of the Paso Del Norte Port of Entry on Tuesday, November 6, 2018," the agency said in a statement, reports the Texas Monthly. "The exercise will include participants and assets from the United States Border Patrol."
El Paso is the hometown of Democratic U.S. Senate candidate for Texas, Beto O'Rourke. The town has also been his political base and where he held his final rally of the campaign on November 5. O'Rourke is running one of the most hotly contested elections of the midterms against Republican incumbent Ted Cruz.
When asked about the timing of the exercise, Customs and Border Protection spokesman Roger Maier told Texas Monthly: "Our preparations are ongoing. There is no link to the election date."
Maier referred the magazine to an October 29 press release which stated the agency's preparations for the migrant caravan which is currently making its way through Central America toward the U.S.-Mexico border.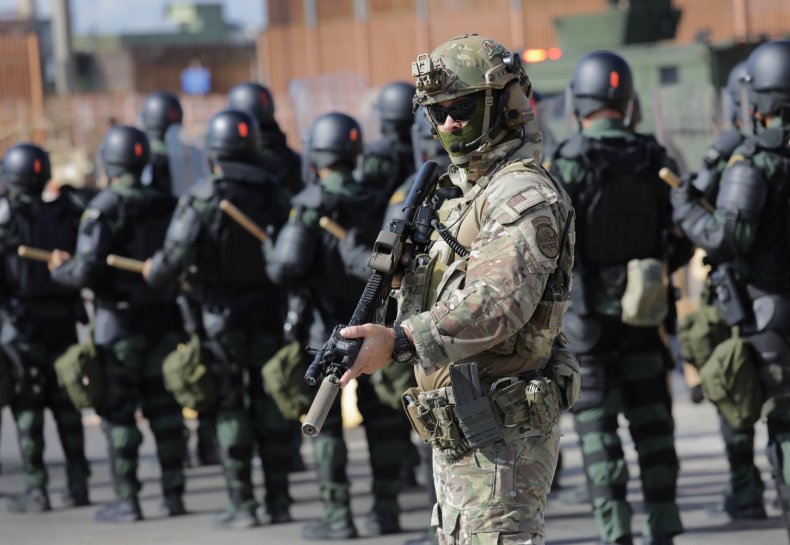 The American Civil Liberties Union of Texas condemned the timing of the exercise in an almost entirely Hispanic neighborhood as "suspicious."
"This administration, and by extension the Abbott administration, have done quite enough to intimidate voters without staging military rehearsals on the day our nation exercises our most important democratic obligation: voting," ACLU of Texas executive director Terri Burke said in a statement.
"Instead of practicing to handle nonexistent crowds, the Border Patrol could practice something useful and timely: how to properly interview and process refugee asylum seekers."
Texas Democrat and vice-chairman of the Mexican American Legislative Caucus in the Texas House, Mary Gonzalez, also questioned the timing of the exercise.
"This administration continues to use immigration policy for political purposes. The made-for-media 'crowd control' drill, conducted on Election Day, is a cynical effort to suppress the Latino vote in a region seeing record turnout. We demand the administration immediately cancel the drill," Gonzalez said.
O'Rourke was reportedly told of the plans just before he held his final campaign rally at the University of Texas at El Paso.
"No walls, no [Customs and Border Protection] exercises [are] going to keep us from honoring our laws, our commitments. Why this is happening now, why the president is stirring these issues up at this moment with 24 hours before we decide this election, I'll leave that to you to conclude," O'Rourke said.