President of the National Border Patrol Council Brandon Judd has claimed that detained migrant children are not being jailed, arguing that they have "recesses," access to "healthcare" and are fed "very good meals."
Judd made the comment in an interview with Fox News' America's Newsroom on Thursday morning. During the segment, the Border Patrol representative defended a highly controversial new immigration rule put forth by President Donald Trump's administration on Wednesday, which would allow for the indefinite detainment of migrant children with their families, countering the Flores Agreement of 1997. Critics, such as the American Civil Liberties Union (ACLU), have slammed the policy change.
"The ACLU just said we're jailing children. That's not true," Judd claimed. "We're putting them in places where they can have recesses. We're putting them in places where they have healthcare, very good meals."
"We're doing everything we can to ensure the well-being of these children, pending their deportation proceedings," he said. "And by the way, we're keeping the families together."
Indefinite detainment would mean he Trump administration can hold migrant families together beyond the 20-day limit for children set by the Flores Agreement more than two decades ago. In addition to setting a limit to the amount of time migrant children can be detained, the agreement set out standards for the care they must be guaranteed, including food, drinking water, medical assistance in emergencies, toilets, sinks, a temperature-controlled environment and supervision.
As a result of the Flores policy, the government currently must release migrant family units after the 20-day timeframe. Trump's administration instituted the highly controversial, and now banned, family separation policy in an attempt to keep migrant parents in custody, despite releasing their children. However, that effort also kept children detained, but in the care of the Department of Health and Human Services, not the Customs and Border Patrol agency.
Critics of the policy argue that it is inhumane to keep children detained indefinitely. Judd and administration officials have claimed this is a mischaracterization, arguing that most families cases are decided within 40 to 50 days. But some cases could drag on much longer.
Additionally, many are concerned about the conditions that children and their families will be forced to live in. In June, an attorney for Trump's Justice Department argued before a panel of federal judges that providing basic hygiene essentials – such as toothbrushes and soap – as well as beds to migrant children was not necessary to make them safe and comfortable. The judges on that panel expressed shock at the lawyers' arguments.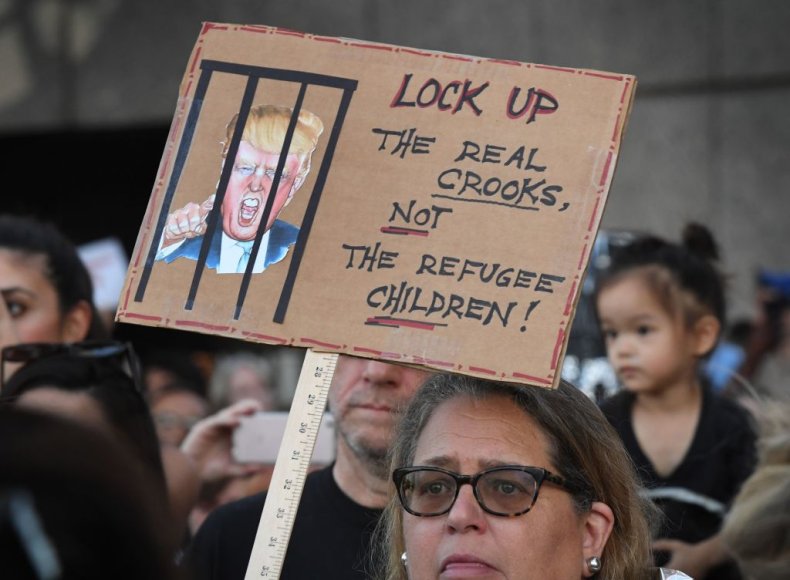 The poor conditions in numerous CBP detainment centers have been well documented by activists, medical professionals, lawyers and members of Congress. In some of the facilities, women were reportedly told to drink from the toilet because their sink was broken. Photos of the overcrowded centers have been widely shared, showing individuals being forced to sleep on cement floors with only thin blankets. Many detained migrants have reportedly also been denied basic hygiene products and healthcare while in custody.
"The Administration is seeking to codify child abuse, plain and simple. Its appalling, inhumane family incarceration plan would rip away basic protections for children's human rights, reversing decades-long and court-imposed rules and violating every standard of morality and civilized behavior," Speaker of the House Nancy Pelosi, the top Democrat in Washington, said in a Wednesday statement.
"The indefinite and prolonged detention of children would compound the cruelty and accelerate the heart-breaking humanitarian situation at the border," she continued, "worsening conditions for children already forced to sleep on concrete floors, eat inedible food and be denied basic sanitation and standards of care."