Border Patrol Electronic Remote Rescue Stations Saving Migrant Lives
U.S. Border Patrol officials saved a migrant's life this week with help from a rescue station that enables migrants traveling through remote locations to alert authorities when they need help.
The rescue occurred on Wednesday as temperatures in the area exceeded 100 degrees, according to agents with the Border Patrol's Laredo South Station.
"Today, this new technology saved a life," Deputy Chief Patrol Agent Carl Landrum said in a news release announcing the successful rescue. "The U.S. Border Patrol will always prioritize human life."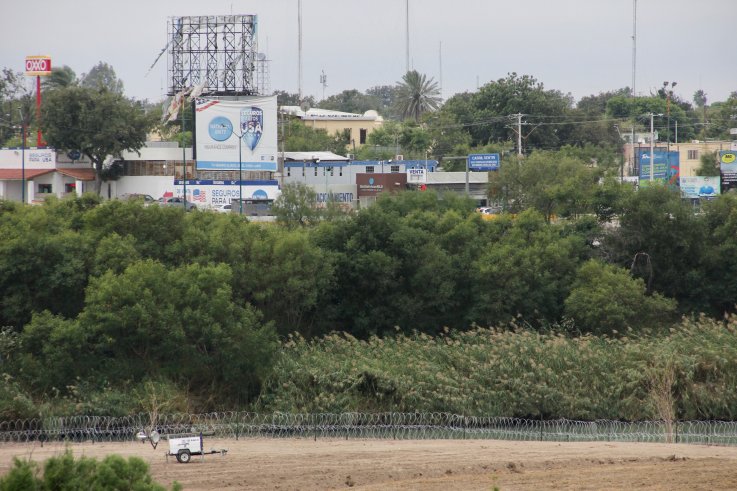 "This new technology saved a life," border officials said of the new rescue stations deployed throughout South Texas. A male migrant in need of help alerted authorities of his location using one of the stations earlier this week as temperatures exceeded 100 degrees. In the photo above, military fencing can be seen along the Rio Grande on November 18, 2018 in Laredo, Texas.
THOMAS WATKINS/AFP via Getty Images
Border agents said the individual was a male but did not provide other identifying information. He was "in good health" when emergency medical officials arrived to examine him, unlike another migrant authorities found suffering in the heat earlier in the day. That other individual died after she was taken to a hospital, officials said.
Both migrants crossed the U.S.-Mexico border between Rio Bravo and El Cenizo before authorities found them, the release said.
The rescue station that the male migrant used is one of 18 in place throughout the Rio Grande Valley. Each is placed in a location "that will have the greatest impact on rescue efforts," with 30 more expected to be deployed in the region by the end of September, according to the Rio Grande Valley Border Patrol Sector.
Border officials shared images of the rescue station, which is officially called a Mobile Rescue Beacon (MRB), on social media. The beacon reaches several feet above head height so it can be seen from far away, it has lights that make it visible at night, and it includes a sign at its base with a red button and instructions in both English and Spanish for those in need of assistance.
"If you need help push the red button," the instructions read. "Rescue personnel will arrive shortly to help you. Do not leave this area."
Once an individual pushes the red button, the MRB sends out a signal alerting authorities that help is needed. Border Patrol officials are able to identify exactly where the person is based on which station triggers the alert.
The sign on the MRB also includes an illustration that shows an individual walking up to the MRB, pushing the button and sitting at the base of the station to wait. The final image shows another individual arriving to help, with a jug of water in hand.
Water is of particular importance for migrants traveling in South Texas, especially as temperatures rise in the summer months. Eduardo Canales, the director of the South Texas Human Rights Center, told Newsweek his nonprofit works often with volunteers to deliver barrels of water to remote areas in which migrants often perish.
Canales said border officials have in the past asked him to place water stations in some of South Texas' remote areas, though he said his most recent water drop was thwarted by unknown individuals who removed the barrels. He said that while life-saving tools like the MRBs are "not the overall solution" for what he described as a "humanitarian crisis" along the border, he acknowledged the technology can help save some lives.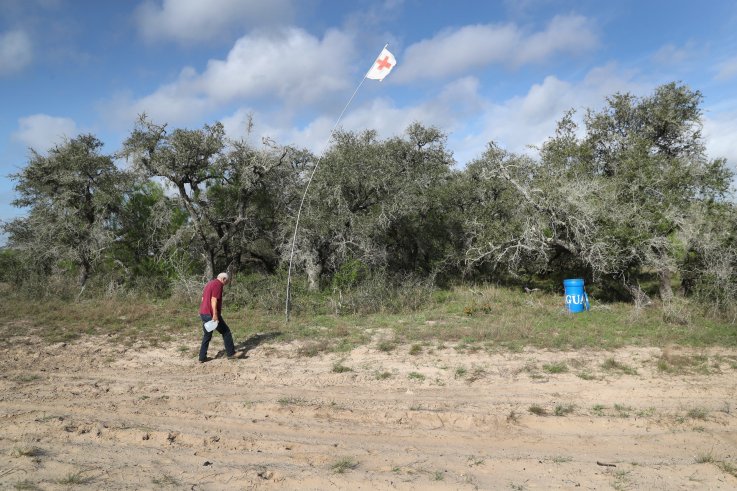 South Texas Human Rights Center Director Eduardo Canales stocks remote water stations along migrant trails on March 17, 2017 near Falfurrias in Brooks County, Texas.
John Moore/Getty Images
"Any attempt to mitigate suffering or injuries is fine with me, and it's fine with the South Texas Human Rights Center," Canales said. "The beacons are an attempt."
According to the International Organization for Migration's Missing Migrants project, an estimated 125 migrants have died along the U.S.-Mexico border so far this year. Concerns about migrant survival increase during the summer months, when temperatures rise and dehydration becomes a serious concern for all individuals traveling in remote areas without dependable water sources.
As South Texas Border Patrol officials expanded the number of MRBs last month, Laredo Border Sector Chief Matthew Hudak told KGNS-TV his hope was that migrants would use the rescue stations before their individual predicaments grew too dire.
"It's not that we want them to push the button when they're near death; it's when they're out of water, they're realizing they got in over their head in terms of the journey, that's the time to find one of these, look for it and ask for help," Hudak said.