Border Patrol Union President Thanks 'Fox & Friends' for Calling Migrant Caravan Immigrants Criminals
The Trump administration has been keen to portray migrants traveling to the United States border in a Mexican caravan as lawbreakers and wrongdoers—and Fox & Friends is doing its part to broadcast that message, according to the head of the National Border Patrol Council.
In a Monday interview with the Fox News morning show, Brandon Judd, the council's president, commended Fox & Friends hosts for being "out front" in painting the migrants seeking asylum in the U.S. as people entering the country illegally.
"Your show has been great and out front in saying these people are going to come here and break the law," Judd said. "And so, the left-leaning outlets, the fake news if you will, what they're trying to do is they're trying to portray this as a legal process. Well, if you do it legally, the United States has the right to say, 'Well, no. Don't come in this way.'"
Judd pointed out that Customs and Border Protection has already exercised that right by turning away dozens of Central American migrants traveling with the caravan, telling them that the San Ysidro port of entry has "reached capacity." CBP Commissioner Kevin McAleenan told the roughly 50 people who were denied admittance that they "may need to wait in Mexico."
Last week, President Donald Trump ordered Secretary of Homeland Security Kirstjen Nielsen to deny entry to the migrants, calling the caravan a "disgrace."
Nielsen answered the president's orders by announcing on Wednesday that the Department of Homeland Security would be enforcing "the immigration laws as set forth by Congress."
"If you enter our country illegally, you have broken the law and will be referred for prosecution," Nielsen said in a statement. "If you make a false immigration claim, you have broken the law and will be referred for prosecution. If you assist or coach an individual in making a false immigration claim, you have broken the law and will be referred for prosecution."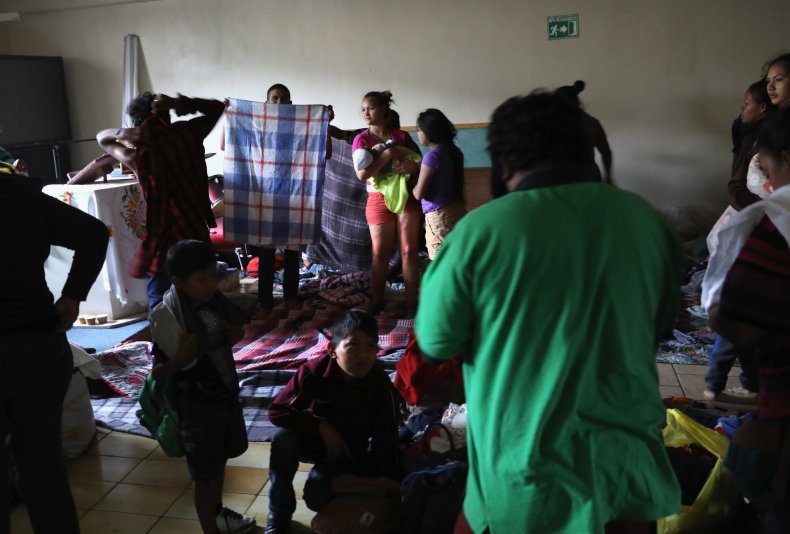 The migrants who are just reaching the border after weeks of travel are seeking asylum from dangerous conditions in countries roiled by gang violence, drug trafficking or poverty. They've traveled as a group to mitigate some of the risks typically associated with a journey to the U.S.-Mexico border, including sexual assault and human trafficking.
But that's not how the Trump administration sees it.
"The biggest flaw in Trump's thinking is that there is nothing illegal or improper about people in fear for their lives asking for protection," Adam Isacson, the director for defense oversight at the Washington Office on Latin America, told Newsweek earlier this month.
"But Trump sees gang members, criminals, people trying to take jobs illegally—to be frank, he sees nonwhite people," Isacson continued. "He's not seeing people fleeing violence."