Border Patrol Agents Allegedly Try to Shame Male Migrant By Making Him Hold 'I Like Men' Sign
A new report out of a migrant processing center in West Texas claims that Customs and Border Patrol agents attempted to shame a Honduran migrant by making him sign up a sign that read "I like men."
The account, detailed in emails obtained by CNN, was written by an agent reporting his coworkers for making the migrant hold a sign that said "Me gustan los hombre(s)," while he walked through the detention center.
The agent at the processing center, located in El Paso, said he witnessed an agent give the sign to the migrant and then told him to walk in front of a group of other migrant men while holding it up. The agent who wrote the email saw that two members of border patrol were laughing about the incident and when he told them that they were not being professional, they did not respond.
The migrant was clearly upset by the incident, said the agent in his email. But when the agent reported the incident to a senior official in charge of the center, no action was taken, he said.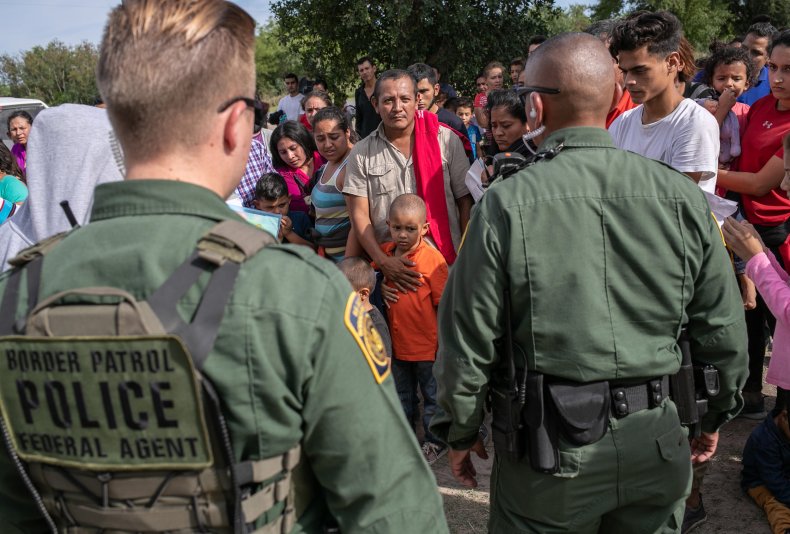 The note comes right after the release of a ProPublica report on a private Facebook group for Border Patrol agents where some joked about the deaths and dehumanization of migrants in their care.
"Today, U.S. Customs and Border Protection was made aware of disturbing social media activity hosted on a private Facebook group that may include a number of CBP employees," Matthew Klein, assistant commissioner for the agency's Office of Professional Responsibility, said in a statement Monday. "CBP immediately informed DHS Office of the Inspector General and initiated an investigation."
The group also made fun of Latina elected officials including Congresswoman Alexandria Ocasio-Cortez. Doctored images and cartoons of the New York representative in compromising positions were distributed on the page. Members of the group also referred to her using racial slurs and sexist terms.
"These posts are completely inappropriate and contrary to the honor and integrity I see—and expect—from our agents day in and day out," U.S. Border Patrol Chief Carla Provost said in a statement. "Any employees found to have violated our standards of conduct will be held accountable."
President Donald Trump said Friday that border patrol was doing a "phenomenal job."