Protesters 'Invade' Border Patrol Museum, Vandalize Memorial to Fallen Agents [PHOTOS]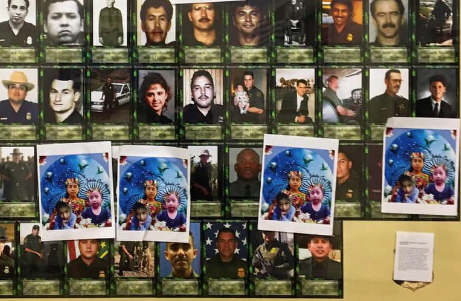 The Border Patrol Museum in El Paso, Texas, is pursuing charges against a group of pro-migrant protesters they say "invaded" and vandalized private property Saturday.
Activists with Tornillo: The Occupation group held protests all weekend in Texas "to disrupt migrant detention, deportation and murder" of immigrants apprehended by members of the U.S. Border Patrol. The group posted a Facebook livestream showing at least a few dozen protesters, some covering their faces and some wearing Native American garb, as they held up signs reading, "Border Patrol Kills" inside the museum. Director David Ham confirmed reports to Newsweek alleging that activists harassed guests and staff and defaced a memorial to fallen agents.
The group placed adhesive stickers showing a photograph of Guatemalan girl Jakelin Caal Maquin and 8-year-old Felipe Gomez Alonzo, who both died while in U.S. custody last year. Facebook photos posted by Tornillo: The Occupation show several stickers were placed over the faces of agents who died in the line of duty.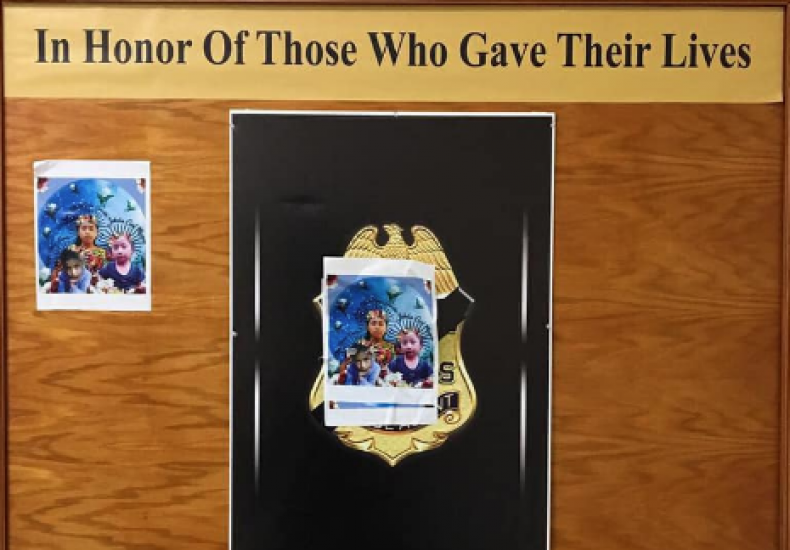 Elizabeth Vega, one of the protest organizers, denied vandalizing the museum, and told KVIA-TV the demonstration was "an act of civil disobedience done because we believe there is a humanitarian crisis and human rights violations being perpetuated by a corrupt and broken immigration system. If this was happening in another country, we would be in an uproar."
A 45-year-old undocumented immigrant from Mexico died in Border Patrol custody Monday, becoming the third such death since December.
Ham told Newsweek Tuesday he is waiting on an insurance adjustor to provide an estimate on damage to property at the museum, which holds historical U.S. Border Patrol items but is not funded or officially affiliated with the federal government agency. He said no immigration protests have occurred at the location in the past. He said a majority of the damage stems from the strong adhesive on the stickers which were placed on walls and plexi-glass exhibits throughout the museum.
"Today a group of protesters invaded the Border Patrol Museum and defaced all of our exhibits including our sacred Memorial Room," Ham posted to Facebook Saturday. "Efforts to prosecute them will be pursued once damage is assessed. This angers me greatly."
Military police from nearby Fort Bliss responded to the incident and checked protesters' identification papers before allowing them to leave the scene, the El Paso-Times reported. Officials from the police station declined to respond to several calls for comment from Newsweek Tuesday morning.
The group's Facebook livestream stated the demonstration's intended purpose was, "Reclaiming the border patrol museum and exposing the true violence of borders and border patrol." The group's Facebook page describes themselves as "[A] brown led coalition of resistance against the Tornillo prison camp and corrupt system that devastates our families on both sides of the border."
"We are here at the Border Patrol museum and what we did: we reclaimed their false narrative and put the truth," a woman is heard proclaiming in the group's Facebook video. "Let them know that Border Patrol kills. There shouldn't be a museum for genocide."
Several signs held by demonstrators inside the museum read, "no deportations on stolen land" and "children need freedom to grow." The group can be heard chanting, "Say it loud, say it clear, Border Patrol kills" and "Up, up with liberation; Down, down with deportation."