Bus Rider Films Border Patrol Agent Questioning Citizenship, Compares To 'Nazi Germany'
The woman who recorded a now-viral video of a Border Patrol agent questioning bus riders' citizenship in New Mexico said the incident felt like "living in Nazi Germany."
Los Angeles teacher Yolanda Varela Gonzalez was on a bus ride between Los Angeles and El Paso, Texas, this week when the bus stopped at a U.S. Customs and Border Protection checkpoint in Deming, New Mexico. Her cellphone recording showed a Border Patrol agent walking down the aisle of the bus, peering into the bathroom and asking people for citizenship papers. "You a citizen? Are you a citizen? Great," the agent can be heard asking.
In the video, Gonzalez verbally chastises the Border Patrol agent as he walks up and down the aisle looking for proof of citizenship from riders.
"I understand you're not allowed to ask for that within 100 miles of the border.... No, it's not right, this is what—living in Nazi Germany where you need to show your I.D. within the states, this is bulls**t," Gonzalez is heard saying.
Her remark appears to reference the 1935 Nuremberg Laws, which the Nazi Party government enacted to revoke citizenship based upon a racist and anti-Semitic ideology.
"Who are you? You know my job?" the agent can be seen asking Gonzalez in the two-minute Facebook video, which has been viewed nearly 85,000 times since it was posted July 19.
"You know you guys are terrorizing people?" Gonzalez responds. The two engage in a brief spat over the agent saying his own name and that he disliked her filming him doing his job. The Facebook post has the caption "#F***ThePolimigra #F***ICE #AbolishICE."
"Crying, screaming against the injustices against my people. Why so much hate? They judge us by our skin color & language but we ¡Won't take it any longer!" Gonzalez wrote on Facebook.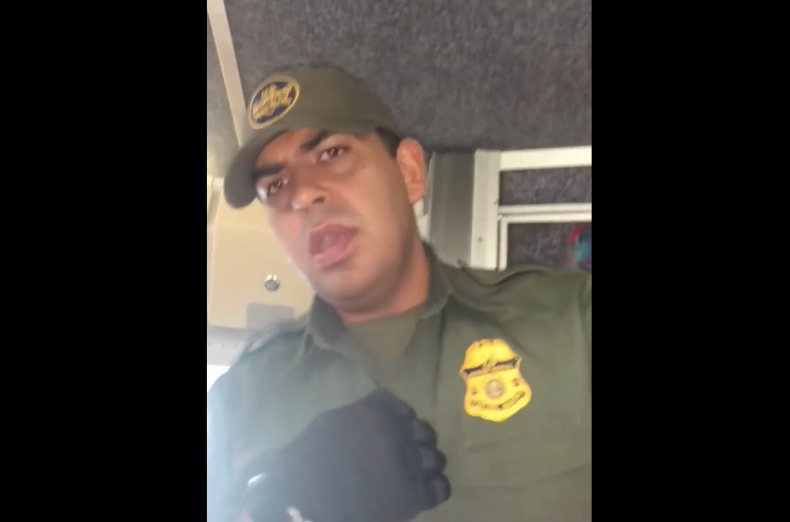 But the checkpoint questioning by the federal employee is legal under an "external boundary" regulation that skirts the Fourth Amendment's constitutional protection of Americans from random and arbitrary stops and searches. Under the federal regulation, a 100-mile zone extends out from all U.S. borders, allowing Border Patrol to operate immigration checkpoints like the one seen in the video. But roughly two-thirds of the U.S. population lives within that 100-mile border zone, and according to the American Civil Liberties Union, Border Patrol agents routinely overstep their legal limitations.
Several similar videos have emerged of Border Patrol agents casually walking up and down bus waiting lines asking people if they are U.S. citizens. Last month, a Border Patrol officer in Bangor, Maine, which is within the 100-mile border boundary, asked a line of passengers, "Are you folks U.S. citizens?"
Concord Coach Lines, which operates the bus route, said it has "no partnership, agreement or collaboration with Customs and Border Protection." Instead, the company issued a statement claiming the federal agents "arrive without any forewarning."
Gonzalez told KOAT-TV she was traveling back to Los Angeles after visiting her mother in El Paso. She said that while she understands the agent was just doing "their job," she wants a broader conversation about the racial and civil rights problems behind such laws.
"It really boils down to how people are being treated regardless of how many miles it is, the fact that people are living in fear," Gonzalez said in a Skype interview with KOAT. "And yes, it's racial profiling, and that is just a violation. Any sort of racial profiling is a violation of human rights and civil rights.... I understand that they are employed and this is their job, but I think it's a conversation that needs to seriously occur on a much larger scale. This isn't about one bus, this isn't about one Border Patrol agent, this is really about the whole system."
U.S. Customs and Border Patrol responded in a public statement about the viral video, explaining: "The purpose of U.S. Border Patrol Immigration Checkpoints is to conduct effective immigration inspections and halting smuggling and other illicit activity from reaching the interior of the United States.
"Border Patrol Agents work within their authority to conduct these inspections within 100 miles of the border, as authorized by law and Supreme Court rulings. This important role is vital in protecting our nation," the statement said.