Passengers waiting in line to board a regional Northeast bus line in Maine were asked if they were U.S. citizens by a Customs and Border Patrol officer.
Concord Coach Lines issued a statement distancing themselves from Customs and Border Protection officers, who the company said have increasingly showed up at bus stops "without any forewarning." Local stations in Bangor, Maine, WCSH-TV and WLBZ-TV, first reported the video, recorded by passenger Alec Larson, last month. A Border Patrol officer casually strolls up and down the boarding line, asking if people are U.S. citizens—something that's been happening more frequently across the country over the past year.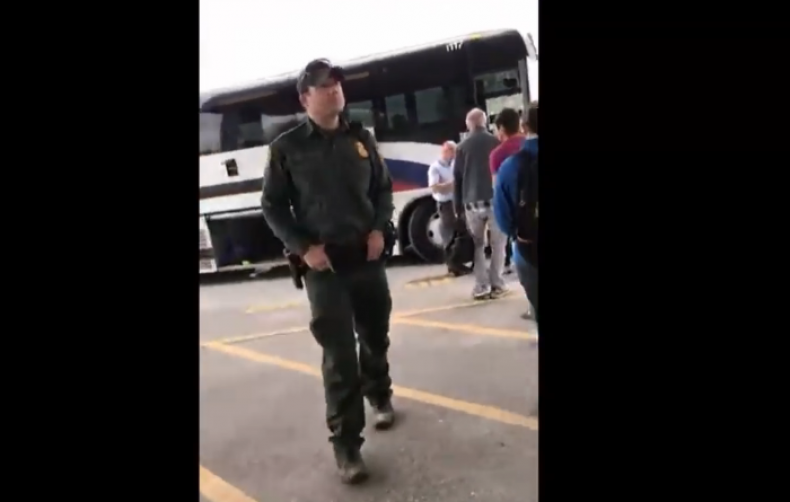 "Are you folks U.S. citizens?" the uniformed agent can be heard asking the line of passengers. "I'm not answering that question, sir," Larson responds.
The video then cuts to several concerned passengers asking an employee at the Concord Coach Lines terminal in Bangor if they are required to prove they're U.S. citizens in order to board the bus. The employee, decked out in reflective gear and loading bags, repeatedly responds, "Yes."
In a statement issued through Twitter on Friday, Concord Coach Lines said it has "no partnership, agreement or collaboration with Customs and Border Protection. Recently, a video was released that showed CBP questioning passengers boarding a CCL bus in Bangor, ME and an employee of CCL incorrectly saying that one must be a US citizen in order to ride our service."
Gilles Bissonnette, legal director of the ACLU's New Hampshire chapter, released a video in which he said "ICE's use of a bus station to conduct immigration enforcement is morally repugnant. Concord Coach is a private company, it has no legal obligation to comply with ICE." Bissonnette and Concord Coach Lines both stressed that all passengers have the right to decline to answer any questions from CBP officers.
Concord added that the terminal employee was "caught off-guard" by the question, and the company held all-staff meetings on June 1 to clarify that anyone can ride their buses.
Several recent viral videos have emerged on social media showing incidents in which Border Patrol officers have boarded regional buses and questioned passengers' citizenship. A Fort Lauderdale, Florida, video from a January Greyhound bus ride showed several officers asking passengers for "proof of citizenship." And video from just days later showed Border Patrol officers in Syracuse, New York, questioning Amtrak passengers about their U.S. citizenship.
Concord Coach Lines confirmed that CBP is increasingly present at their facilities, but "they arrive without any forewarning and we have very limited interaction with them...CBP typically questions passengers in common areas like the boarding and loading docks that are open to all customers."
Dave Long, a Customs and Border Patrol spokesman in the Buffalo, New York, region said such bus searches are increasing under the Trump administration to crack down on "alien smuggling."
"Transportation hubs are used by alien smuggling and drug trafficking organizations to move people, narcotics, and contraband to interior destinations throughout the country," Long said in a statement to The Post-Standard in Syracuse. "To combat these growing threats, the U.S. Border Patrol has increased the frequency of deportation checks around the country as an additional enforcement mechanism to reinforce CBP's world-class approach to border security."