Border Patrol Seizes 500,000 Counterfeit N95 Masks in Chicago
On Monday, agents with the U.S. Customs and Border Protection seized roughy
500,000 counterfeits of N95 respirator masks at Chicago's O'Hare International Airport.
N95 masks can filter out 95 percent of very small air particles, offering wearers strong protection around possibly infected people. But the confiscated masks—which were headed towards a company in Manalapan, New Jersey, according to the Associated Press—didn't offer the same filtration power. When 30 masks were sent to a testing facility, 10 percent had a filter efficiency rating below 95 percent.
The masks' high filtration efficiency is due to its "melt blown" fabric filters. Melt blowing is a type of nonwoven fabric manufacturing method that uses hot air to blow a melted synthetic plastic called polypropylene into a sheet of micro- and nanofibers. The micro- and nanofiber fabric filters ensure that smaller particles can't get through the mask.
There has been a shortage of N95 masks throughout the COVID-10 pandemic. While Trump Administration officials have denied any shortages exist, the U.S. Food and Drug Administration recently listed the masks on a medical supply shortage list.
The American Hospital Association, an industry trade group representing 5,000 hospitals and health care providers, has also said that a shortage of such masks continues to leave frontline medical workers without sufficient protection.
N95 mask shortages compelled the Centers for Disease Control and Prevention (CDC) to direct health care providers to re-use the masks even though they're supposed to be discarded after seeing a single patient. Re-use increases the risk of contamination and makes it harder to quantify how widespread the mask shortage actually is.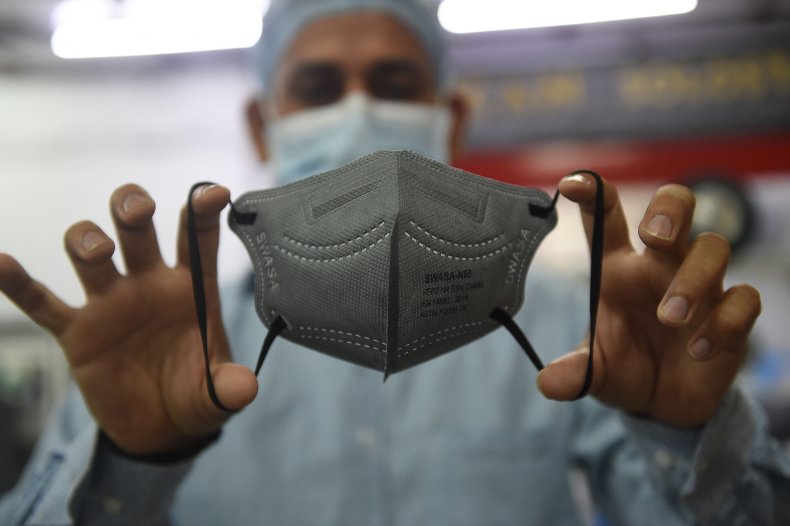 President Donald Trump has reportedly tried to increase mask production in the U.S. through use of the Defense Production Act, a law that compels manufacturers to produce badly needed items for the federal government at times of national crisis.
But while mask manufacturers have recieved government contracts to help make up the difference, the number of available masks still hasn't met the nation's medical needs.
"I'm frustrated that there appears to be no national strategy," Larry Hall, former the director of the Defense Production Act program at the Federal Emergency Management Agency, told the New York Times in late July. "Why isn't this administration using the act to prevent shortages?"
The shortage has left individual states, companies and hospital networks scrambling to find their own stockpiles of masks and other personal protective equipment to help medical workers avoid infection.