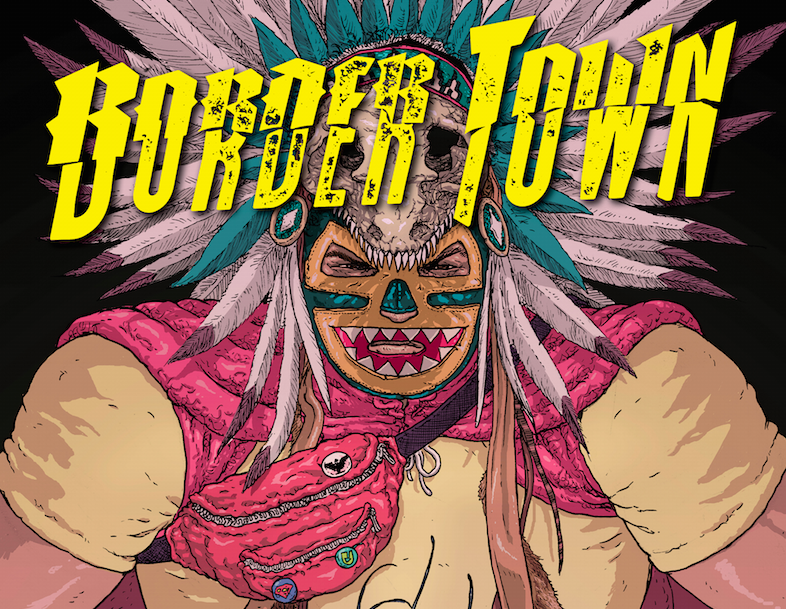 "What the f*** am I looking at?" one of the first readers to hold Border Town #1 told Mark Doyle, Vertigo's executive editor. "Dude, this looks amazing. I had no idea this was DC Comics, no offense."
That dude's first reaction was right. Border Town is self-willed and vibrant. It's an intense yet spirited look at America through the watchful eye of the youth. The story follows a group of kids in Arizona...and if the title isn't a big enough hint, the first few pages set the tone. A bunch of tattooed supremacists holding automatic weapons chant, "Make America great again" and "yee-haw."
The protagonist, Francisco, a.k.a. Frank, rocks a Jansport backpack, dusty Vans and has a skateboard in tow. It's his first day of school in a town named Devil's Fork, and he accidentally daps a skinhead. "Prove you're not racist," challenges a classmate, after she clues him in to who his new friends are. Frank begins to list reasons why he's woke, eventually blurting out "and I'm half-Mexican."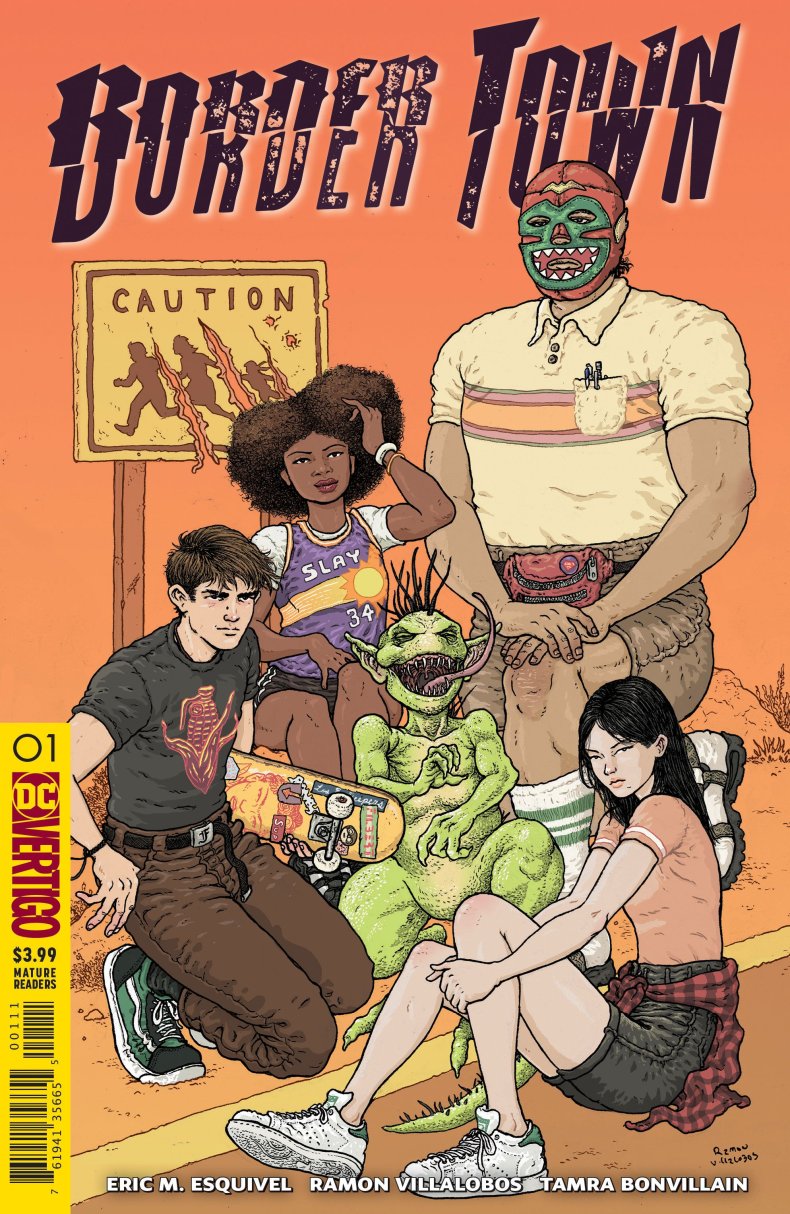 The next part is one of the many relatable moments in Border Town, and perhaps also one of the reasons the comic sold out in less than a week. The story has barely introduced Frank's new friend, Julietta, but she doesn't hesitate to lend him sense: "You're not half-Mexican and half-Irish. That makes you sound like the world's shittiest centaur. You're Mexican and you're Irish and you're American. All three fully, and all three simultaneously."
Series writer Eric M. Esquivel and artist Ramon Villalobos didn't hesitate to recite that very line during our interview at SDCC, among other potent wisdoms. "I'd like to destroy the idea there are borders," Esquivel told Newsweek. "Most of the borders we fantasize about aren't real—whether its culture or gender or nationality or ethnicity—they just don't exist. Being from Arizona is really funny because people are like, 'Go back to Mexico.' Arizona was Mexico."
Between Guillermo del Toro and Jack in the Box references, socks, slides and fanny packs, the story introduces what Esquivel calls "the supernatural weirdness my grandma terrified me with as a kid." In the case of the first issue, he's talking about ancient monsters based on Mexican folklore who manifest themselves as their victim's greatest fears: an "urban" teenager donning a hoodie; an ICE agent, or someone like himself.
"This is six of my pitches wrapped into one," Evisquel said. "Border Town contains everything I want to do in comics. I pitched Latino-centric stories all the time, but I've never had an experience where someone's been cool."
Cool also describes Border Town itself. There's a gracious swag to both the art and writing; substantive passages articulated in casual trains of thought and panels unique to the depth of Villalobos' imagination. By the epilogue, your new favorite squad—Frank, Aimi, Quinteh and Julietta—are primed for their forthcoming adventures.
Border Town features colorist Tamra Bonvillain with Deron Bennett on lettering. The first issue released Sept. 5, but sold out in less than a week, so it's heading back to the press for a second Oct. 10 release. Border Town #2 arrives Oct. 3.