Border Wall: Poll Says Nearly Half of Voters Support Sending Troops
A poll of registered voters shows that nearly half support President Donald Trump's decision to send National Guard troops to the U.S.-Mexico border.
The poll conducted by Politico and Morning Consult released Wednesday showed that 48 percent of those polled strongly or somewhat support Trump's decision to send troops to the border, while only 42 percent oppose the move. Around 9 percent of people did not have an opinion on the matter.
Trump signed an executive order last week that would deploy National Guard troops along the border, and the government is seeking to post up to 4,000 troops there.
The move is part of Trump's campaign promise to build a border wall, a promise that dates back to June 2015 when he formally announced he was running for president.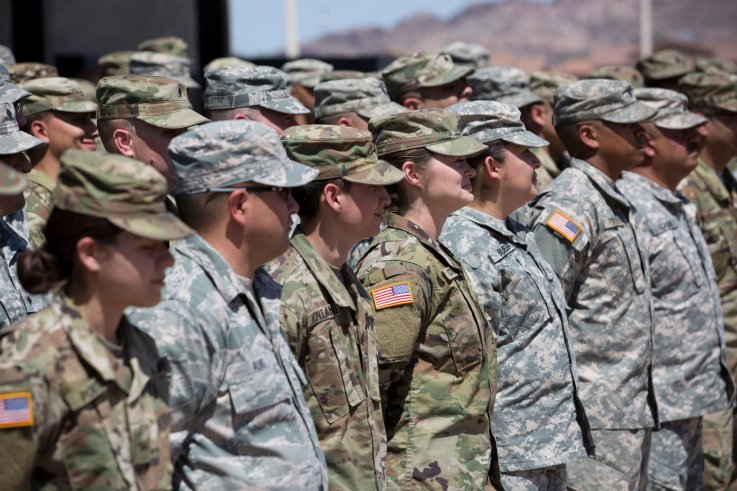 "I would build a great wall, and nobody builds walls better than me, believe me, and I'll build them very inexpensively. I will build a great great wall on our southern border and I'll have Mexico pay for that wall," said Trump in his announcement speech.
Trump has thus far not been able to get Congress to fully fund his border wall, appropriating only $1.6 billion in the last budget, less than 1/10th of the requested $25 billion. The money appropriated also comes with strict rules on how it can be used.
Trump's move to send troops garnered more support than he did with the 1,994 registered voters queried in the poll. Trump had a 43 percent approval rating for the job he was doing in the poll with a 52 percent disapproval rating.
"President Trump's decision to deploy National Guard troops is a hugely popular move with his base," Kyle Dropp, Morning Consult's chief research officer told Politico.
The poll was conducted between April 5 and 7 and had a 2 percent margin of error.
The White House did not immediately respond to Newsweek's request for comment.​
Border Wall: Poll Says Nearly Half of Voters Support Sending Troops | U.S.