Border Wall Excavator Crew Accused of Dumping Rubble Onto Mexican Side
Donald Trump's administration has been accused of allowing "environmental destruction" to take place during construction of the U.S.-Mexico border wall.
Footage shared on Twitter appeared to show an excavator discarding rubble down a mountainside. Newsweek was unable to independently verify where the footage was taken or what it showed.
Aaron Reichlin-Melnick, of the non-profit advocacy group American Immigration Council, which opposes Trump's immigration policies, accused the contractors of "dumping the debris in a way that it slides down onto the Mexican side." He wrote: "So much environmental destruction."
John Darwin Kurc, who posted the original clip along with several more which appeared to be filmed from a drone, tagged the Mexican ambassador to the U.S. and the Mexican foreign minister in a tweet, saying: "Do you know that these companies that the US hired are destroying your land? We need to STOP this madness!"
In a follow up tweet he wrote: "I hope you'll fight to remove the 'wall' that is NOT going to stop people or drugs from entering the US but will stop wildlife migration! I'm documenting the devastation in Guadalupe Canyon right now."
Newsweek contacted Kurc, the American Immigration Council, the U.S. Customs and Border Protection agency and the two construction firms named in Kurc's tweet—Kiewit Corporation and Donegan Companies—for comment.
Newsweek reported in June that Trump's much-touted border wall, which he vowed to build between the U.S. and Mexico during his 2016 election campaign, had only reached 200 miles in length.
Critics of his administration say Trump is far from fulfilling his promise to get at least 450 miles of border wall built before the end of 2020—and that even if it were to be built, it would not solve the problem as he sees it of undocumented migrants entering the U.S.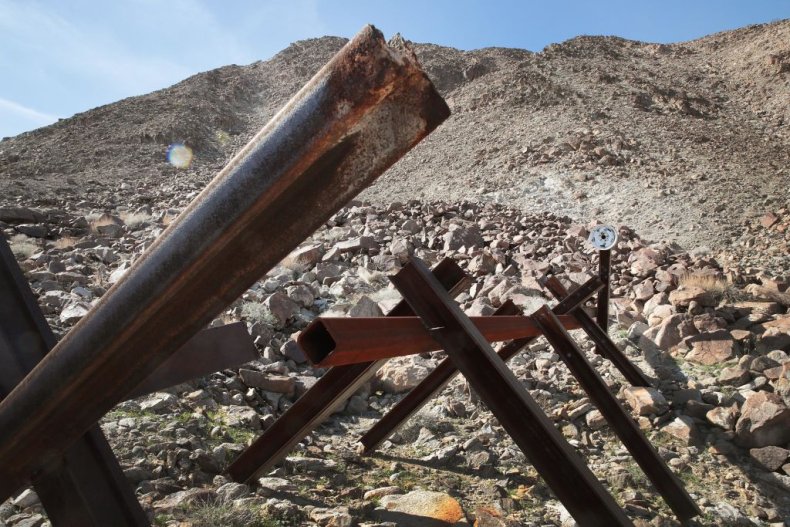 Trump initially pledged to build 2,000 miles of wall, but later appeared to row back on the plan, saying just 450 miles would be built before the end of 2020.
The president has called the situation at the U.S.-Mexico border "a crisis of the heart and a crisis of the soul."
However, claims of dumping waste into Mexico do not appear to be universally unpopular.
A report by the Arizona Republic newspaper suggested demolished metal barriers were being left on the Mexican side of the border where they were taken and sold for scrap.
"They [construction workers] throw the metal our way. We ask for it, and they toss it our way. We then pick it up and sell it," Julio Espinoza told the paper.
"We don't have a job because of the coronavirus in Mexico, so that's where we make money to support our families."