Trump Criticized Over Reported Plan To Divert Another $7.2 Billion From Military Funds For A Border Wall That Can Be 'Defeated By A $100 Saw'
President Donald Trump has sparked outrage with reported plans to divert an additional $7.2 billion in military funding in a desperate bid to deliver on his promise to build at least 450 miles of border wall before the end of 2020.
Citing anonymous sources, The Washington Post reported that Trump is planning to divert the significant sum sometime this year.
If the president does move forward with the plan, he will have diverted five times the amount that Congress had initially authorized him to spend on his border wall initiative this year in the 2020 budget, according to The Post.
Responding to the report, Democrats and detractors struck out at the plans, with Democratic Sen. Patrick Leahy branding the bid "an unconstitutional waste of money, stolen from our troops and counter-drug efforts, all in service of one man's ego."
"Also," Leahy pointed out in a tweet, the border barriers Trump's administration is currently building could be "defeated by a $100 saw."
"This is pure waste that hurts military readiness and military families," Rep. Katie Porter also weighed in on Twitter. "We should be standing by our troops, not prioritizing ineffective and harmful campaign promises."
The House Homeland Security Committee said Trump's wall is already "a WASTE and will NOT secure the border."
"Taking billions away from the Pentagon makes us LESS SAFE," the committee warned.
Vote Vets also condemned the reported bid, accusing Trump of seeking to "steal $7.2 billion from critical military projects that directly impact our military's readiness and the quality of life of military families."
Meanwhile, naval warfare reporter David Larter, a Navy veteran, honed in on what $7.2 billion could mean for the military: "7.2 billion is three DDGs, two Virginia-class submarines, 7 FFG(x), 14 LCS, better part of three squadrons of F-35s," he said. "It's an enormous sum."
The funds, the newspaper reported, would once again be pulled from military construction money, as well as from counternarcotics funding.
In total, the it would bring access to federal funds for the long-promised border wall up to $18.4 billion, the Post reported, allowing Trump to build roughly 885 miles of new border barriers by spring 2022.
The Department of Defense did not confirm any plans for funds to be diverted, telling Newsweek that it had no new announcements concerning border wall construction.
The new development comes as the Trump administration races to try to build at least 450 miles of border wall before the end of 2020 in order to make good on one of Trump's key promises as president.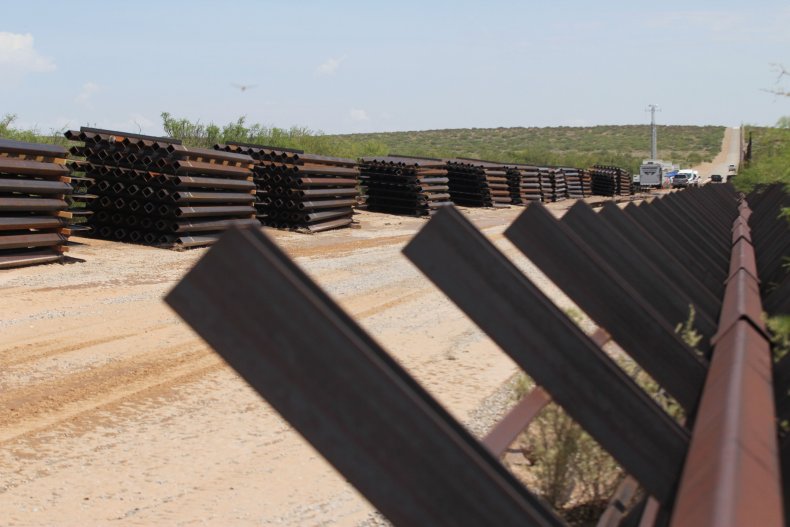 By the end of last month, as of December 27th, the Trump administration had seen 98 miles of border wall built, but has completed a few more miles since then. That means, however, the government still has roughly 350 miles to go.
Previously, a federal district court in El Paso had barred Trump from using the military funds, asserting that his decision to declare a national emergency in order to access border wall construction money was unlawful.
However, the U.S. Court of Appeals for the 5th Circuit in New Orleans lifted that injunction, giving the Trump administration the green light to continue border wall construction.
This article has been updated with a statement from the Department of Defense. Newsweek has also contacted the White House and CBP for comment for this article.