'Borderlands 3' Pumpkin Puzzle Guide: How to Solve Easy As Pumpkin Pie
Borderlands 3 Bloody Harvest 2020 runs through November 5, and that means Vault Hunters can earn spooky cosmetics while completing a series of challenges around the limited-time Heck Hole location. While most of the tasks are skill-based, the Easy As Pumpkin Pie Challenge may be giving players the most trouble. With help from Arekkz Gaming on YouTube, we'll show you how to solve this Pumpkin Puzzle quickly and easily.
After searching the galaxy for 25 Hecktoplasm, obtained by killing ghosts on various maps, you'll be able to enter the Heck Hole. Looking at the map, near the midpoint of the area you'll see a horizontal parcel of land that juts out, followed by a thin hallway. Towards the end of that hallway is where the Pumpkin Puzzle takes place. Clear the area of any Ratch enemies nearby, and you'll be able to start the challenge.
Once the room is clear, your point of focus should be the skulls on the wall next to the Chest that's blocked by vines. They are blue, green, yellow and pink. Go out into the previous room and you'll see four pumpkins on pedestals that are lit with one of those four colors. All you've got to do to complete the puzzle is memorize the color arrangement of pumpkins from left to right and pull the skulls in that order. So, if your pumpkins are blue, blue, green, and pink from left to right, just interact with the blue skull twice, followed by green and pink.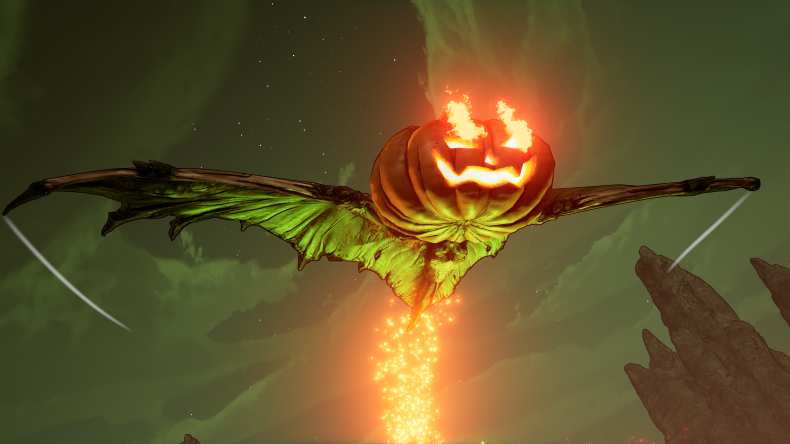 Because colors may change if you don't move fast enough, it may help to pull each switch individually and check back at the pumpkins for each step. Those who work quickly, though, shouldn't have too many issues. If you hear a laughter sound that means you've failed, but it's possible to repeat the puzzle by leaving and fast traveling back. The quality of loot you get from the Chest will vary, but this is still a fairly simple task which might result in earning some sweet gear. More importantly, you're one step closer to unlocking those Bloody Harvest skins.
Here's a recap of all the challenge milestones players must meet during Bloody Harvest to get the free rewards:
Four Challenges Completed - "A Shrinking Feeling" weapon trinket
Eight Challenges Completed - "Message from Beyond" ECHO Device skin
12 Challenges Completed - "Haunted Look" shared Vault Hunter skin
15 Challenges Completed - "Porphyrophobia" weapon skin
Borderlands 3 is available now on Xbox One, PS4 and PC.
What do you think of Borderlands 3 Bounty of Blood so far? Did you complete the Pumpkin Puzzle? Tell us in the comments section!