'Borderlands' Voice Actor Says Gearbox CEO Is a Bully Who Harassed, Shoved and Humiliated Him
The former voice actor behind Borderlands iconic mascot Claptrap, David Eddings, has recently spoken out about alleged mistreatment at the hands of Gearbox CEO Randy Pitchford. Before his Claptrap role, Eddings had worked at Gearbox for more than a decade as a business development and relations director, and a VP of business development. In an exclusive interview with Newsweek, Eddings says that Pitchford bullied him, and a confrontation at GDC 2017 turned physical before he was "rage fired" by Pitchford days later.
"I liken it to getting pushed off the Titanic 20 feet from shore," Eddings said. "You're sopping wet, disgruntled and angry, but two days later you're thankful. You're not on the sinking ship. But you're sad, because there are a bunch of people still on the ship."
Last Friday, Eddings announced he would not return as Claptrap for Borderlands 3, because he had "insisted on getting paid for his performance." On May 3, Pitchford told his Twitter followers Eddings was paid "handsomely" for his work and that he was made a "generous offer to reprise the role."
Pitchford also claimed in a tweet that Eddings was "bitter and disgruntled about having been terminated" and was offered "2x scale" to voice Claptrap, but refused the offer. (According to SAG, the standard scale rate for a New Media voice acting session is about $400 an hour.)
Eddings claims an offer like that was never made.
Eddings was hired in 2004, and he attributed his success at Gearbox to hard work and an odd coincidence: Pitchford and Eddings were born on the exact same day. "It felt like a sign to Randy. That played into our relationship and we even had our birthdays together."
Eddings says the two had a complicated relationship, and that Gearbox employees constantly shifted priorities to meet the whims of Pitchford, a CEO who Eddings says delights in pulling unprofessional pranks. For example: Eddings had lost his voice after performing as Claptrap at a gaming convention in February 2017, but Pitchford wanted him to perform again for a studio tour for former 2K Games president Christoph Hartmann later that month. The day of the tour, Eddings waited in the sound booth for Pitchford to text them the signal to begin.
"Randy had gone into the booth, yanked my cans off and stuck a wet finger in my ear that he had licked," Eddings claimed. "He jumped back and he cackled at me. Christoph and I are looking at each other like, what just happened?"
"I believe I caught him in a deception."
Then an incident at GDC in 2017 changed their already complicated relationship forever.
During the Game Developers Conference in San Francisco in March 2017, Pitchford and Eddings were at the Marriott Marquis hotel, a networking hotspot during GDC. On the Thursday of the convention, Eddings claimed two different people had approached him saying someone named Greg Richardson was trying to get a price on Gearbox. "I don't know anything about this and I'm the VP of Business," he said. Eddings source asked him not to reveal that he had shared the information about Richardson.
Eddings and Pitchford met up to discuss what had been said about Richardson. Eddings said he stood on his toes to whisper in order to "be secretive."
"Someone is trying to sell Gearbox," Eddings said, mentioning Richardson. This prompted Pitchford to respond "bulls**t, who told you?" A lawsuit from the former general counsel of Gearbox, Wade Callendar, suggests Pitchford already knew who Richardson was, and seemingly just wanted Eddings to tattle on his source. The lawsuit mentions that Richardson had helped collect capital "by July of 2017," though it's unclear if he was working with Pitchford in March. When Eddings refused to share his source, Pitchford got angry.
Things escalated quickly from there. " He shoved the f**k out of me while I'm on the balls of my feet trying to whisper. [He] knocked me back four steps... I believe I caught him in a deception," Eddings said. He shared images with Newsweek that he claims were taken shortly after the altercation that appear to show minor bruising on his ribs.
Eddings claimed that at least two people had witnessed this incident: Mario Kroll and Gearbox co-founder Landon Montgomery. Kroll can't verify it, telling Newsweek, "I was with him before and after the incident was supposed to have happened, but had to step away to tend to one of my clients." Kroll did notice Pitchford get "visibly angry" before leaving and returned to see Eddings "noticeably upset about what he described as an altercation with his boss."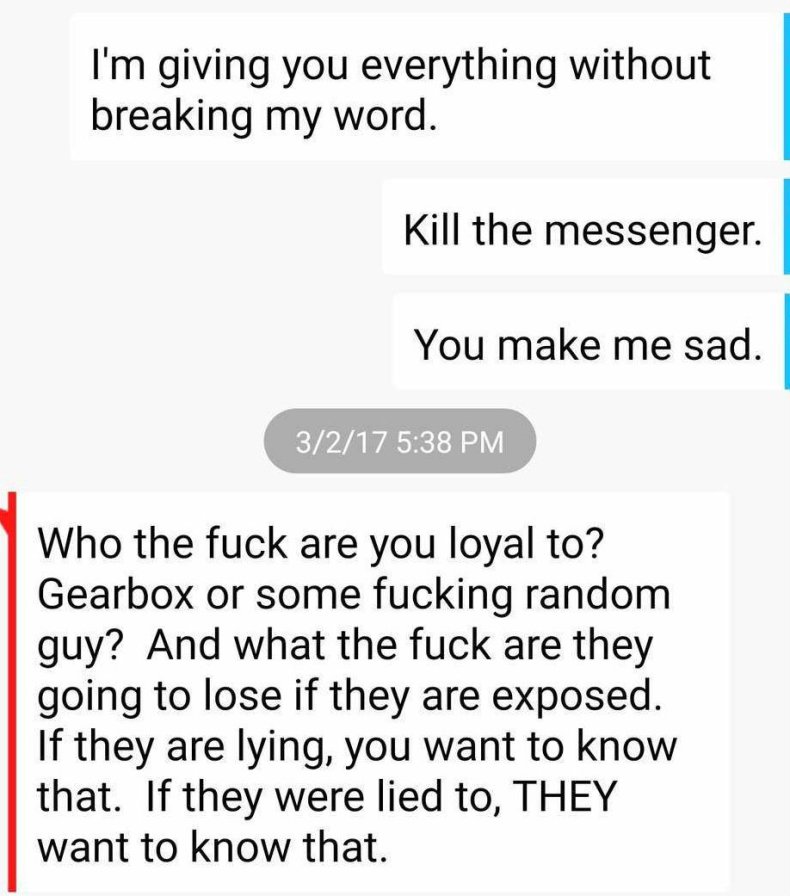 Montgomery supports Eddings' story. "David leaned up to whisper something to Randy and out of the blue, Randy shoves him, hard," he told Newsweek.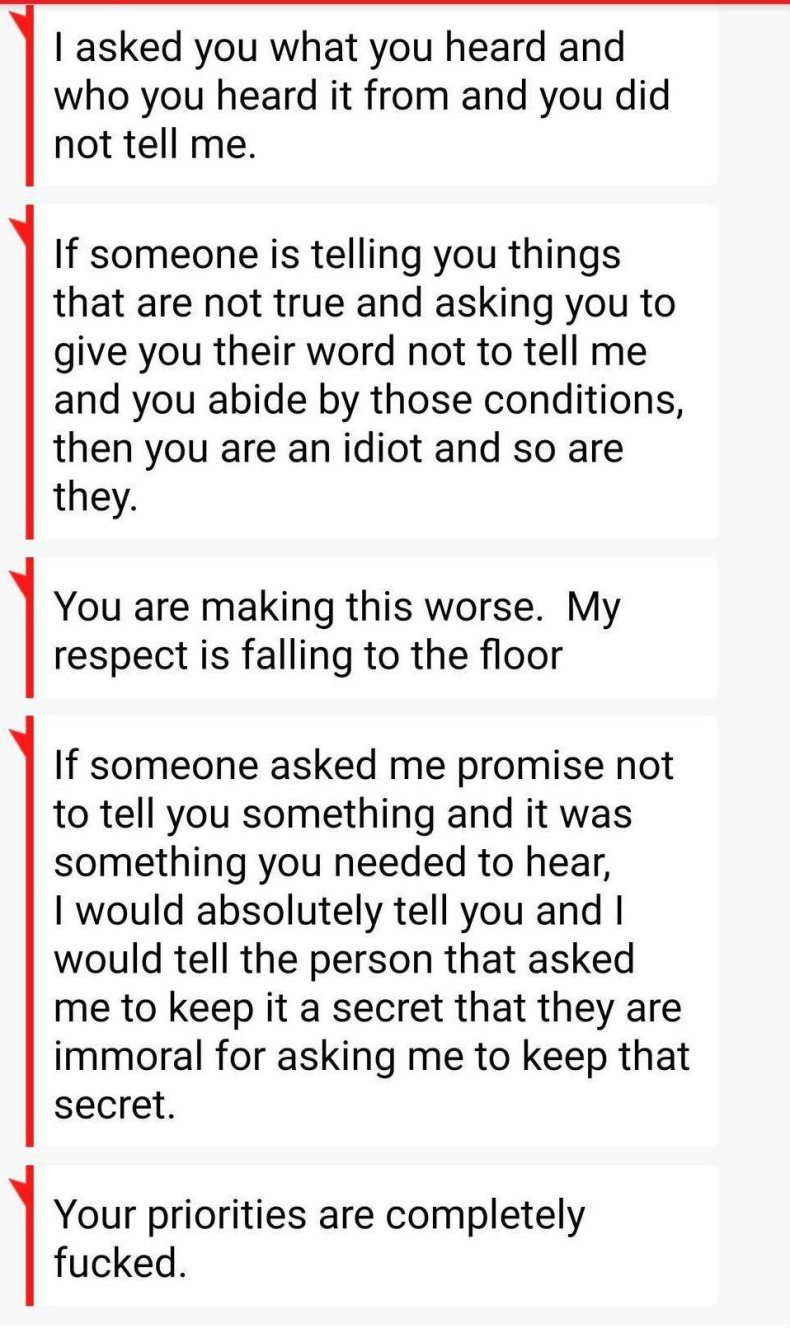 On March 6, the Monday after GDC, Eddings headed into the Gearbox Studios office in Frisco, Texas to meet with Pitchford. The following day, Eddings claims that he was "rage fired because (he) wouldn't tell him about Richardson."
"I'm happy to be free from the half-truths and full-on deceptions," Eddings tweeted in his original Twitter statement.
Meanwhile, after all the angst and hardship, Eddings says he's still willing to come back as Claptrap.
"I'll do it for free as soon as Randy makes a public apology to me and pays me the royalties I'm owed," Eddings said. When he was first approached to reprise his role, he tweeted that he "was willing to put differences aside and do something cool for Borderlands fans with my friends at Gearbox." The only prerequisite was that he needed to receive the past royalties he felt he deserved and an apology for the incident at GDC.
Pitchford has remained quiet on Twitter since Eddings broke the news he wouldn't return. Eddings has decided that now is the time to share his story; he recently left Rooster Teeth to work on an unannounced project and has "nothing holding (him) back."
"I can stand up to Randy because I'm not afraid of him," Eddings said.
Gearbox gave Newsweek the following statement regarding Eddings allegations:
Gearbox takes any and all claims of this nature very seriously and we will abstain from commenting on the allegations Dave is making because it is a personnel matter. We think it's a shame that the 400+ employees here who have poured the love and passion into Borderlands 3 are having their work be diluted by personal allegations.