'Borderlands 3' Tips: How to Emote, Equip Weapon Trinkets & Split-Screen
Borderlands 3 is finally out, letting Vault Hunters all over the world take part in the mayhem. Fans on Twitter and reddit have already begun theory crafting the best builds and gun optimization to make sure their hunt goes as smooth as possible. For some of us who may not be as focused on the grind, there's still plenty to learn.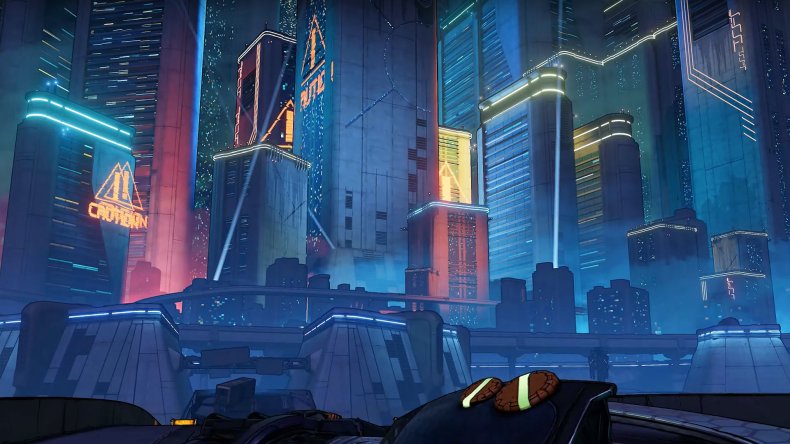 Here are some simple tips that players might want to know while jumping head first into Borderlands 3. With a game this expansive, there are lots of small tips that may not be explained as fully as they should be. Luckily, we've picked up the slack to make sure you know what you're doing.
Borderlands 3: How to Play Split Screen
Newsweek subscription offers >
Playing with teammates is crucial for success in Borderlands 3. You can queue up with a friend online or go straight for couch co-op for a more local, intimate experience. On PlayStation 4, you'll need to press the touchpad on the second controller, which will prompt the main player to accept the invite. On Xbox, it's the same method but with the start button. It might seem simple to do, but I ended up pressing and cancelling my buddy's invite at least three times before I got the method down.
Borderlands 3: How to Emote
Telling other players how you are feeling about a situation without words can be difficult in a video game. But emotes, those lovable little actions that serve no gameplay purpose, make it easy, In the third installment of Borderlands players have four different emotes per character. On PC, you press down the arrow keys in a direction to show off your moves. On PS4 and Xbox, you'll need to hold down the start button for a few seconds before a wheel shows up.
Borderlands 3 How to Equip Weapon Trinkets
Newsweek subscription offers >
At the end of your gun, you can place a small trinket that flops around while you're murdering enemies. In order to equip one, head over to the Inventory screen of the main menu and click the small grey box to the left of the image on your gun. There, you'll have access to the list of trinkets you have unlocked and can pick whichever one you'd like to add flavor to your boomstick. You can use the same trinket across multiple guns, so go wild with whichever one suits you the best.
Borderlands 3 is available on Xbox One, PS4 and PC.
How are you enjoying Borderlands 3? Tell us in the comments.
'Borderlands 3' Tips: How to Emote, Equip Weapon Trinkets & Split-Screen | Newsgeek