Boris Becker's Son Says He Didn't Need 'Any Assistance' in Accepting His Good Looks
Boris Becker's son, Elias Becker, has much to celebrate after being named among Britain's most eligible people by U.K. society magazine Tatler.
The publication has named the younger Becker among a host of well-heeled faces in its annual list, including Bridgerton heart-throb Regé-Jean Page, Prince Edward's daughter Lady Louise Windsor, and David and Victoria Beckham's son Romeo Beckham.
And in an interview with The Times in Britain, it would appear that Elias Becker, 22, required no reassurance about his desirability, as he revealed that he "didn't really need any assistance" in acceptance how good-looking he is.
In one part of the interview, he was asked whether his parents—tennis legend Boris Becker and his ex-wife, Barbara Feltus—told him he was good-looking as he grew up, or if they remained quiet on the matter.
"No, I mean, they couldn't really keep it quiet. I just have to look at myself," the German-born model, DJ and actor confidently responded. "But it wasn't really something that I viewed as the only thing that mattered."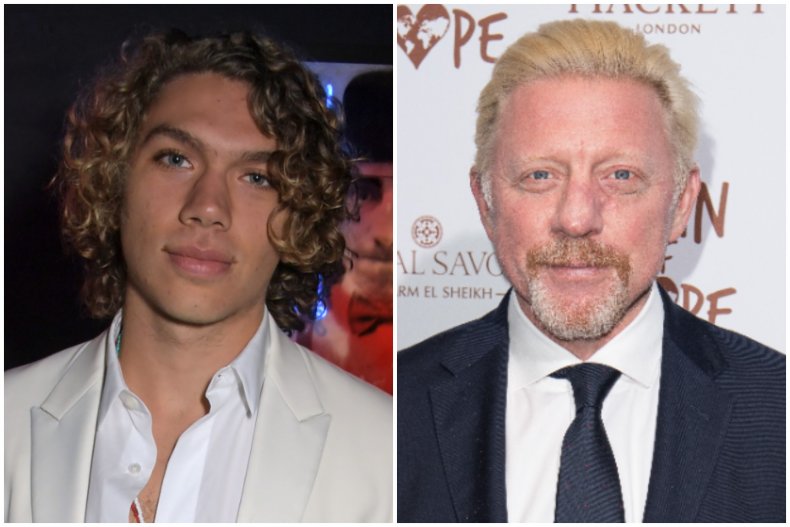 Elias Becker then recounted in the interview how his proud mother used to embarrass him as she gushed to her friends about how pleasing to the eye her son was.
"But, in the last five years, I didn't really need any assistance knowing that," the London-based student is quoted as saying.
Elsewhere, he shared details of how he has kept himself in shape—pull-ups, squats, "pistol squats," stretching, and "a veggie and low-meat consumption" diet—for those hoping to emulate his lifestyle.
He added: "Spinach may not taste the best when you're eating it raw or anything like that, but I guess that's what Popeye was trying to promote, or the cartoonist of Popeye: that we should be eating this food, you know?"
Asked why he believes he made Tatler's list, he said: "I have no idea. It may be just charisma or just because I met them. They're nice people, so maybe they liked me."
The Times shared excerpts from the interview on Twitter on Thursday, eliciting a strong response from those on the micro-blogging platform.
"I'm definitely adding 'did your parents tell you that you were good looking as you grew up?' to my interview questions armoury," tweeted journalist Stuart Dredge. "It seems to be a good 'character revealing' question."
Financial Times reporter Adrienne Klasa wrote: "This is [objectively] one of the funniest threads of quotes I've ever read."
"Oh great, a rich kid talking about how handsome he is," commented Reuters senior correspondent Chris Traylor, while The Register's Iain Thomson said that there was "so much cringe in this interview."
While there were a number of people asking if the interview was a parody, several other Twitter users also praised Elias Becker's self-confidence, with one slamming his detractors for showing "so much envy" in their disparaging comments.
Boris Becker has four children from three relationships—sons Noah Becker, 27, and Elias Becker, 22, from his marriage to model Feltus; daughter Anna Ermakova, 21, from his tryst with Russian former waitress Angela Ermakova; and son Amadeus Becker, 11, from his marriage to Dutch model Lilly Kerssenberg.