Boris Johnson Claims Putin Threatened to Kill Him With Missile
British former Prime Minister Boris Johnson has alleged that Russian President Vladimir Putin threatened to kill him "with a missile" in a tense phone call in the run-up to Russia's invasion of Ukraine last February.
Johnson said the phone call had taken place earlier that month after he visited Kyiv to show Western support for Ukraine amid growing concerns of a Russian attack.
The former U.K. leader made the astonishing claim in a BBC documentary looking at how the West dealt with Putin in the years leading up to the war in Ukraine.
In the documentary, which airs on Monday night, Johnson said the Russian leader told him: "I don't want to hurt you, but with a missile, it would only take a minute."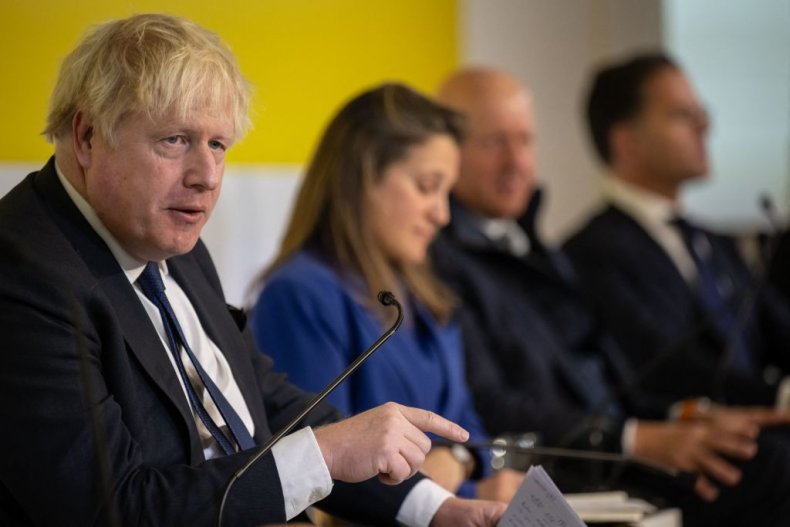 The Kremlin denied Johnson's claim on Monday, with spokesman Dmitry Peskov telling reporters that what Johnson had said was not true, or "more precisely, a lie," Sky News reported.
Johnson became one of Ukrainian President Volodymyr Zelensky's main allies in the war against Russia and the British leader has made several visits to Kyiv.
But Johnson was forced to resign as prime minister last July when he could no longer form a government after being embroiled in a series of scandals, including over being at parties in Downing Street during the COVID-19 pandemic, breaking the lockdown rules his government had introduced.
Referring to the call with Putin, Johnson said: "He said, 'Boris, you say that Ukraine is not going to join NATO any time soon. [...] What is any time soon?' and I said 'Well it's not going to join NATO for the foreseeable future. You know that perfectively well".
Johnson said he warned Putin that an invasion would only see Western states increase support for Ukraine, even though it was not close to becoming a NATO member. He also said he told the Russian leader that there would be tougher sanctions on Russia if the country invaded its neighbor.
Johnson added that an escalation would mean "more NATO, not less NATO" on Russia's borders, which reportedly irked Putin.
"He sort of threatened me at one point and said, 'Boris, I don't want to hurt you, but with a missile, it would only take a minute', or something like that," Johnson added.
"I think from the very relaxed tone that he was taking, the sort of air of detachment that he seemed to have, he was just playing along with my attempts to get him to negotiate."
Newsweek has contacted the Kremlin for comment.
Last September, Putin appeared to threaten the use of nuclear weapons during a televised address to the Russian people amid the invasion of Ukraine.
On the same BBC documentary, British defense minister Ben Wallace spoke about his meetings with Russian ministers before the war broke out last year.
Recalling a discussion with Russian counterpart Sergei Shoigu, Wallace said: "And I remember saying to Minister Shoigu 'they [the Ukrainians] will fight' and he said, 'my mother is Ukrainian, they won't!'. He also said he had no intention of invading."
"That would be 'Vran'e' in the Russian language. 'Vran'e' I think is sort of a demonstration of bullying or strength: I'm going to lie to you. You know I'm lying. I know you know I'm lying and I'm still going to lie to you. He knew I knew and I knew he knew. But I think it was about saying: I'm powerful."
"It was the fairly chilling but direct lie of what they were not going to do that I think to me confirmed they were going to do it. I remember as we were walking out [Russia's chief of the general staff] General Gerasimov said, 'Never again will we be humiliated. We used to be the fourth army in the world, we're now number two. It's now America and us.' And there in that minute was that sense of potentially why [they were doing this]."