U.K. Prime Minister Boris Johnson says Pubs, Museums and Hair Salons Can Open
Prime Minister Boris Johnson has announced the easing of lockdown measures in England, with the end to the two-meter guidelines of social distancing.
The new guidelines, called "one meter plus", allow people to be one meter away from each other if steps, like the wearing of personal protective equipment, are taken.
This means that pubs, restaurants, hair salons and many other businesses will be able to reopen from July 4 in England.
The prime minister said the risk of catching COVID-19 at "one meter plus" was "broadly equivalent" to the risk at two meters with protective measures in place.
"We don't think there's currently a risk of a second peak that will overwhelm the NHS," Johnson said.
"The fewer social contacts you have, the safer you will be."
The key points from the announcement are:
Many businesses will be able to open from July 4
Two households of any size will be allowed to meet inside for the first time, with no limit to the number of households you can meet, just not at the same time
The 'two-meter' social distancing rule reduces to 'one-meter plus'
Indoor gyms remain closed
These new measures are an attempt to jumpstart the economy, with businesses saying that the two-meter rule meant most venues were unable to open profitably.
"From the outset we have trusted in the common sense and perseverance of the British people," Johnson said.
"We have been clear that our cautious relaxation of the guidance is entirely conditional on our continued defeat of the virus."
But in this announcement, the prime minister was clear that it was not the end of COVID-19 and that some preventative rules must remain.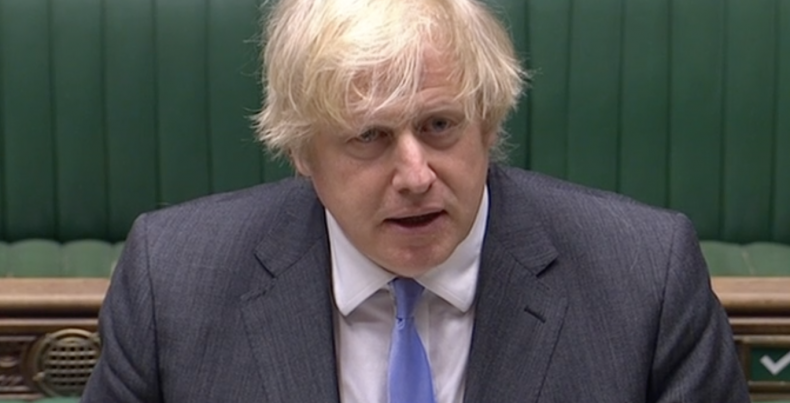 "We cannot lift all the restrictions at once," Johnson said.
"Our principle is to trust the British public to use their common sense with the full knowledge of the risks. The more we open up, the more vigilant we will have to be.
"We advise two households of any size should be able to meet in any settings, inside or out. We are not recommending meetings of multiple households indoors."
In previous announcements, the idea of a "social bubble" was created, with two households being allowed to come together but this extends it further, essentially allowing most normal family and friend interactions in small numbers in England unless another COVID-19 outbreak occurs.
Outdoor sports will be allowed, with changing rooms and other inside areas remaining closed.
Schools will remain closed for most pupils until the start of the next academic year in September.
"Our long hibernation is coming to an end... a new but cautious optimism is palpable," Johnson said, warning that it wasn't necessarily a straight line back to recovery.
With this matter being a devolved issue, rules in Scotland, Wales and Northern Ireland are different and, at the moment, are still in stages of more lockdown than just announced in England.
The businesses allowed to reopen
Pubs, museums, hotels, bed and breakfasts, galleries campsites and caravan parks, hair salons and barbers only with visors for staff, playgrounds, theme parks, arcades, outdoor gyms, social clubs, libraries, social clubs and community centres
The businesses that must remain closed
Bowling alleys, water parks, swimming pools, nightclubs, spas, indoor soft play areas, indoor gyms and nail bars