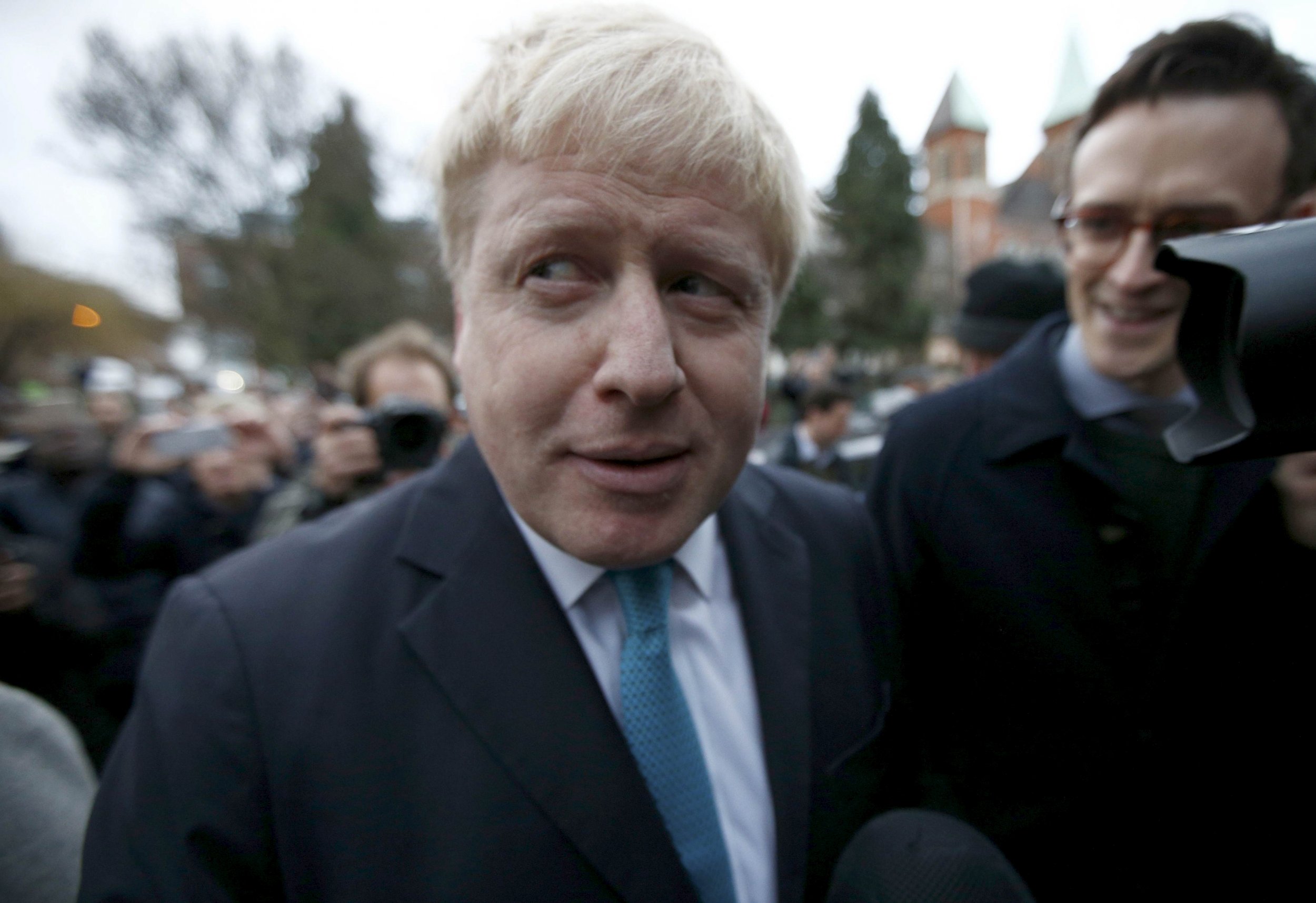 LONDON (Reuters) - Once mistaken for fellow blond Donald Trump by a passerby in New York, London Mayor Boris Johnson hopes his own gift for grabbing headlines and charming voters can persuade Britain to vote to leave the European Union at a June 23 referendum.
Although both have elite backgrounds, Johnson and U.S. presidential candidate Trump are flamboyant men with unorthodox approaches that tap into voter disaffection with "establishment" politicians, and could prove the key influence to two of the West's most important strategic decisions in 2016.
"They are the non-politician politician. They both claim to be outsiders, they both claim to be anti-establishment, they both present themselves as being the champion of the masses," said Sonia Purnell, author of "Just Boris", an unauthorized biography that is critical of the privately educated mayor.
"Probably in both cases that is simply untrue but look how brilliant and effective a marketing tool it is ... They are both entertainers. It is showbiz politics, it is celebrity politics."
With British public opinion evenly split on whether to remain a member of the EU, the world's largest trading bloc, and many voters yet to make up their mind, Johnson, 51, is hoping to become the galvanizing figurehead for the "Out" campaign.
Trump, with an anti-immigrant stance and blunt, combative style, has captivated American media and mobilized latent grassroots support to move from rank outsider to the Republican party's likely presidential candidate in the November election.
While Johnson, a member of Prime Minister David Cameron's Conservative party, described being mixed up with Trump as "one of the worst moments", if he can emulate the American billionaire's success, the consequences could be far-reaching.
A British exit would batter the EU by ripping away the bloc's second-largest economy and richest financial center at a time when it is struggling to manage mass migration and coax economic recovery from the embers of a financial crisis.
STAR PLAYER
A natural comedian known to all by only his first name, Johnson has crafted a twin-track career as a celebrity and politician. He has won two terms as mayor in London, long an opposition Labour stronghold, and become a household name known for his blond mop, eccentric manner and razor-sharp wit.
In the run-up to last year's election, Cameron described Johnson as one of his "star players".
That status was evident from the media scrum outside his house on a Sunday in February when he ended months of speculation by announcing that he would campaign against his leader and back "Brexit" from the EU.
"That is what he can provide; the buzz, the excitement, the fizz. It is quite difficult to match that really, who is going to provide that for the 'In' campaign? There is no one really that can do that," said Purnell.
In a typical display of showmanship, his first major campaign event saw Johnson jump into a "Vote Leave"-emblazoned articulated truck and drive through a warehouse car park.
Johnson also has the ear of a notable portion of the voting British public, though others question his motivations.
"He's different to other politicians, isn't he? He just says what he thinks. It's quite refreshing, you always think that politicians are kind of guarded ... But he just says it how he sees it," said Emma, a member of staff at a warehouse in Dartford, southeast England, who declined to give her surname.
An Ipsos MORI poll published days before he announced his intention showed Johnson is second only to Cameron when it comes to swaying public opinion on Europe, with one in three voters saying he would be important in helping them decide how to vote.
While others spoken to by Reuters at the Dartford event also said Johnson's down-to-earth style made him more trustworthy, he is a polarizing figure. Many view his bluster and humor as evidence he lacks the substance for high political office.
Supporters of Trump describe his appeal in similar terms.
A campaign built on controversy - including building a wall along the U.S.-Mexican border and temporarily banning Muslims from entering the United States - has shocked rivals but enchanted Americans who feel neglected by mainstream leaders.
"They both come from incredibly privileged backgrounds and yet they are both supported by, if you like, for want of a better expression, the common man," said Joe Twyman, head of political and social research at pollster YouGov.
He described the pair as having "box office" media appeal.
There are question marks over whether either can succeed.
In the United States, Trump's ability to see off experienced Democratic frontrunner Hillary Clinton at the ballot box remains untested, while in Britain Johnson has to convince voters his heart is really in the "Out" campaign.
He is tipped as a potential successor to Cameron, who says he will not run again at the next election in 2020, and many voters therefore view Johnson's decision as a cynical political calculation designed to position himself for the top job.
A ComRes poll this month showed the public were divided on his motive, with 41 percent saying he was campaigning for Brexit because he believed it was best for Britain, and 39 percent saying it was because he thought it best for his career.
Chris Grime, a worker at the Dartford warehouse who worried about the impact of Brexit on his job, was not convinced.
"I still don't think he answered the question about whether he's in it for himself," he said.