Boris Johnson Follows Donald Trump's Lead On Immigration, Unveiling Plans For Major Crackdown
British Prime Minister Boris Johnson appears to have taken a page from President Donald Trump's election playbook, promising to oversee a widespread immigration crackdown at Britain's borders if he remains in power.
With Britain's general election just weeks away, Johnson has unveiled a string of immigration reforms his Conservative party would put into place if he wins the December 12 vote.
As part of his party's platform, which is set to be revealed in full this week, Johnson has vowed to force immigrants arriving in the UK to contribute to its National Health Service (NHS) on "day one" of arriving in the country.
Under the new plan, immigrants would be forced to pay a surcharge of £625 upon arrival to cover the cost of care, regardless of whether they plan to use the NHS's services.
Currently, immigrants arriving in Britain from outside the European Union are required to pay £400, while those coming from EU countries are exempt from paying the fee.
Speaking to the The Sunday Times, however, Johnson suggested that could soon come to an end, with the prime minister telling the newspaper: "If people return a majority Conservative government we will ensure that people who come to our great country from anywhere in the world will contribute on day one to our NHS."
"The British people pay huge amounts to get great NHS care, it is only fair that everyone in the UK does," he said.
In addition to charging an up-front fee for the NHS, the Tories have also vowed to bar immigrants from entering Britain without a job, unless they plan to contribute to the economy as either highly skilled scientists or entrepreneurs.
Meanwhile, Johnson and his party have also vowed to stop immigrants from being entitled to state benefits until they have lived in the UK for five years, in addition to preventing the payment of child benefits to those whose children are living outside the country.
British Home Secretary Priti Patel touted the immigration reforms as part of the benefits of Brexit, Britain's exit from the European Union.
"One of the benefits of Brexit is that we get to take back control and make our system fairer," Patel said, according to broadcaster ITV News.
"A majority Conservative government will ensure that people who come to our great country from anywhere in the world will contribute on day one," she said.
Speaking to Newsweek, Madeleine Sumption, the director of The Migration Observatory, a body at the University of Oxford providing analysis on immigration issues affecting Britain, said that much of Johnson's plan was to be expected as part of Britain's departure from the European Union.
"There's actually very little in there that is surprisingly new," Sumption said. "What is surprising," she said, "is that it's not more restrictive."
The one part of the plan that Sumption did flag as worrying, however, was Johnson's bid to force immigrants to pay a heightened surcharge for the NHS.
Previously, the charge for non-EU immigrants had been at around £200 before being increased £400. By raising it to £625 for all immigrants, "it will have more than tripled since it was introduced," Sumption said.
"The cost is quite significant," she said, particularly for families seeking to enter the country.
"If you had someone who was bringing a partner with them, they would pay for their partner too, in addition to any children," meaning the cost could total in the thousands, she warned.
While Sumption said she was still waiting to hear the rest of Johnson's immigration plan before rushing to judgment, Alp Mehmet, the chairman of Migration Watch UK, an influential right-wing think tank pushing for stronger immigration controls, praised the prime minister's plan as a step in the right direction, but said it was unlikely to bring about "significant" change.
"Finally, a bit of sense from the Conservatives on immigration that 30 million people who wish to see immigration reduced will welcome but rightly treat with caution," Mehmet said.
"Delivering on this will take more than vague commitments weeks before an election. Policies currently being proposed are unlikely to lead to a significant reduction," the Migration Watch UK chairman asserted.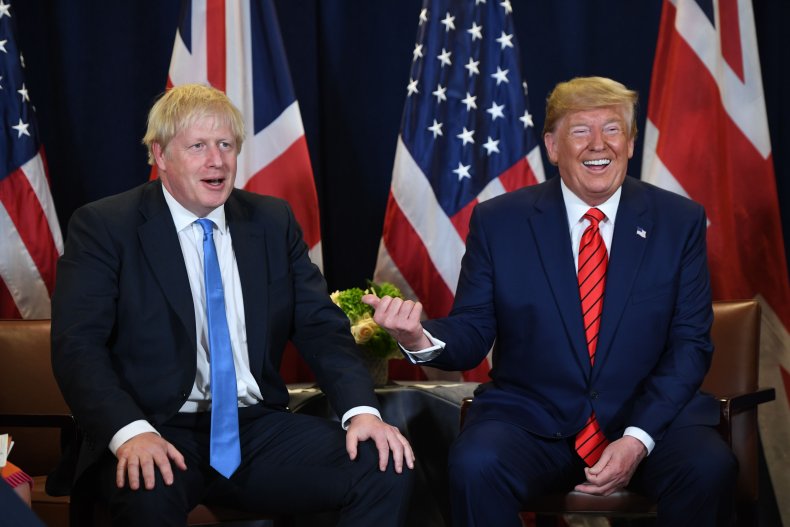 Johnson's promise of an immigration crackdown comes as Trump continues to campaign on his vow to see at least 450 miles of border wall built between the U.S. and Mexico before the end of next year as part of his own election campaign in the 2020 race.
Already, Johnson has been accused of emulating Trump's campaign strategies, with British MP Anna Soubry accusing the British leader of basing his rhetoric on "the Donald Trump playbook" and using the "language of division."
True or not, Johnson's campaign strategy appears to be working, with the Tories seeing their biggest lead over the Labour party since May 2017. According to a YouGov survey conducted for the Times, the Tories are currently 17 points ahead of Jeremy Corbyn's party.