'Britain Trump' Boris Johnson's Year of Dealing With the Real Donald Trump
When Boris Johnson became leader of the Conservative Party and prime minister of the U.K., President Donald Trump said "they call him Britain Trump".
He not only credited Johnson's election victory to his own popularity, claiming "they like me over there, that's what they wanted. That's what they need", he also described Johnson as "tough and smart".
Yet it's not always been smooth sailing between the two men or for the "special relationship".
While Johnson was Mayor of London in 2015, he accused President Trump of "stupefying ignorance" that made him "unfit to hold the office of President", after Trump called for a "complete shutdown" of Muslim immigration to the U.S. and for suggesting that there were areas of London which were "no-go areas" for police due to large Muslim communities.
Johnson took a more critical stance than then-Prime Minister David Cameron over Trump's comments, saying: "The only reason I wouldn't go to some parts of New York is the real risk of meeting Donald Trump."
Professor David Dunn, chair of international politics at the University of Birmingham tells Newsweek: "While Johnson was mayor of London, it suited his purpose as mayor of London, given the demographic of London, to criticize Trump for his comments with regard to Muslim bans, whereas later on as foreign secretary and when he's PM, it suits his purposes to cozy up to Trump and similarly Trump saw him as someone who was a non-establishment and populist figure and it suits his purpose to court Johnson."
Before Johnson became foreign secretary, he campaigned for Britain to leave the European Union (E.U.), a stance that found favor with a protectionist Trump, who at the time was campaigning to win the candidacy of the Republican Party for President on an "America first" platform.
Prof Dunn says: "The fact that Johnson was the perpetrator of Brexit endeared him to Trump in a way Theresa May never was.
"In John Bolton's memoirs, he talks about how frosty the phone calls were between [former British Prime Minister Theresa] May and Trump, that was never a warm relationship, despite her efforts and the hand-holding when she went across when he was first elected, whereas there is a, you can see, a degree to which there's a bond in the personalities and a charismatic completely opportunist nature of both individuals in working with each other."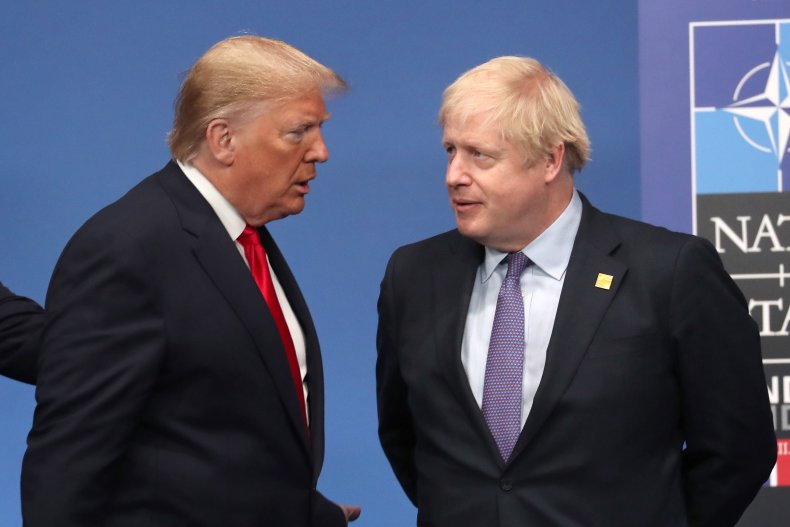 Following the U.K.'s June 2016 referendum result to leave the EU, Trump tweeted: "They took their country back, just like we will take America back. No games!"
He continued in subsequent tweets: "Self-determination is the sacred right of all free peoples, and the people of the UK have exercised that right for all the world to see.
"America is proud to stand shoulder-to-shoulder w/a free & ind UK. We stand together as friends, as allies, & as a people w/a shared history."
Trump praised U.K. voters for voting to "reassert control over their own politics, borders, and economy."
After Trump won the election in November 2016, Johnson changed his tune.
As foreign secretary, Johnson proved to be popular with Trump, with the president critical of the then Prime Minister Theresa May's handling of negotiations to leave the E.U.
Johnson's closer relationship to Trump than May, gave hope to many Conservative MPs that he would be able to leverage his relationship to secure the U.K. a free trade deal with the U.S..
Four surprising quotes by Donald Trump and Boris Johnson
After May lost a number of key votes on Brexit in the House of Commons and announced her resignation, Johnson, as expected, announced his decision to run for the leadership of the party.
In a crowded leadership contest, which also featured the likes of Sajid Javid and Jeremy Hunt, Trump lavished praise on Johnson and announced that he would be an "excellent choice" for the Conservative Party leadership.
Commenting on the leadership contest before his state visit to the U.K., Trump said: "I actually have studied it very hard. I know the different players. But I think Boris would do a very good job. I think he would be excellent. I like him. I have always liked him.
"I don't know that he is going to be chosen but I think he is a very good guy, a very talented person."
How has the relationship between the pair panned out after Johnson's premiership?
Both Trump and Johnson favor a bilateral trade deal between the U.K. and U.S. after the former's departure from the E.U. and their similar personalities point towards a positive working relationship.
"These characters have many things in common and there's a degree to which Trump especially looks on Johnson as someone who is a kindred spirit," Prod Dunn says.
"They both go on a sense of entitlement, both growing up thinking that the office of state is something that they should always be entitled to if not aspire to and yet at the same time as that, while being part of the establishment and part of the elite, they saw themselves as outsiders, as unorthodox, as building their own brands rather than a corporate brand."
Yet differences have also emerged.
While Trump is not a fan of multilateral alliances, threatening to pull of NATO, a military alliance between America and European countries, and left the World Health Organization earlier this month, Johnson is known to be a supporter of NATO.
Relations also soured between the two over Britain's relationship with Chinese telecommunications firm Huawei.
Trump was reported to be so incensed at Johnson's decision to allow Huawei to develop Britain's 5G network, that he slammed the phone down.
The Trump administration had even threatened that it would cut off security cooperation should Johnson allow the deal with Huawei to go ahead.
Yet with recent events in Hong Kong and the imposition of new security laws over the former British colony, which the U.K claims undermine democratic norms and the principle of "one country, two systems" that meant Hong Kong would have greater freedoms, after Britain left, the deal with Huawei has been called off.
Does that mean the two leaders could be brought closer as a result of what Secretary of State Pompeo called "shared security challenges?"
Professor Dunn said: "Their positions are closer but as a consequence of the Americans forcing the British to take the American line, the British having cut off their links with the rest of Europe recognizing that having cast themselves adrift, America is able to dictate the lines that Britain now takes."
With the COVID-19 pandemic far from over and with Britain's future trading relationship with the E.U. still uncertain, Johnson and Trump's similar personalities yet somewhat conflicting political viewpoints means no one can say for certain how the relationship between the two will pan out.
What will happen with regards to the much talked about 'U.S. and U.K. trade deal" upon which so many of those who supported Brexit pinned their hopes on?
Professor Dunn said: "What's interesting over the last few days is there's been an indication that the much-vaunted and much-promised U.S/U.K. trade deal is going nowhere and that's partly a recognition that the administration is a lame-duck likely to lose and therefore Britain recognizes that actually it could just bide its time before the new administration and new congress comes in in January."
Whether that actually happens in November's election remains to be seen but given Boris Johnson's current majority in the U.K., it is likely (though never certain) that "Britain Trump" will last longer at the top than America's Trump, even if he wins a second term.