Boris Johnson, Former Trump Ally, Calls Joe Biden 'Breath of Fresh Air' Ahead of G7
U.K. Prime Minister Boris Johnson, an ally of former President Donald Trump, called President Joe Biden a "breath of fresh air" ahead of the Group of Seven (G7) Summit.
While speaking to reporters after meeting with Biden, Johnson said, "It's a big breath of fresh air," regarding his discussions with the U.S. president.
"It's new, it's interesting and we're working very hard together. We went on for about an hour and 20 or so. It was a long, long, good session. We covered a huge range of subjects," Johnson said, according to France24 News.
Johnson added, "It's wonderful to listen to the Biden administration and to Joe Biden, because there's so much they want to do together with us, from security, NATO, to climate change."
Videos posted across social media showed the moment that Biden and Johnson first met on Thursday, with the two, accompanied by their wives, seen walking near Carbis Bay in Cornwall.
In one video, Biden and Johnson can be seen seated together in front of reporters and photographers. Johnson told Biden that "it's a great pleasure" to welcome him to Cornwall.
"Fantastic to see you here on what I think is your first big overseas trip since you've been president," Johnson said.
Biden told Johnson that he's traveled to the U.K. several times but noted that it is his first as "President of the United States."
"I'm thrilled to meet your wife," Biden said. "I told the prime minister we have something in common. We both married way above our station."
In response, Johnson said, "I'm not going to dissent on that one. I'm not going to disagree with the president on that or anything else."
Johnson also tweeted a picture of himself next to Biden, with a caption that read, "Together we will #BuildBackBetter," alluding to a saying that Biden championed during his campaign and time as president.
During Trump's time in office, he maintained a close relationship with Johnson, calling him a "good man," "smart" and "tough." During a 2019 speech, Trump also said of Johnson, "They call him 'Britain Trump' and people are saying that's a good thing."
The G7 summit is set to begin on Friday and will continue through Sunday at the Carbis Bay Hotel. In addition to Biden and Johnson, leaders from Canada, France, Germany, Italy and Japan will also be in attendance.
This year's G7 summit will focus on the ongoing COVID-19 pandemic and the summit's website states, "We will create a stronger global health system that can protect us all from future pandemics. Tackling coronavirus has been the biggest shared endeavor of our lifetimes, and the global effort to develop new vaccines and treatments for coronavirus has shown what we can achieve by working together."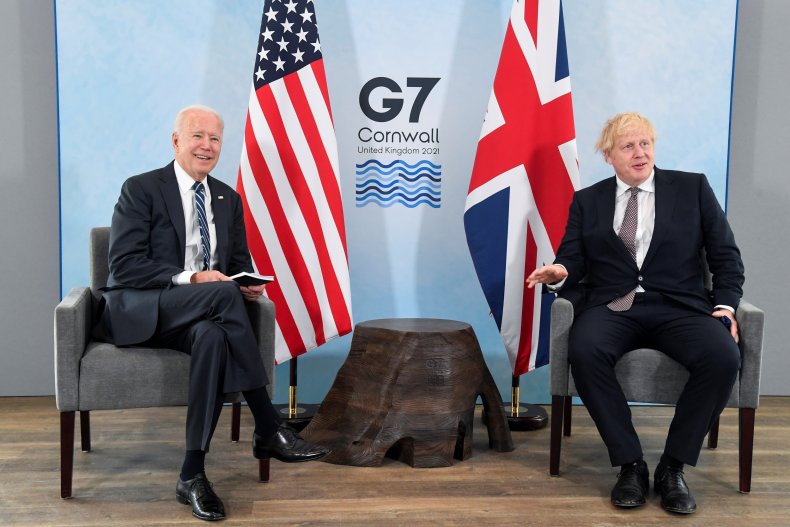 Newsweek reached out to the White House for comment but did not receive a response in time for publication.