As the days tick down to Britain's general election, Boris Johnson has launched an ad campaign that parodies a famous scene from the Christmastime classic Love, Actually. Meanwhile, Hugh Grant, the star of that film, is going door-to-door for Johnson's political opponents.
Johnson's ad shows the politician showing up on the doorstep of a blase British voter, whom he proceeds to charm with promises while her husband sits on the couch, just as tired of the electoral situation as she is. After pretending to be a group of carol singers, thanks to a boombox, Johnson proceeds to hold up a series of signs for the voter to read, much as Andrew Lincoln did in the film.
Johnson proceeds to make a series of vows via the signs, including a promise to "get Brexit done" next year "if Parliament doesn't block it again."
"The other guy could win," says Johnson via sign. "So you have a choice to make between a working majority or another gridlocked, hung Parliament arguing about Brexit."
He adds that his party—the Conservative Party—only needs nine more seats to get a majority, and that on December 12, a vote will make all the difference between a Conservative Party victory and a Labour/Liberal Democrat coalition.
After Johnson finishes his appeal to the woman and wishes her a merry Christmas, he takes his boombox and placards and approaches the camera.
"Enough, enough," he says as the ad ends. "Let's get this done."
The ad has already ginned up a bit of controversy, as Dr. Rosena Allin-Khan, Labour candidate for Tooting, pointed out that she'd already released a video with a similar style back on November 22.
"I won't be retweeting it – but Boris Johnson has copied my #ElectionActually video. Tanks. On. The. Lawn," she tweeted.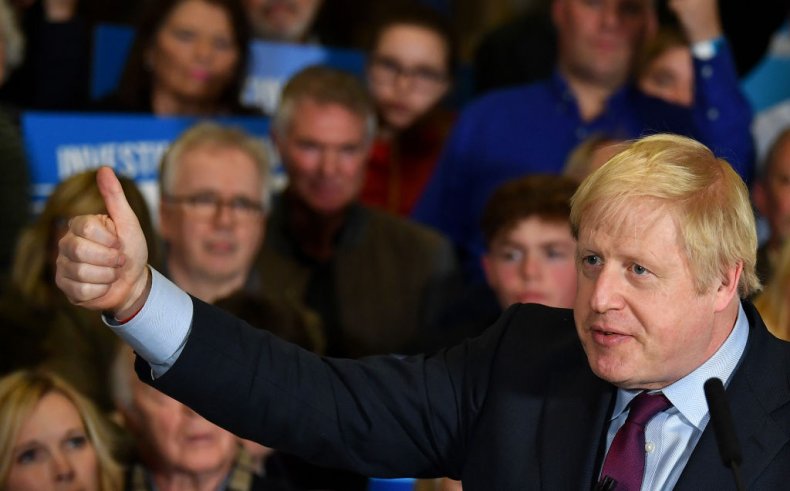 Elsewhere, Hugh Grant—who was actually in Love, Actually—was seen knocking on doors Sunday in North London, stumping for the Liberal Democrats.
"I don't want to sound dramatic—even though you could argue that is my job—but I really think we are facing a national emergency," Grant said to a crowd of onlookers.
He later admitted he had practice in such endeavors. "I did use to sell fire extinguishers door-to-door," he said. "I was very good."