Boris Johnson and London's Mayor Have Different Ideas of How to Stop Spread of Omicron
As cases of the COVID-19 Omicron variant continue to sweep across the United Kingdom, Prime Minister Boris Johnson and the Mayor of London, Sadiq Khan, appear to have differing opinions on how to deal with the pandemic.
While the new COVID variant has tightened its grip across the country as a whole, with a record 93,000 new cases reported Friday, London continues to be the epicenter of Omicron's British spread.
On Saturday, Khan declared the Omicron variant a "major incident" in the city, which has the greatest number of cases of the more transmissible virus strain in the United Kingdom.
Over this past weekend, London had seen the largest number of new cases in a single day since the start of the pandemic, with over 26,000 confirmed positives.
The mayor said that a number of locations across London, including Wembley Stadium and Stamford Bridge, have been set up as mass vaccination centers.
"Londoners will notice over the course of the next few days even more places across the city offering both the vaccines and the booster," he said.
As the holidays approach, a number of festivities across the city have been toned down or shuttered altogether. Khan announced Monday that a 6,500-person New Year's Eve party planned in Trafalgar Square had been canceled.
Also canceled were a number of Premier League soccer matches and productions in London's West End theater district.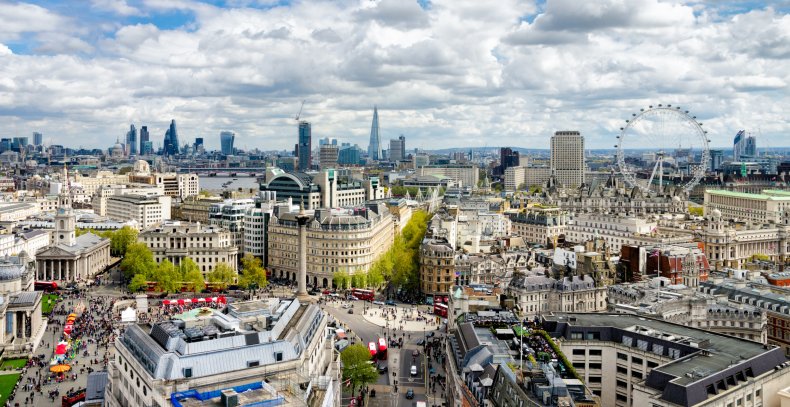 However, despite the cautious approach being taken by London officials, Prime Minister Johnson reiterated that there will not be any further lockdowns across the United Kingdom before Christmas.
On Tuesday, Johnson stated that the current state of affairs would be continued through December 25, saying that "we don't think today that there is enough evidence to justify any tougher measures before Christmas."
The prime minister did add that he "can't rule out" further restrictions heading into the New Year.
Johnson said that government officials were closely monitoring Omicron data and would "not hesitate to act" after Christmas if needed, saying that the U.K. would do "whatever it takes" to protect its people.
The prime minister also urged people to get a booster shot, saying: "If you have not done so already then please drop everything, find a walk-in or go online and make an appointment and Get Boosted Now."
Johnson did not feel that there was evidence to justify new restrictions before Christmas because of the "uncertainty of...the severity of Omicron, uncertainty about the hospitalization rate or the impact of the vaccine rollout or the boosters."
"And remember to keep following the guidance—wear a mask indoors when required to do so, keep fresh air circulating, and take a test before you visit elderly or vulnerable relatives," he said.
Johnson's hesitancy to shut down the country seems to be in contention with Khan's urging to cancel larger gatherings across London. It marks another chapter between two parties who are often at odds with one another.
Khan also stated on Sunday that he thinks it's "inevitable" when asked if new restrictions will be seen, just two days before the prime minister stated that no such restrictions would be seen in the next week.
The prime minister's office referred to Johnson's earlier statement when contacted by Newsweek.
In a statement sent to Newsweek, Khan's office said that "the Mayor is hugely concerned about the rapid spread of the Omicron variant and the impact it is having on the capital, which is why he declared a major incident on Saturday."
"The Prime Minister has not imposed further restrictions, which will be welcome news to all those who are desperately looking forward to Christmas with loved ones, however, the Mayor believes the Government must urgently determine whether additional restrictions are required after Christmas and be clear with the public about why they are needed."
"The Government also needs to ensure that all businesses, especially those in the culture and hospitality sectors which have been hardest hit by Plan B restrictions, are given the support they need to stay afloat."
Update 12/22/2021, 5:30 p.m. ET: This article has been updated with a statement from the office of London Mayor Sadiq Khan.