After Boris Johnson Was Voted Prime Minister, the U.K. Was Hit by 45,000 Lightning Strikes—and Brits Made a Connection
The U.K. was hit by tens of thousands of lightning bolts hours after controversial politician Boris Johnson was elected as the Conservative Party leader, and therefore Britain's next Prime Minister. Wry Brits less than pleased with the result jokingly made a connection.
The U.K's national weather service issued a yellow weather warning for thunderstorms across the country on Tuesday evening into Wednesday morning. Overnight, storms hit areas including the southwest and southeast, encompassing the capital London.
Between 20-30 millimeters of rain poured down on areas in Wales, the Midlands, and the north, according to BBC News. The storms were forecast to continue to affect Scotland on Wednesday.
This came as the U.K. swelters in a heatwave, with temperatures climbing into the high 30 degrees Celsius (above 80 degrees Fahrenheit) expected in some parts. The mercury is expected to spike to 38C (100F) in London on Thursday, BBC News reported, topping the July record of 36.7C (98.1F) at Heathrow Airport in 2015.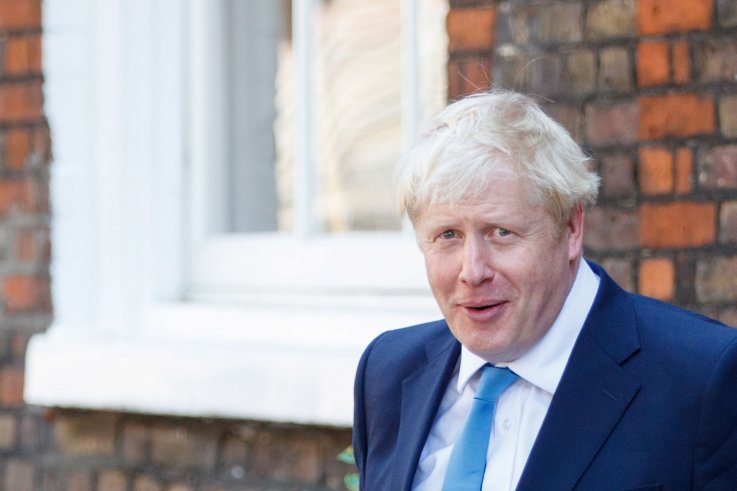 Simon King, a BBC weather presenter and meteorologist tweeted on Wednesday morning: "There were around 45,000 #lightning strikes across the UK last night. Feeling a bit sleepy this morning?"
Surrey Police in the southeast meanwhile tweeted a video of the night sky being illuminated by dramatic flashes of light. "We are being treated to a great lightning show tonight," the force wrote.
But some Brits made the tongue-in-cheek suggestion that the weather was a supernatural, almost Biblical, reaction to Johnson becoming the new prime minister.
After Theresa May announced she would step down as prime minister and leader of the Conservative Party after three years in the post, the gaffe-prone former mayor of London quickly became the frontrunner. In the past, the verbose politician has sparked outrage for comparing Muslim women to "letter boxes," and describing the citizens of the Congo as "flag-waving piccaninnies" with "watermelon smiles," among other things.
Twitter user DrJFTFernandes wrote: "Boris hasn't even been PM 24 hours and the apocalypse has already started #Thunderstorm"
"Boris Johnson has been PM for less than 24 hours and the world's already ending. #thunderstorm," wrote JadelynRosey.
"God is punishing us for allowing Boris to be #PrimeMinisteruk #BorisDay #BorisJohnson #heatwave #Lightning #storm," joked a Twitter user named Dom.
"Some #lightning from last night (a few hours after Boris become PM I should note," tweeted Andrew Smith.
A user named AledGwynWiliams tweeted: "Intense heat, thunder and lightning on the day Boris Johnson becomes prime minister surely can't be a coincidence. Any reports of locusts? Raining frogs?"
After Boris Johnson Was Voted Prime Minister, the U.K. Was Hit by 45,000 Lightning Strikes—and Brits Made a Connection | Tech & Science