Boris Johnson Says Doctors Were Bracing for the Worst During His COVID-19 Hospitalization
Six days after returning to work, British Prime Minister Boris Johnson spoke candidly about his recent hospitalization for the new coronavirus in an interview with The Sun, published Sunday.
The newspaper's report detailed Johnson's week-long stay at St. Thomas' Hospital in London in early April, which included 72 hours inside the facility's intensive care unit.
Describing his physical condition, the prime minister said he "was not in particularly brilliant shape," and recalled that "there were contingency plans in place" as a precautionary measure in case his health status worsened further.
"The doctors had all sorts of arrangements for what to do if things went badly wrong," Johnson told The Sun. "It was a tough old moment, I won't deny it. They had a strategy to deal with a 'death of Stalin'-type scenario."
According to the publication, Johnson recounted numerous medical complications that arose as a result of his infection with the respiratory syndrome. He remembered receiving "liters of oxygen" through a face mask and conversations with his physicians about possible intubation.
"That was when it got a bit . . . they were starting to think about how to handle it presentationally," Johnson said. Referencing a decline in vital measurements, he added, "the bloody indicators kept going in the wrong direction."
Johnson was transferred to St. Thomas' intensive care unit on April 6, one day after his initial admission to the hospital following prolonged symptoms of the coronavirus. At the time, a spokesperson from his office told Newsweek: "The PM is receiving excellent care, and thanks all NHS staff for their hard work and dedication." The statement noted that Johnson had been self-isolating in his home since learning he had contracted the illness 10 days earlier, but continued to experience an ongoing cough and fever.
The prime minister announced his diagnosis on March 27.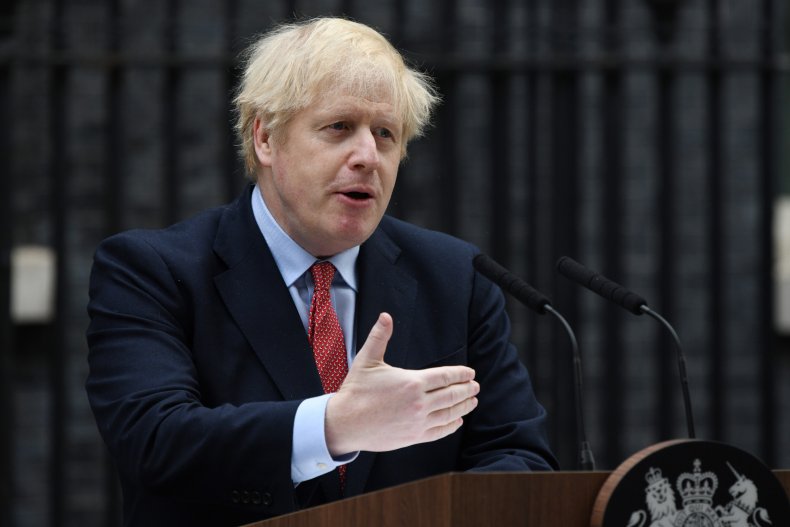 Johnson resumed his governmental responsibilities on April 27, about two weeks after his hospital discharge. His son with wife Carrie Symonds was born two days later. According to reports from several outlets, the couple named him Wilfred Lawrie Nicholas Johnson after doctors Nicholas Price and Nicholas Hart, who treated Johnson while he was hospitalized. Symonds reportedly described the meaning behind their son's name in a post shared to her private Instagram account on Saturday.
During his first public address upon returning to his post as prime minister, Johnson said the nationwide lockdown--originally implemented across the United Kingdom on March 23 in response to the outbreak--could not yet be lifted. Though he acknowledged that the U.K. was "beginning to turn the tide" in terms of the coronavirus' impact, Johnson said more progress was necessary to relax restrictions.
The U.K. has confirmed the fourth-highest number of new coronavirus infections in the world, behind the United States, Spain and Italy. According to Johns Hopkins University's tracker, the country had reported 183,501 positive cases and 28,520 resulting deaths as of Sunday afternoon.