Trump 'Patently in Error' for Saying Brexit Will Prevent U.S. Trade Deal—U.K. PM Boris Johnson
U.K. Prime Minister Boris Johnson has refuted President Donald Trump's claim that the current Brexit deal will prevent the U.K. from striking a trade deal with the U.S.
Trump claimed in a radio interview with Brexit Party leader and friend Nigel Farage that "certain aspects" of the current Brexit withdrawal agreement would hinder trade.
"We want to do trade with U.K., and they want to do trade with us," Trump told Farage in a phone call on U.K. radio station LBC on Thursday.
"To be honest with you, this deal, under certain aspects of the deal... you can't do it, you can't do it, you can't trade. We can't make a trade deal with the U.K."
He added: "I think we can do many times the numbers that we're doing right now and certainly much bigger numbers than you're doing under the European Union. I know Boris [Johnson] wants to be very careful with that."
Johnson hit back at the president's remarks in an interview on Sunday, insisting Trump is "patently in error."
"I don't wish to cast any aspersions on the president of the United States, but in that respect, he is patently in error," Johnson told Sky News.
"Anybody who looks at our deal can see it is a great deal and what it does is it allows us to take back control of our money, our borders and our laws. But also, it allows us to have full unfettered control of our tariff schedules."
Johnson added that the deal is "ready to go."
Trump waded into U.K. politics during the interview with Farage, suggesting Johnson's Conservative Party form a pact with Farage's Brexit Party ahead of the U.K.'s General Election on December 12.
Trump, who described Johnson as a "fantastic man" during the radio interview with Farage, claimed Johnson and Farage would be an "unstoppable force" while opposition Labour Party leader Jeremy Corbyn would be "so bad" for the U.K.
"He [Johnson] has a lot of respect and like for you, I just wish you two guys could get together—I think it would be a great thing," Trump told Farage.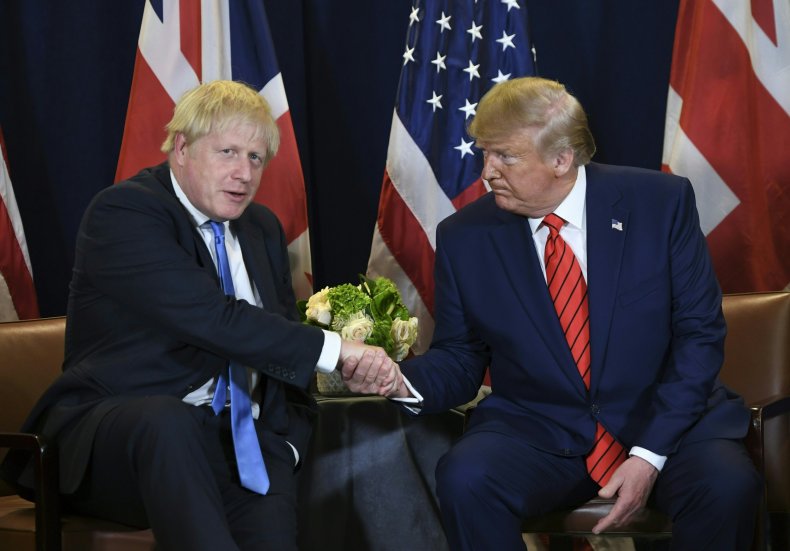 But Johnson rejected that advice, telling Sky News: "I've ruled out a pact with everybody because I don't think it's sensible to do that."
Corbyn criticized the president's intervention, saying "Donald Trump is trying to interfere in Britain's election to get his friend Boris Johnson elected," on Twitter.