Boris Johnson Tells U.K. to 'Summon Discipline' as COVID 'Second Wave' Grows
British Prime Minister Boris Johnson has told the British public that he will "fight" COVID-19 as he announced new lockdown restrictions in a televised address.
"Your minor cough can be someone else's death knell," he said, saying that young people were not exempt from these measures and that they could harm their families by ignoring the rules.
"We need to suppress the virus now," Johnson said, promising to enforce the measures more severely. "Unless we take action, we will have to take measures later when deaths have mounted."
Johnson was keen to make clear that the whole fate of the country's wellbeing relies on individual actions: "Never in our history has our collective destiny and our collective health depended so completely on our individual behavior," he said.
Finishing his address, Johnson said: "Now is the time for us all to summon the discipline and the resolve and the spirit of togetherness that will carry us through."
At the moment, daily COVID-19 cases are doubling every seven days.
In a change to lockdown measures, the government announced that office workers should work from home if possible; hospitality venues must close at 10pm, not just call last orders; masks will become mandatory for many more workers; weddings can only be attended by 15 people, down from 30; and a plan to return spectators to sporting events will now not go ahead.
The already announced "rule of six", where no more than six people can gather either inside or outside, including children, will be more strictly enforced and have many fewer exceptions in England.
Boris Johnson said earlier that these new restrictions could last six months through winter until a vaccine is approved and deployed across the country. Fines for breaking the lockdown rules, which are now enshrined in law, could be as high as £10,000 ($12,750) per person.
Johnson has said clearly that he does not want a second national lockdown but has already admitted that the so-called "second wave" is here and many Brits are already under more localized lockdown measures. At least 13.9 million people, or around one in 5, in the U.K., face local restrictions, 10.9 million in England, 1.8 million in Scotland, 854,000 people in Wales and at least 411,000 people in Northern Ireland.
There are critics on both sides to these new announcements, one side saying it's another step towards a police state and the other side saying it will make little difference as it does not go far enough.
This comes in stark contrast to warnings given by England's Chief Medical Officer Chris Whitty and the government's Chief Scientific Adviser Sir Patrick Vallance, who said that cases could quickly reach 50,000-a-day without significant changes to how people were acting.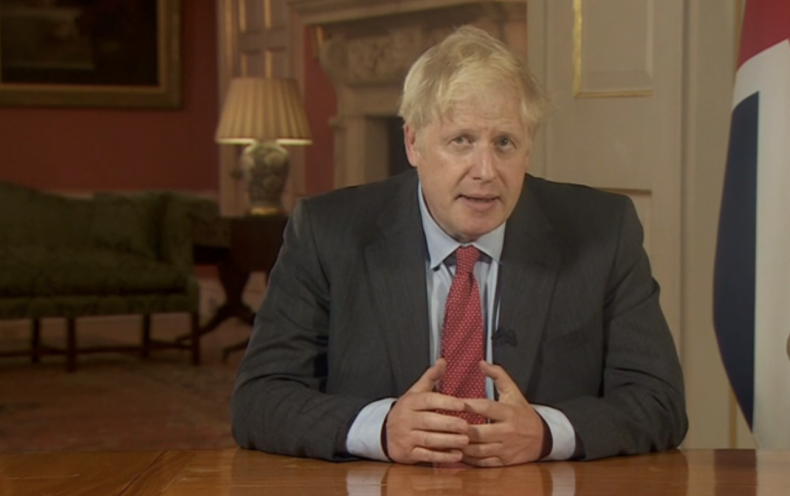 Cases have been growing, with 4,926 cases reported most recently, the highest since May 7. The highest recorded cases per day was 6,201 recorded on May 1, according to government data. With a change in lockdown measures, there is usually a time-lag with the data so any fall in the numbers will not be seen for at least another week. Case numbers over the next few days could reach the highest since the pandemic began, something the scientific advisers warned about.
"If we can curb the number of daily infections and reduce the reproduction rate to 1, then we can save lives, protect the NHS and the most vulnerable, shelter the economy from the far sterner and more costly measures that would inevitably become necessary later on," Johnson told the House of Commons earlier.
There had been rumors that a more severe lockdown was expected, with some top government officials arguing for a "circuit-break" of a short, sharp lockdown to quickly decrease contact between people and cut cases very quickly.