Boris Johnson's Biden Tweet Still Contained Congratulations for Trump
Prime Minister Boris Johnson's message on Twitter which congratulated Joe Biden and Kamala Harris on their election win was just overwritten from an image originally written to congratulate President Trump, it has emerged.
The prime minister had tweeted in a picture message: "Congratulations to Joe Biden on his election as President of the United States and to Kamala Harris on her historic achievement. The US is our most important ally and I look forward to working closely together on our shared priorities, from climate change to trade and security."
However, a deeper look at the picture shows the outline of what appears to be Trump's name above that of Biden's that wasn't deleted from the image fully.
Just above the words "Joe Biden" if the color balance is altered, "Trump on" became visible. Other deleted words still visible faintly are "second term" and "on the future of this". It is unclear what the message would have read had Trump been victorious.
This message, first highlighted by the Guido Fawkes political site, acts as another point of contention between the Johnson government and Biden administration.
A spokesman for Boris Johnson said: "As you'd expect, two statements were prepared in advance for the outcome of this closely contested election. A technical error meant that parts of the alternative message were embedded in the background of the graphic."
It comes as Johnson hopes to develop a strong relationship with the Biden administration as he seeks to strike a trade deal with the U.S. post-Brexit.
Tommy Vietor, Obama's former special adviser who is close to Biden, replied to this congratulatory tweet with a stark reminder of what might be in store for U.K/U.S. relations: "This shapeshifting creep [Boris Johnson] weighs in. We will never forget your racist comments about Obama and slavish devotion to Trump."
Vietor is referencing Johnson's reaction to Obama removing a statue of Winston Churchill from the Oval Office in 2016.
"Some said it was a snub to Britain," Johnson wrote in the Sun newspaper at the time. "Some said it was a symbol of the part-Kenyan president's ancestral dislike of the British empire – of which Churchill had been such a fervent defender."
Relations between Johnson and Biden are reported to be under further strain after the president-elect indicated that he would rule out a trade deal between the two countries if it contravened the Good Friday Agreement on the island of Ireland.
Johnson is currently trying to get his Internal Markets Bill approve through parliament, which his own government has admitted would break international law and also allow it to override parts of the Northern Ireland Protocol agreed between Westminster and Brussels.
In a tweet, Biden wrote: "We can't allow the Good Friday Agreement that brought peace to Northern Ireland to become a casualty of Brexit. Any trade deal between the U.S. and U.K. must be contingent upon respect for the Agreement and preventing the return of a hard border. Period."
In contrast, Trump was seen as a strong advocate for Brexit.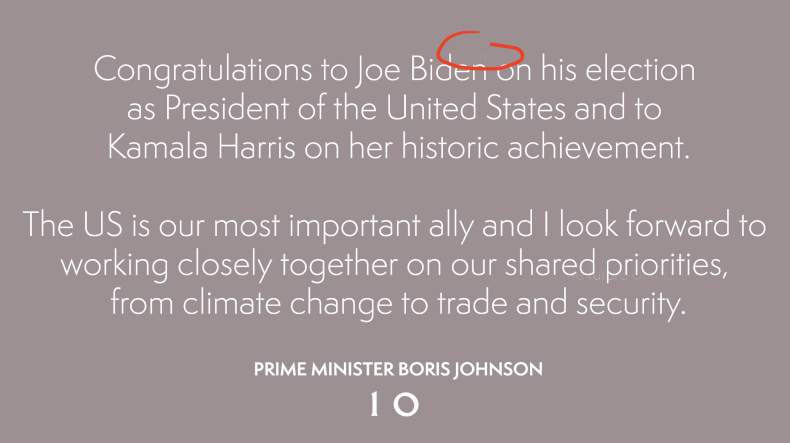 Meanwhile, Biden has begun work as a president-elect, beginning work on a transition team and setting up a website, BuildBackBetter.com, and a Twitter account, @Transition46.
He has also implored all Americans to wear a mask as he warned of a "dark winter" ahead due to the COVID-19 pandemic. His comments came as the country passed 10 million confirmed cases, according to data compiled by Johns Hopkins University.
He said: "I implore you, wear a mask. Do it for yourself. Do it for your neighbor. A mask is not a political statement. But it is a good way to start pulling the country together. The goal of mask-wearing is not to make your life less comfortable, or to take something away from you. It is to give something back to all of us, a normal life."