Boris Johnson Will Be Missed | Opinion
A searing heat wave. Blistering corruption scandals. Collapsing public services. A caretaker government. A toppled leader who won't leave power. In the wake of Boris Johnson's forced resignation last week, it has been a long time since Britain looked so fraught, and never so akin to failed states of the Global South. Coming just a month after splashy jubilee celebrations for the country's decorous nonagenarian monarch, London's political crisis this past weekend felt like the second act of a comic opera, in which a government can fall over a cocktail party with the help of a few injudicious gropes by a now-disgraced member of Parliament infelicitously named Pincher.
"When the herd moves, it moves," Johnson sullenly observed in his resignation address. Fed up with his petty antics and egged on by an unremittingly hostile media-administrative establishment known in the U.K. as "The Blob," nearly 70% of Britons and a majority of Conservative members of Parliament were finally convinced that BoJo had to go. Faced with the resignation of so many ministerial-level colleagues that he could no longer effectively govern, Johnson resigned, sheepishly observing in an echo of his American birth, "them's the breaks."
The Conservative Party appeared to move on quickly, or least acted as though it wanted to. Conservative parliamentarians and commentators quickly lined up to denounce the deposed prime minister for his churlish attitudes, erratic private life, liberties with facts, and other eccentricities. Some questioned his conservative credentials, pointing to his strict lockdown policies, recent tax hike, costly green energy program, weird woke comments about gender politics, and other disappointments that might paint Johnson as an opportunist best forgotten.
About a dozen parliamentarians, most of whom strongly supported Johnson until just a few days ago, have vaulted into the race to replace him, which could take months to decide. The papers and club bars are bursting with gossip about how vituperative the succession struggle will be and, indeed, already is. There are murmurs of a constitutional crisis if Johnson stays on as prime minister until the dust settles. With all the scheming, backstabbing, and utter shamelessness, the atmosphere recalls the juicier moments of the earlier, British version of "House of Cards."
However, the frenzy obscures a longer view that is already gaining some traction from those managing to keep cooler heads. Regardless of any personal opinion of the man, Johnson's brief premiership was historic and of greater consequence than many longer-lasting British governments. Its achievements were substantial, and he will be remembered for them far more vividly than for any lockdown violation or misbehaving MP.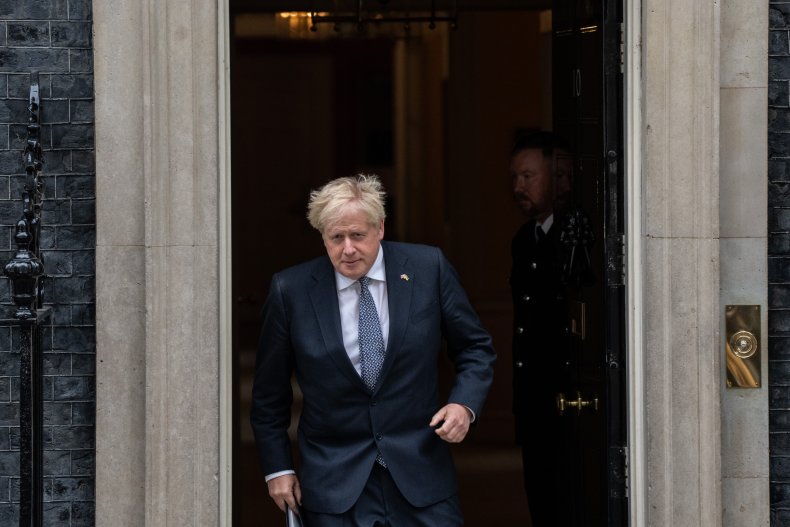 In a globalizing world that seeks to sacrifice national sovereignty to shady international institutions, BoJo struck back by extracting his country from the European Union. British voters had decided to take that historic step in 2016, in what many regarded as a populist revolt against an "ever closer union" that has turned out be a stale leftist pipe dream offering more problems than solutions. After three years of dithering under Johnson's rudderless pro-"Remain" predecessor Theresa May, it was he who, within six months, "got Brexit done" and restored British sovereignty.
Thanks to Boris, Parliament is again Britain's highest authority. Britain's laws reign supreme and no longer take a backseat to the thousands of Brussels diktats rattled off every year. The results are far from perfect, but the dire economic consequences predicted by Britain's pro-Remain establishment are nowhere to be found. Prudent legislation on trade, border control, immigration, and other potential sticking points have assured positive British relations with the European Continent, just as they allow Britain to stand on its own to the rest of the world.
Perhaps more importantly, Johnson's momentum won the December 2019 election for the Tories in a contest in which he was so central that many observers believed it to be more presidential than parliamentary in character. Indeed, Boris claimed at the time that he enjoyed a personal mandate from British voters. And with a historic Tory majority of 80 seats, the opposition Labour Party suffered its worst defeat since 1935.
More than merely boosting Boris or vindicating Brexit, the 2019 victory also spared the U.K. the ravages of the Labour alternative. Then led by Jeremy Corbyn, an unreconstructed Leninist who was tainted by horrific anti-Semitism, Labour pledged to nationalize Britain's energy, transportation, and communications industries while also revisiting Brexit and launching immense social spending. BoJo's victory pushed Corbyn out of Labour's leadership and forced the opposition to adopt a much less dangerous center-left governing posture that will do far less harm in the likely event the Conservatives lose the next election.
Perhaps no one will remember Boris Johnson as perfect or even ideal, but the alternatives to what he achieved over the last three years would have all been far worse, for both Britain and the world. Behind closed doors, more than a few Tory politicos and top donors are already wondering whether the party went too far in sacking its chief. And with his party in disarray, some have started to hint this may not be Boris' final act.
Paul du Quenoy is president of the Palm Beach Freedom Institute.
The views expressed in this article are the writer's own.