Boris Johnson's Moment of Truth on Brexit | Opinion
As the most disappointing year that any of us can remember approaches its end, there is one final act of political drama to unfold: will the United Kingdom leave the European Union with or without a deal? That question will be settled this weekend.
For Boris Johnson, this is a moment of truth. It will not just define his political legacy. It will also indicate whether the forces of global governance are once again in the ascendency. With Donald Trump giving way to Joe Biden as the next U.S. president, Johnson caving in to Brussels would set back the nationalist wave that has swept through the world since 2016, when the Britain opted to quit the EU by a majority of almost 1.3 million votes.
Britain left the institutions of the European Union on January 31, 2020. That fact cannot be reversed. There will be no return for British MEPs to the European Parliament. As we enter the end of the agreed-upon transition period, the only question is whether Brexit becomes Brexit in Name Only (BrINO) or whether it actually means something. The point is that if the U.K. agrees to regulatory alignment with all EU rules now and in future, the British parliament would not be in charge of the legislation that governs domestic businesses.
Various pressures are mounting on Boris Johnson. Indeed, they are huge. On one side is a large majority of Conservative voters—especially recent converts in the North of England who dumped their natural home, the Labour Party, and backed Johnson in the British general election a year ago. They want a clean-break Brexit—a meaningful departure from the European bloc. They are well represented in the House of Commons and act as a constant reminder to Johnson that, but for them, he would not have the comfortable parliamentary majority he enjoys.
Those in the high command of the Conservative Party also know that I have not gone away. The Great Brexit Betrayal of 2019—the year when Britain was supposed to leave the European Union but didn't because of an attempt by politicians and big business to overturn the referendum result—led me to form the Brexit Party. Within six weeks we had got rid of the sitting prime minister, Theresa May, forcing her resignation through the historically bad European election result we inflicted on her. This paved the way for Johnson's premiership. The last thing his colleagues in Downing Street would want is to see me back on the electoral attack.
On the other side are the voices of big business and global politics. Everybody wrapped up in these entities insists that a deal is absolutely necessary if financial disaster is to be averted. This includes Joe Biden, who has been more than willing to make his views known on the subject. He wants a deal that both Brussels and Dublin are happy with. He seems less bothered by what the British people, who voted to leave the EU, want.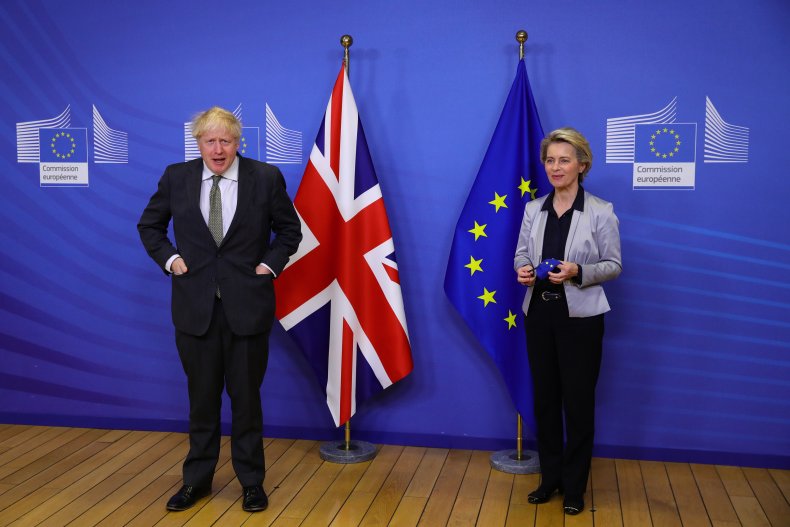 Johnson will also be well aware that if the French decide to be obstructive, as they so often are, there could be large-scale disruption in January at British ports. There are already shrill warnings of food shortages in U.K. supermarkets.
That Johnson is in a predicament is not in doubt. I would urge everybody to remember, though, that much of this is of his own making. Four and a half years have passed since the British public stunned the world and voted to leave the EU. In that time we have had only Conservative prime ministers, and they have both failed to deliver. Johnson himself has had 18 months at the helm and hasn't managed to break the deadlock.
He did go to Brussels in October 2019 and signed what he called an "oven-ready deal." It was hailed as a great victory by the British press, reflecting the nation's desire for a Brexit breakthrough. Yet nobody scrutinized the details of this deal. In fact, what he signed was a new EU treaty which the EU's chief negotiator, Michel Barnier, immediately had bound in leather and which he carried everywhere under his arm. In the secular world of bureaucratic Brussels, treaties are regarded like tablets of stone and are to be obeyed according to the EU's own interpretation. Any prospect of the EU changing its position in these last few days of negotiations is for the birds.
Weeks later, during the general election campaign of 2019, Johnson made a series of promises to the electorate, the upshot of which was that he would "get Brexit done." The trouble is, these pledges directly contradicted much of what he had signed up to in Brussels weeks before.
So Johnson has a problem. Essentially, he agreed to serve two masters. Now, he must decide which he prefers: the EU or his own voters.
In the last 24 hours, Johnson has prepared Britons by making it clear that No Deal is a strong possibility. This is promising. If he holds his nerve, keeps his promises to the electorate and the U.K. leaves the EU with a clean break, he will have strong support in the country, whatever short term disruptions result. Frankly, since this tortuous process began, I think the public has grown to dislike EU bureaucrats more and more. The idea that they may mete out a punishment to Britain for leaving the EU should simply strengthen Johnson's resolve.
But it is not just Johnson's own voters who need to be kept happy. All of this matters in global terms as well. Brexit was the beginning of the populist revolt. If Johnson releases his countrymen from the EU's grip, the best part of that revolution will be intact. If not, it represent a wider surrender to the global forces which have shaped the world for so long.
Having been let down so often in the past, I do fear that some last-minute agreement will be stitched together which both sides will be allowed to call a victory. This would render Brexit meaningless, for the UK would still be locked in the EU. Having spent the better part of 30 years trying to win back my country's liberty, this would be a very difficult end to what has been a miserable year. I just pray that Johnson holds firm, does what he has always claimed he wanted to do, and sets Britain free.
Nigel Farage is senior editor-at-large of Newsweek's "The Debate" platform.
The views expressed in this article are the writer's own.