Boris Johnson's Refusal to Resign Sparks Donald Trump Comparisons
Boris Johnson's refusal to step down as British Prime Minister, despite more than 50 lawmakers resigning in the last 24 hours, including his chancellor, has sparked comparisons to former U.S. president Donald Trump.
Johnson has been embroiled in scandal after scandal, including over parties that took place in Downing Street during strict COVID-19 lockdowns that saw him subsequently fined by police.
The latest controversy revolves around Johnson claiming not to have been informed about sexual assault allegations of his former chief whip, the main official maintaining political party discipline among its members.
However, several reports revealed, and Downing Street later admitted, that Johnson knew about the allegations before hiring chief whip Chris Pincher, and that he had lied to MPs and the public.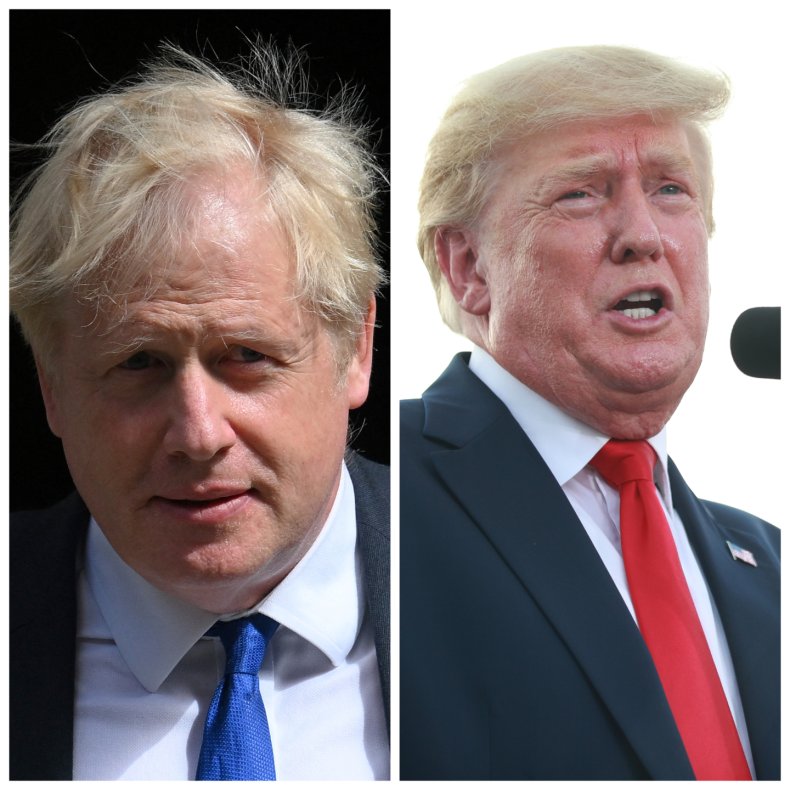 The first major resignations came on Tuesday evening, when chancellor Rishi Sunak and his health minister Sajid Javid resigned. Since then, more than 50 lawmakers have resigned, including some cabinet ministers, saying that they cannot serve in Johnson's government.
One of them is his new chancellor Nadhim Zahawi, who has been in the role barely 24 hours. Several of Johnson's Cabinet ministers have told him to resign privately, and many lawmakers believe that it is now a question of when, not if, Johnson will go.
Despite multiple calls to resign, Johnson dug in and vowed he would carry on, claiming he had a mandate to govern after winning the largest landslide election victory in 2019 since Margaret Thatcher's in 1987.
His refusal to resign amid his party turning against him prompted several comparisons with Trump, who refuse to acknowledge losing the November 2020 general election to Democrat Joe Biden.
Senior Conservative backbench MP and former Northern Ireland Secretary Julian Smith said that it was a "preposterous argument" for Johnson to claim he has a personal mandate to govern and claimed Johnson was creating "a constitutional crisis."
"He's (Boris Johnson) has looked across the water and decided to do a mini version of what Donald Trump did last year... it's dangerous," Smith told BBC Radio 4's Today Programme on Thursday morning.
He said Johnson is "holding out in a Trumpian style" and "worryingly" challenging Britain's democratic system.
"This morning he should not be in Downing Street", Smith added.
Tory MP Bernard Jenkin told the same programme: "I just said to him, it's just when you go now and it's how you go: you can go with some dignity or you can be forced out like Donald Trump clinging to power and pretending he won the election when he's lost."
Conservative pundit Andrew Neil tweeted: "I have always resisted comparisons between Boris Johnson and Donald Trump. Not tonight."
Ed Davey, leader of the Liberal Democrats party, noted that a few years ago, Trump said Johnson was Britain's version of him.
"I'm afraid the Prime Minister is proving the former President right," Davey tweeted.
Fellow Liberal Democrat Heidi Allen tweeted. "Refusing to go? Who knew Boris Johnson and Donald Trump had so much in common.....?!"
Newsweek has contacted Downing Street for comment.