Boris Yeltsin's Former Chief of Staff '99 Percent Certain' Vladimir Putin Will Not Be Russia's President in Five Years
Russian President Vladimir Putin does not want to stay in power beyond the end of his current term and will have stepped down by 2024, the chief of staff to Russia's first President Boris Yeltsin has predicted.
Valentin Yumashev was a senior aide to Yeltsin in the waning years of the latter's time in office. On Friday, he spoke about Yeltsin and his successor Putin at the Yeltsin Center in Yekaterinburg in eatsern Russia, The Moscow Times reported.
Yumashev—who is married to one of Yelstin's daughters—has also acted as an unpaid adviser to Putin for 18 years. The two presidents were close allies, and Putin's first act upon taking office was to sign an immunity order for any criminal charges that might be levelled at Yeltsin.
Putin has been in power—either as president or prime minister—for 20 years, his name having become near-synonymous with modern Russia. But the 67 year old's dominance of Russia's political scene and Tsarist style of control has left him no clear successor and no clear way out of the Kremlin.
Putin's presidential term will come to an end in 2024, and term limits set out in the national constitution will require him to step down.
Many observers have, however, suggested he may attempt to circumvent the restrictions and hang on to power.
He's done it before. In 2008, term limits forced Putin to step down to become prime minister and make way for Dmitry Medvedev to become president.
But Putin still ruled Russia, with Medvedev president only in name. Medvedev dutifully declined to stand for re-election in 2012, instead returning to his prime ministerial post under a restored Putin presidency. The below Statista graphic shows Putin's time in power.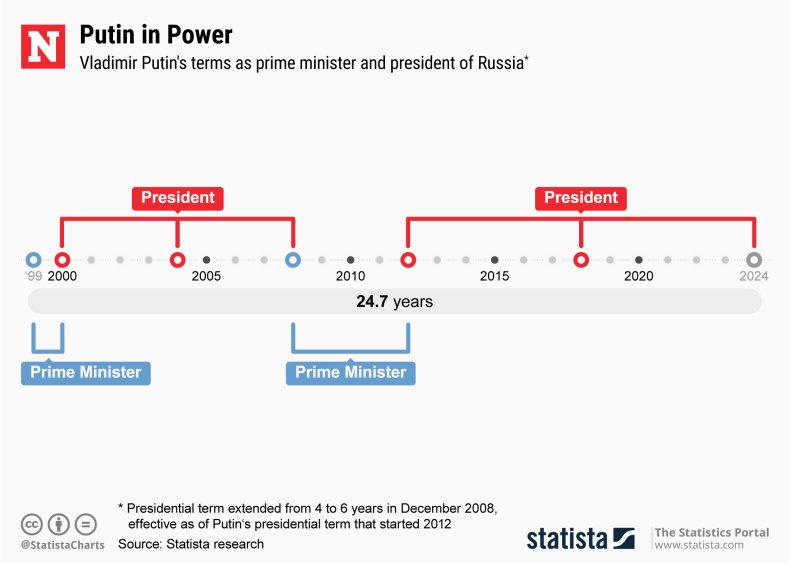 But Yumashev suggested Friday that Putin has had enough of being president, explaining he is "99 percent certain that he'll say he will leave in 2024."
"He was ready to leave both in 1997 and 1998," Yumashev added. "His task was to serve out the first and then the second term, but then new tasks arose and he decided to become prime minister in 2008. He certainly didn't want to stay in power for 19 years, I have no doubt."
Yumashev also shed light on Putin's rise to power, and how Yeltsin came to see the former KGB agent as a successor to his democratic project. Yeltsin saw Putin as "someone who would continue his liberal and market reforms that Russia embarked on," Yumashev said.
Yeltsin "saw a person with a backbone who could make the right decisions in a complicated situation," he added. Meanwhile, Putin's low profile meant he had yet made few enemies.
"The fact that he was unknown was a huge plus that helped him win the election," Yumashev explained. "Everyone saw something of their own in Putin."
This article has been updated to include an infographic.