What Does the Title of Netflix's 'Borrego' Mean?
Borrego is Netflix's new movie, starring Lucy Hale as a botanist held hostage by a drug mule.
Netflix loves a generic title like Money Heist, Murder Mystery or Hollywood. But Borrego is something different—a generic title in a different language.
After the film came to streaming, viewers began Googling exactly what the title meant. To save you some time, here is exactly what the title means, and how it related to the plot of the movie.
Warning: Light spoilers for Borrego ahead.
What does Borrego mean?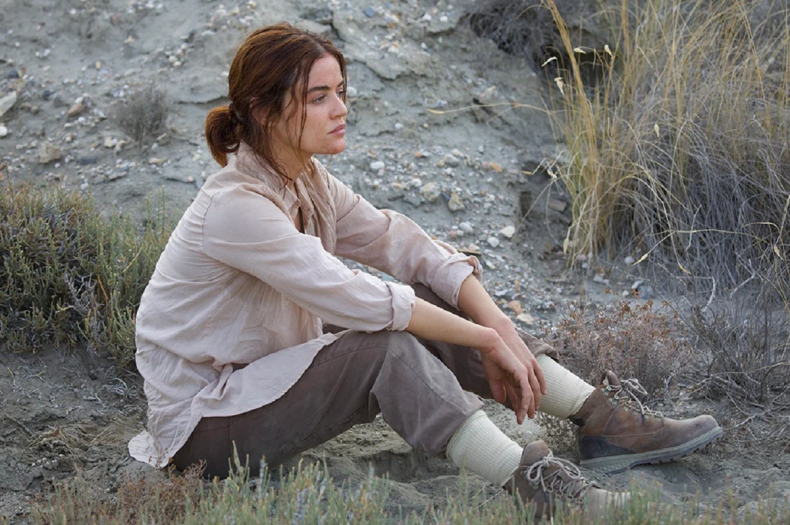 If we are being literal, the title is the name of the location the film is set in.
We can see this in the synopsis of the film. "After witnessing a drug mule's plane crash in the Borrego desert," the summary reads, "Elly is kidnapped and forced on a dangerous journey to a remote drop-off point."
The movie's "Borrego desert" is the Anza-Borrego Desert State Park in Southern California. So why did Netflix not call the film "Anza-Borrego"? For one, that's a worse title. But also, the Spanish word "borrego" has some relevance to the plot of the movie.
The Anza-Borrego desert gets its name from two sources. "Anza" is from explorer Juan Bautista de Anza. "Borrego" is a Spanish word for "sheep"—the area is home to a population of desert bighorn sheep.
The word "borrego" in Spanish is also used as slang to describe a lamb, or an innocent or naive person. We can describe at least two characters in the movie as "borregos". Botanist Elly is an innocent woman who gets sucked into the world of drug smuggling. Pilot Tomas (Leynar Gomez) is also naive and inexperienced in the violence of drug running.
In an interview with Script, director Jesse Harris discussed his link to the Borrego area.
He said: "when my dad, who's this amateur botanist, was working in the Borrego desert, he told me about this plant that was growing up there.
"I had the whole thing kind of come to me... a crazy setup for why someone would move to a small town in the middle of nowhere."
The original plan was to film in the real Borrego dessert, though filming ended up taking place in Spain. Harris said of this: "I looked at Spain a couple of years back, just because I had known there was this desert there that was famous for...a lot of classics, old movies, spaghetti westerns, things like that.
"At the time, before the pandemic, it didn't make sense to go all the way to Spain, just to do that. But in this case, it was kind of perfect, because Europe was opening up again."
In an Interview magazine article, Lucy Hale called the shoot "so challenging physically." The Pretty Little Liars actor added: "I pulled muscles daily because I was just sprinting through canyons."
Borrego is streaming now on Netflix.