Will 'Bosch: Legacy' Season 2 Happen? Michael Connelly Confirms Series Fate
Just when you thought the story of Detective Harry Bosch was over, Amazon Prime announced it was keeping the famous Michael Connelly-created character alive with a spin-off, Bosch: Legacy.
Season 1 of Bosch: Legacy follows Detective Harry Bosch as he embarks on a new career as a private investigator following a hugely successful spree at the LAPD. The spin-off airs Fridays on Amazon Prime's Freevee and fans already want to know if there will be more Bosch: Legacy to come.
Newsweek has everything you need to know about the future of Bosch: Legacy.
Will Bosch: Legacy Season 2 Happen?
There is good news for fans of Bosch: Legacy—Season 2 is officially happening.
Amazon announced Bosch: Legacy would return for a Season 2 ahead of the Season 1 premiere in May 2022.
Ryan Pirozzi, Freevee's co-head of content and programming said in a statement: "It was easy to greenlight the second season of Bosch: Legacy after execs saw the 10-episode first season.
"We're ecstatic with the new show. We know we want to be in business with Michael Connolly."
At the moment, a release date for Season 2 of Bosch: Legacy hasn't been confirmed, but Michael Connelly, the author of the Bosch series and producer of the show has confirmed to Ready, Steady, Cut that production is set to start on the second series later this year.
Bosch: Legacy fans should therefore expect an early 2023 release date.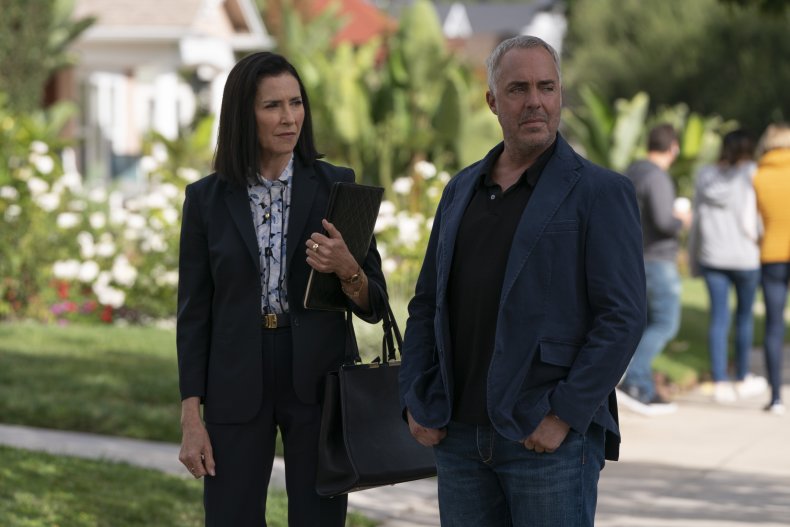 To watch Bosch: Legacy Season 2 when it airs, you can do so via Amazon's Freevee (formerly known as IMDb TV).
You can set up a free account on Freevee now. Alternatively, if you're an Amazon customer, all you have to do is search for Bosch: Legacy and you will be able to stream the show there and then.
Who Will Star in Bosch: Legacy Season 2?
Sons of Anarchy star Titus Welliver will return as Hieronymus "Harry" Bosch in Bosch: Legacy Season 2.
Welliver played the famous detective for seven seasons on Amazon Prime Video before the show came to an end in June 2021.
However, he insisted to Entertainment Weekly that Bosch: Legacy is not a spin-off. He said: "I shudder to call it a spin-off because it's really not; it's just the continuing saga of Harry Bosch.
"He's in a different place, but it's a continuation... A lot is revealed toward the end of this final season of Bosch — I do air quotes on that, 'final season' — which lays the foundation for where we will find these three characters as we open the new show."
Shameless star Stephen Chang is set to return as Maurice "Mo" Bassi, Harry's partner, and The Rapture's Mimi Rogers will be back as Honey "Money" Chandler, a defense attorney who sometimes works closely with Bosch.
The Walking Dead's Madison Lintz will be back as Madeline "Maddie" Bosch, Harry's daughter.
Bosch: Legacy Season 1 will also see some guest stars, including Gregory Scott Cummins as Crate and Troy Evans as Barrel. At the moment, it's not known if they will return for Season 2, but the upcoming series will most likely feature some big guest stars.
What Will Happen in Bosch: Legacy Season 2?
At the moment, it is hard to predict what will happen in Bosch: Legacy Season 2 as Season 1 is still airing.
However, fans can expect to see Bosch continue to investigate some of the most dangerous and complex crimes in Los Angeles.
Bosch: Legacy will also continue to follow Bosch's daughter, Maddie, as she carries on her father's legacy as an LAPD officer and Bosch's professional partnership with a big-shot lawyer, Honey Chandler.
Michael Connelly confirmed Season 2 of Bosch: Legacy will draw on content from his book, The Crossing, which sees Detective Harry Bosch team up with his half-brother, defense attorney Mickey Haller.
However, it's unknown if Manuel Garcia-Rulfo will appear in Season 2 of Bosch: Legacy as Mickey Haller. He is currently in Netflix's The Lincoln Lawyer.
The synopsis for The Crossing via Connelly's website teases: "Detective Harry Bosch has retired from the LAPD, but his half-brother, defense attorney Mickey Haller, needs his help.
"The murder rap against his client seems ironclad, but Mickey is sure it's a setup. Though it goes against all his instincts, Bosch takes the case. With the secret help of his former LAPD partner Lucia Soto, he turns the investigation inside the police department. But as Bosch gets closer to discovering the truth, he makes himself a target."
Bosch: Legacy Season 1 airs Fridays on Amazon's Freevee.