'Bosch' Season 7: How and When to Watch the Final Season
Season 7 of Bosch arrives on Amazon's Prime Video this week to solve one final case.
Fans of the police procedural will be sad to see the back of Detective Harry Bosch (Tito Welliver) but there's a chance we may be seeing him again in a spin-off series. Each season takes its inspiration from a series of novels by Michael Connelly and there's plenty more stories to tell.
Detective Bosch has been solving crimes for seven years now and the final episodes dropping on Amazon this week could prove to be the toughest case yet.
What happens in Season 7 of Bosch?
The trailer for season 7 shows Los Angeles police detective Harry Bosch attempting to solve the murder of three unidentified female victims. It's dubbed as "The Final Case" for Bosch and the team.
Many of Connelly's books have been used as inspiration for the TV series and the upcoming season takes inspiration from book 17, The Burning Room.
Within the book's story, a mariachi performer is shot in a crowded Los Angeles square and paralyzed from the waist down. Ten years later he dies from his injuries and when the bullet is finally removed Bosch establishes that the crime was not an act of gang violence as originally suspected, but a targeted hit.
How can I watch Bosch?
Season 7 of Bosch arrives on Prime Video on Friday June 25, 2021. All episodes from the final season will be available to watch straight away.
Many of the cast's regular stars are returning for the last hurrah alongside Welliver. Jamie Hector (Jerry Edgar), Lance Riddick (Irvin Irving), Madison Lintz (Maddie Bosch), Mimi Rogers (Money Chandler) and Amy Aquino (Lt. Grace Billets) are just some of the regular cast members who'll be back.
As well as the new series, the previous 60 episodes—6 series of Bosch—are available to watch on the streaming service now.
Each season of Bosch has been well-received with critics with seasons 2-6 all receiving 100 percent approval ratings on Rotten Tomatoes.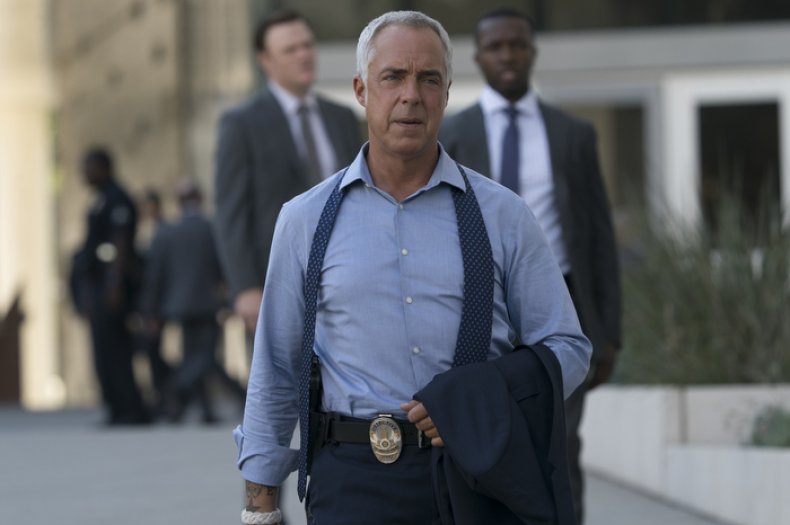 Will there be a Bosch spin-off show?
While Bosch is coming to an end on Amazon's Prime Video, he's living on in a new spin-off series arriving on IMDb TV. The series creator Eric Overmyer, author of the books Michael Connelly and much of the Bosch creative team are reportedly signed up for the new series too. Welliver, Lintz and Rogers are also due to reprise their roles.
Welliver is excited to return as the character, and said in a statement that the opportunity to tell more Harry Bosch stories is a tremendous gift. He said: "The process of shooting Season 7 with the shadow of it being our final loomed heavily so when the idea was presented to continue with the possibility of a spin-off, without hesitation I said, 'Let's go.'
"To all of our Bosch fans, thank for your incredible support for all these years and I can promise you the ride will only get better," he said.
Bosch season 7 will be available to watch for free for Prime Video subscribers on Friday June 25, 2021.