Bose QuietComfort Earbuds II: Turning Up Quiet to 11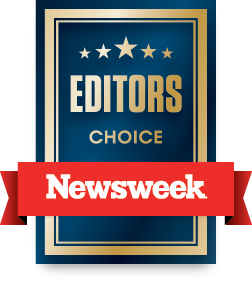 Now that Apple and Google are fully immersed in building their own audio devices with active noise-canceling (ANC) technology, it can often seem like the choice is between AirPods Pro or Pixelbuds Pro. But don't sleep on Bose's new QuietComfort Earbuds II. Bose has really stepped up its game in two specific ways: versatile comfort and radical noise blocking.
Bose is mostly recognized for its great active-noise-canceling over-the-ear headphones—but much less so for its earbuds. These new QuietComfort Earbuds II, however, blew me away with their ability to make disruptions disappear. Equally as important is their new refined fit. They're less bulky and intrusive, at least for my ears.
Travel use might be how you convince yourself to stomach their $299 price, but these earbuds will be advantageous in many different scenarios. From yard work to business calls, Bose QuietComfort Earbuds II are a well-rounded product with a lot to like.
TL;DR
Pros:
Exceptional ANC performance
Aware mode works well
Call quality is great
Comfortable fit
Cons:
Thick case with no wireless charging
Touch controls can be difficult to manipulate
Buy at Bose.
QuietComfort Earbuds II Highlights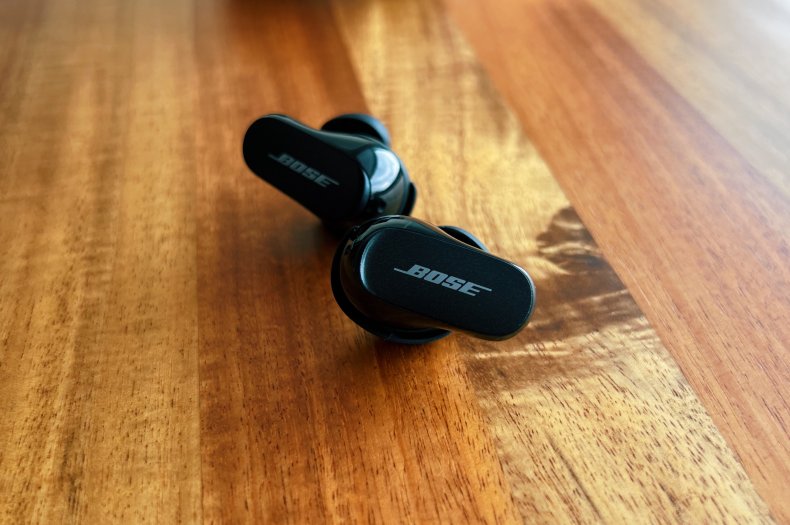 Turns out these earbuds are both comfortable and do a really good job of quieting the world around you—demonstrating a seemingly rare occurrence of realistic product naming. In all seriousness, these have felt like a significant upgrade over the previous model in those two areas—fit and sound isolation.
Fit will be subjective, but there are multiple ear tips included in the box along with varying stability bands. These earbuds should create a seal that helps with audio quality as well as a lock-in for a secure grip while you're moving around. While I probably wouldn't buy these exclusively for exercising because of the touch controls, I did take them on a 6-mile run without any issue. They never came loose, even with sweating, and the Aware mode was sufficient to stay informed of street noises.
Mentioning subjectivity, I found the audio quality while listening to music to be excellent. The low end was thick and completely full, while high-frequency instrumentation was present and clear. Some of the midrange was lost in the mix between the two spectrums, but this wasn't egregious—and vocals mostly shined.
Bose seems to attract controversy over its default sound profile more than other manufacturers, but within its Music app, you can adjust a three-band EQ or apply preset configurations. More important than any EQ is the company's CustomTune technology, which personalizes sound and ANC performance for each individual listener. Every time you stick in the earbuds, they're taking a reading to gauge your specific ears.
CustomTune, from a listener's perspective, is mostly invisible. Until talking with people from Bose, I was a little unsure of what was happening with the feature. I only knew things around me sounded quieter and the music sounded good. That's what you can expect, too, without needing to know any details. The magic is happening automatically, so you only need to enjoy the experience.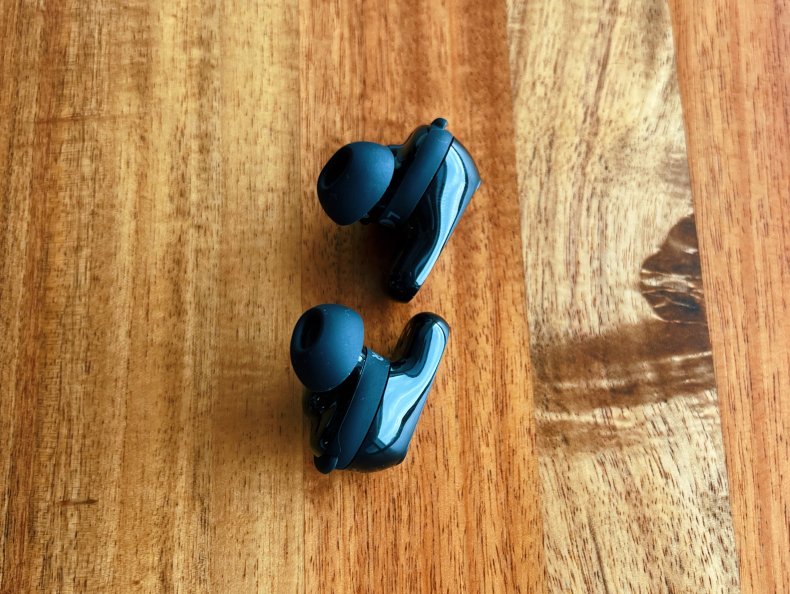 These QuietComfort Earbuds II offered me a deep thump on songs like "Blood on the Leaves" from Kanye West. They also provided the space to get lost in the right type of music. "Omen," featuring Lyrah and by Holiday87 and the Knocks, is a great example: Lyrah's delicate vocals guide you through a rhythmic beat and swelling synths, and these earbuds don't limit the song's impact.
There are four microphones in each earbud, factoring into their truly phenomenal ANC performance. Out of the box you can toggle between Quiet and Aware modes, but within the Music app you can configure up to four modes with varying levels of noise canceling strength. I never felt the need to get too nuanced in this area because I liked the defaults.
On the flip side, Aware mode did a great job allowing in sounds around me. ActiveSense, within Aware mode, will let in noises, but it will limit extreme ones, like a leaf blower. I couldn't decide whether I thought the ANC was too aggressive, but overall it did a fine job.
Weaknesses of QuietComfort Earbuds II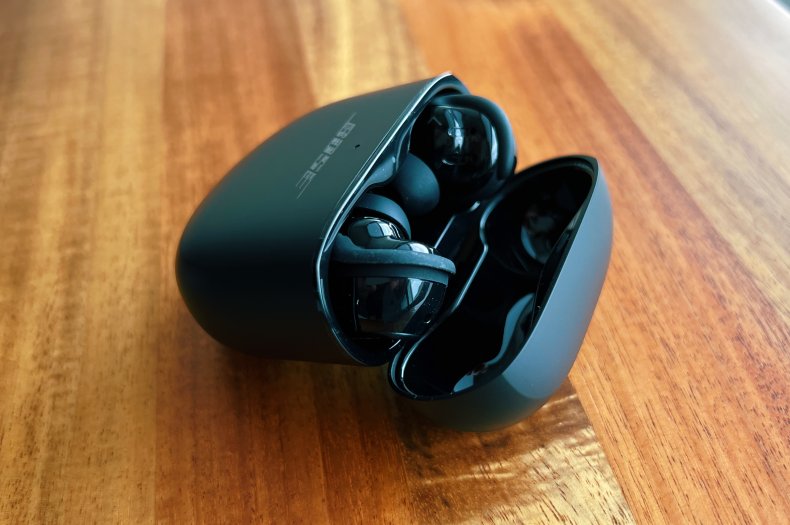 The core of this product is exceptional, but it's not flawless. Touch controls continue to be a sensitive area—literally. Pause and play, skip track, raise or lower volume and toggle are all accessible by tapping your finger to the side of the earbuds. I never felt confident activating the controls, however. Mostly I was successful in getting the result I wanted from using the touch controls, but not every time. Plus, the extra energy needed to steady my finger for precise placement felt cumbersome.
I wish these had actual buttons like Jabra does on its Elite 5 earbuds—or even mock buttons like AirPods' pressure-sensitive ones. QuietComfort Earbuds' II controls were easier to use while I sat at my desk as opposed to when I was walking around. Additionally, you can customize a long press shortcut within the Bose Music app, but at launch, there are only two choices to choose between.
Unfortunately, the case omits wireless charging capabilities. This shouldn't be a decisive point of consideration, but it would have been nice to see this feature. Even though the case is much smaller than before, it still feels chunky compared to other products'.
Lastly—and it couldn't be a more nitpicky detail—but the voice Bose uses to announce the status of the earbuds in your ears is much too robotic and sounds very dated. You're greeted by this voice when changing modes or connecting to a phone that can be hard to understand. It needs a revamp—in a hurry.
Should You Buy Bose QuietComfort Earbuds II?
These new QuietComfort Earbuds II have among the best ANC performance of any device I've tried, including large headphones. Certainly, it makes the earbuds even more impressive coming in a small form factor. If you're someone who needs times of focus throughout the day, you might even become giddy when slipping these into your ears. They're that good.
The $299 price point is a little tough to swallow—especially with a new generation of AirPods Pro coming in under that. That said, these are a tremendous audio product. They should make plenty of frequent travelers or commuters very happy.
Buy at Bose for $299.
Newsweek may earn a commission from links on this page, but we only recommend products we back. We participate in various affiliate marketing programs, which means we may get paid commissions on editorially chosen products purchased through our links to retailer sites.